Maple Leafs vs. Rangers: Grading Every New York Player from Game 8 vs. Toronto
October 28, 2011
Nick Laham/Getty Images
After every game of the 2011-2012 season, each New York Rangers player will be assigned a letter grade based on his individual performance, impact on the game and outlook going forward.
In the regular-season home opener, the New York Rangers lost to the Toronto Maple Leafs 4-2, bringing their record to 3-3-2.
Let's take a look at the grades:
Grade: A
Marian Gaborik
Gaborik was a monster last night, looking like Jaromir Jagr circa 2006 as he made an all-world move to the net resulting in the Rangers' first goal. While five points through eight games is never going to grab ESPN headlines (not that any hockey story would), Gaborik has been the most dangerous player on the ice all season long.
Ryan Callahan
Captain Cally took the term "crash the net" a little bit too literally last night, interfering with the Toronto goaltender on two separate occasions resulting in disallowed goals (both good calls). Call me crazy, but I loved it. His willingness to work the front of the net, especially in the first period, is exactly the mentality the Rangers need going forward.
Michael Sauer
On a night when simply seeing him back on the ice would have been enough, Sauer reminded us of what we were missing through the first seven games of the season. The guy was a defensive stalwart last night, registering over 20 minutes of ice time and sprawling to his knees to save a goal. If Marc Staal can make his way back, the defensive core of Staal, Girardi, McDonagh and Sauer can really be something special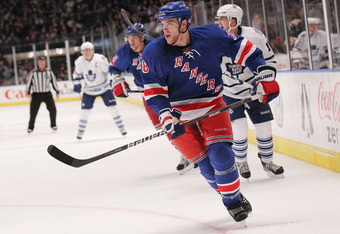 Nick Laham/Getty Images
Dan Girardi
I know that pedestrian offensive numbers throughout the course of his career would say otherwise, but it seems like a lot of the Rangers' offensive success is generated through Girardi. He is always trying to keep it simple, and with this group of hard-nosed, grinding forwards, maybe that is the key to success.
Another stellar defensive game and a goal give Girardi another high mark in what is shaping up to be an All-Star-caliber season.
Grade: B
Ryan McDonagh
Three shots, 22-plus minutes of ice time, a plus-one—not much else to say about another solid game from the young kid. I didn't notice him all that much, and as we all know that is a very good thing for a defenseman. Girardi-McDonagh is becoming an exciting defensive pairing for this team.
Grade: C
Ruslan Fedotenko
Next up in the revolving door of first-line left wingers, Ruslan Fedotenko—come on down! Just like Dubinsky and Stepan before him, Fedotenko failed to impress playing alongside the Rangers' top duo.
Even though Fedotenko played a hard-nosed, gritty 15 minutes, the fact of the matter is that he is not that type of player that can keep up with the skill of Gaborik and Richards. Which segues perfectly into…
Wojtek Wolski
Despite a minus-two and no shots on goal, I was really impressed by Wolski's game tonight. He was poised with the puck and created multiple scoring opportunities for Brandon Prust and gentle (soft) giant Boyle. This is the guy I want playing first-line left wing.
The grit and tenacity might not be there, but given time to let the chemistry develop, Wolski could be the perfect complement to Gaborik on Richards' left side.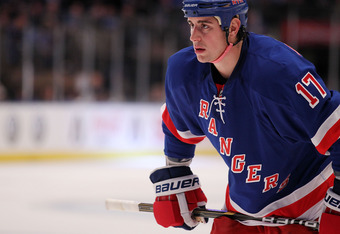 Nick Laham/Getty Images
Brandon Prust
Despite a less-than-impactful performance last night, Prust continues to be one of the Rangers' most consistent sources of spark and energy. In only 10 minutes of ice time, Prust was at least noticeable, which is more than can be side for his underachieving sidekick Brian Boyle.
Steve Eminger
Eminger found himself right in the middle of bad situations all night, however he never really seemed to be individually at fault. He was on the ice for three goals against, one of which went through his legs, but I could attribute all three to either poor goaltending or poor play by his defensive partner, Tim Erixon.
At the same time, Eminger only played 12-plus minutes, which is almost a waste of a defenseman. He wasn't awful, but he wasn't particularly good either and he has to be able to contribute more ice time.
Artem Anisimov
Anisimov was much more involved in all aspects of the game last night, but it didn't translate into goals. That is, unless you count goals for the other team. Late in the third period, Anisimov tried to power through the defense and turned the puck over leading directly to the fourth goal against.
I can understand that Anisimov is pressing to earn back the trust of Tortorella, but he has to know when to try to make the flashy plays and when to play smart, simple hockey.
Grade: D
Henrik Lundqvist
The good: Lundqvist stopped sniper Phil Kessel not once, but twice, on clean breakaways. The bad: Lundqvist mishandled the puck with both his glove and his stick on multiple occasions, most notably when he let a rebound escape on a soft shot leading to Toronto's second goal.
The ugly: Lundqvist let three of the softest goals of his career and found himself out of position all night long—something we don't see from the King all that often.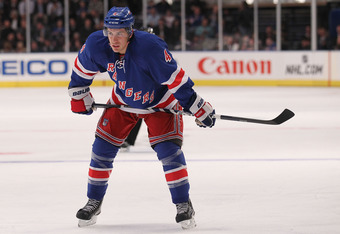 Nick Laham/Getty Images
Brandon Dubinsky
The referees are not the reason the Rangers lost this game. Having said that, the two penalties called on Dubinsky in the third period were a complete joke and fully prevented the Rangers from building any momentum down two goals late in the game. The "slash" on Dion Phaneuf was a phantom call, as Dubinsky barely even motioned towards Phaneuf's outstretched stick.
The second penalty is an example of a referee wanting to insert himself into the outcome of the game. Like a baseball umpire ejecting a player for an under-the-breath comment, this referee decided that he was annoyed with Dubinsky and that a snow shower on the Toronto goaltender, a play that occurs 15 to 20 times throughout the course of a game, warranted a two-minute minor—simply a disgrace.
Oh, and Dubinsky was completely invisible all game.
Derek Stepan
I am starting to see the playmaking ability from Stepan, but game after game he seems to have every one of his passes blocked and every one of his shots deflected. It's constantly happening and I am not seeing any improvement.
Hockey smarts and intangibles will only take him so far—he needs to start executing. Stepan is being given a shot (playing on the first line and now centering the second line) and he has to start taking advantage.
Erik Christensen
Christensen actually created some scoring chances when he was given power-play time in the latter part of the game. Not his worst game, so I'll cut him a break and quit while we're ahead…actually, no I won't.
Did you see this guy when he skated out for pregame introductions? He looked like he didn't even want to be there. I wonder what his relationship is like with the guys in the locker room, because from the fans' perspective, it seems pretty awkward and tense. Get this guy out of here.
Grade: F
Broadway Brad, where art thou? Richards was a non-factor in his first Rangers home game. You have to admit, the guy has some swagger on the power play, looking very calm and collected holding the puck on the blue line. It's pretty clear that he's done this before.
Unfortunately, his showmanship has not translated into the power-play success we have all been dreaming about since the summer. You have a good shot Brad—use it once in a while. I am sick and tired of the "it's still early" excuse; it's time for Richards to start showing up on the offensive end.
Michael Del Zotto
Last night was a flat-out disaster for Del Zotto, which is saying a lot considering he scored a goal (a pretty amazing achievement on this team). Blame the Garden ice all you want, Del Zotto has to have the awareness to not try to one-time a puck that is bouncing its way towards the blue line. With one egregious turnover after another, Del Zotto took a major step back in what was developing into a good start to the season.
Brian Boyle
For a guy who is 6'7", Boyle rarely uses his size to his advantage. In addition to a relatively invisible performance on the offensive end, Boyle failed to make any attempt to knock Lupul away from the front of the net on Toronto's second goal. Boyle seems fixated on proving that last season was no fluke, but he has done very little to put that notion behind him.
Kris Newbury
I don't know if Sean Avery is the answer, but at this point a bag of pucks or an orange cone would be more useful than Newbury. At the very least, you have to think that the orange cone would have ducked under some of those punches from Mike Brown.
Tim Erixon
Last night was a reality check for Erixon, as he looked like a rookie for the first time this season. He was outmuscled in front of the net, allowing Joffrey Lupul to chip a juicy rebound past Hank for Toronto's second goal. Later in the game, he was knocked off the puck in the neutral zone, allowing Mike Brown to gain the blue line and snap a wrist shot past Lundqvist.
Whether or not Erixon can rebound against Ottawa should give a good indication of the type of makeup this kid has.