BYU Football: Are the Cougars a Dirty Team?
October 28, 2011
In a 56-3 blowout of the ISU Bengals last Saturday, the halftime show starring Bengals head coach Mike Kramer may have been the most entertaining aspect of a lopsided contest between two schools that hadn't played each other since Harry Truman was in office.
As teams trotted off to the locker rooms for the half, a sideline reporter managed to run down Mike Kramer and asked him specifically about the special teams situation with his punter. Understandably, Kramer was frustrated being down 35-3 in just a half of football.
By the end of the game his team would muster only 251 yards of offense to the Cougars' 572, this despite nine Cougar penalties for 90 yards and three turnovers.
Earlier in the second quarter, the Bengals lined up for a punt. David Harrington, who's averaging a nifty 48 yards a boot, drilled a 50-yarder deep from his own territory. The Cougars' JD Falsely tore off a 16-yard return. Harrington was part of the entourage of would-be Bengals tacklers to try and bring Falsely down.
After the play was ruled over, Harrington took a shot from one of the Cougars.
Mike Kramer was absolutely livid. He stormed back and forth between the sideline and 15 yards onto the field of play, screaming and gesturing at the referees. The thing is, a flag had been thrown. The Cougars were called for unnecessary roughness and the 15 yards were tacked off against them.
It wasn't good enough for Kramer. He stewed the remainder of the quarter. When asked in the halftime interview about the adjustments his team would make on special teams, Kramer angrily retorted that his punter was out for the game thanks to a cheap shot. He then followed that with, "I'll tell you one thing, I never expected to see something like that here!" And with that, he stormed away.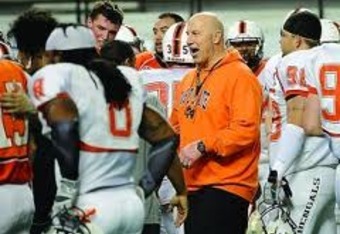 Was he implying that, because BYU is a religious school, they should never have an unnecessary roughness or late hit penalty in a violent and aggressive game? Does he feel the same way about Notre Dame?
Ironically, CJ Reyes subbed in for Harrington and did a terrific job, nailing three of his four punts at the Cougar one-, nine- and 12-yard lines.
Harrington had punted twice before leaving the game with a 24-yard net average, having booted the 50-yarder that was returned 16 yards and a 34-yarder into the end zone; his other punt, the first of the game, was blocked.
So, are the Cougars the dirty team Mike Kramer seems to think they are? The answer is an emphatic "NO!"
So what's the deal?
Based on Mike Kramer's reaction, you'd  think losing his punter was what doomed his team. Yes, Harrington is excellent, but football is the absolute team sport, and if anything, on this particular day, Kramer's punting unit actually performed better with Reyes than with Harrington.
My question to Mike Kramer is this: Was David Harrington so critical to your game plan that it completely changed your approach?
The Bengals threw the ball 60 times! Was Kramer counting on Harrington making some of those throws? Running a few go routes or slants? Worse than that, they ran the ball their typical quota of 20 times, for a measly 19 yards! Was Harrington supposed to come in and pick up the slack in a putrid running attack?
Hey, unnecessary roughness, personal fouls, these offenses occur in a fast and violent game like football where it's sometimes difficult to instantly shut off revved up aggression. That's why they're penalties when they occur.
This whole thing would be much easier to understand if a referee hadn't thrown a flag, but justice was served.
Kramer's team lost the game because it was one-dimensional and matched up to a superior opponent in every phase of the game, not because his punter was knocked out by a dirty cheap shot.
Maybe Kramer felt the game was so boring that he needed to add some spice and produced his own halftime show.