Ron Washington Continues to Go with Gut and Finally Gets Burned
October 28, 2011
Jamie Squire/Getty Images
The Texas Rangers head into Game 7 of the World Series tonight because of a poor performance by Neftali Feliz and the bullpen, and because Ron Washington's run of making poor decisions finally came back to hurt him. Akin to a lucky poker player who ignores percentages, Washington goes with his gut in big decisions.
Up to Game 6, he had intentionally put runners on, completely mishandled his starting lineup, made questionable pinch-hitting moves and mismanaged a bullpen without much consequence. Furthermore, if it wasn't for a phone in Game 5, Washington would have had a lot to answer then.  
In his daily newsletter, Joe Sheehan said it best, "(Washington) just does things, and because Jon Daniels is really, really good at his job, those things often lead to Rangers wins."
However, Washington's house of cards fell down around him last night. The Rangers did not capitalize on a big first inning because his best hitter was batting in front of Craig Gentry and the pitcher's spot. Along with poor lineup construction, Washington made three crucial decisions that cost the Rangers a World Series title last night. 
1. Colby Lewis was allowed to hit with the bases loaded in the fifth inning with Texas leading 4-3. Fernando Salas walked David Murphy (which was a good pinch-hitting decision by Washington) to set up Yorvit Torrealba, but Washington pulled him back to send Lewis up to hit. It was the highest-leverage situation up to that point in the game.
Washington had a chance to tack on some more runs, but he essentially traded that at bat for four extra outs from Lewis when Texas had a fully rested bullpen. Dave Cameron on Fangraphs wrote a fantastic piece that equated that decision to letting John Lackey pitch the bottom of the fifth.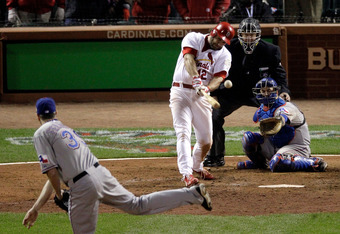 Rob Carr/Getty Images
2. Washington let Derek Holland pitch to Allen Craig, David Freese and Yadier Molina after retiring Lance Berkman to open up the bottom of the eighth. Washington let the left-handed Holland pitch to all three right-handed hitters, each of whom have a higher wRC+ against left-handed pitching.
Craig ended up hitting a home run, and Molina reached on a single to turn over the lineup for the ninth inning against Feliz. Meanwhile, Mike Adams, one of the premier relief pitchers in baseball, could have neutralized that platoon advantage. 
3. After Texas regained the lead on a two-run home run from Josh Hamilton, I understood taking out Feliz after his meltdown in the ninth.  Darren Oliver was a wise choice considering both Jon Jay and Daniel Descalso are left-handed hitters (neither hit the ball well).
After the Kyle Lohse sacrifice bunt, Washington brought in Feldman to deal with Ryan Theriot. Theriot, who has a wRC+ of 84 this season, does not warrant a platoon split, and Oliver's xFIP of 3.64 is good enough to deal with Theriot. Feldman recorded an out against Theriot, not surprisingly, but the move hurt him in the grand scheme of the inning.
I understand not pitching to Albert Pujols, but there is no excuse to have a right-handed pitcher face Berkman after walking Pujols. Berkman's career OPS as a right-handed hitter is .777 compared to his OPS of 1.004 from the left side. If Washington wanted the platoon advantage on Theriot that badly, it is understandable, but Mike Gonzalez was available to face Berkman to turn him around to the right side. 
Washington has ignored percentages this entire World Series, and his close-minded thinking had not hurt the Rangers because of the club's sheer talent and Tony La Russa's issues with the bullpen phone.
This isn't second guessing (Twitter can back me up here), but a questioning of Washington's ability to understand the best situations for his players to succeed.