World Series Game 6 Aftermath: Can the Texas Rangers Defeat the Cardinals?
October 28, 2011
Ezra Shaw/Getty Images
Many are already comparing Game 6 of the 2011 World Series to Game 6 of the 1975 World Series. That of course is the famous Carlton Fisk walk-off home run game.
It's an exciting moment of baseball's past as Fisk is shown willing the ball to stay fair as his arms flail wildly seemingly keeping the ball on the fair side of the foul pole.
After having punished myself by watching replays, listening to interviews, and reading way too many World Series Game 6 recaps, I did what all Texas Rangers fans should have done.
I depleted all available forms of alcohol—in my case three mini bottles of wine, just enough to turn my teeth purple, yet not quite enough to make the pain go away—and threw myself into a heap on my bed in hopes of getting some sleep.  
That wasn't going to happen.
Look, only a fool would say that the St. Louis Cardinals were going to just lie down and go away in Game 6. We knew there'd be plenty of fight left in them. But the Cardinals came back to life more times than Jason Voorhes in the first five Friday the 13ths—and David freaking Freese is certainly deadlier than any fictional antagonist from a slasher film I can think of.
I'd much rather see Halloween's Michael Myers with a kitchen knife than Freese wielding a baseball bat right now, for certain.
To clear things up, I'm already tired of reading articles that describe the Texas Rangers as "choking" in Game 6. This is an unintelligent notion written by stupid people, and it's not fair to the Texas Rangers, and especially the St. Louis Cardinals.
That's right, I said the Cardinals as well.  
Look, saying the Rangers choked doesn't give the Cardinals the credit they deserve. The Red Birds were one strike away from World Series elimination...twice. The fact that they came back at all is astounding; twice is legendary. And you've got to think they've got a real chance to hang up an 11th championship banner in Busch Stadium.
The Rangers didn't come close to choking, either. Josh Hamilton hitting his first home run of the entire postseason—in the 10th inning!—to give the Rangers yet another two-run lead and a chance at a championship isn't exactly what I'd call "choking."
Remember, too, that the Rangers haven't lost two games in a row since August 25. The Rangers have also won the game after a loss every time in this World Series. Why should Game 7 be any different?
Sure, Nelson Cruz has tweaked his groin. That's never a good thing. Here's hoping that it's not serious. Not only has he been one of our biggest run producers all postseason, but he's also an excellent outfielder.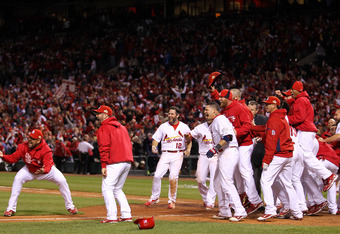 Ezra Shaw/Getty Images
Remember that Matt Holliday might be out for Game 7 as well. Oh, wait, Holliday's bat has been on a holiday all World Series-long anyways. So I guess Cruz's loss definitely hurts the Rangers more so than Holliday's possible deletion from Game 7. 
Seriously, though, Rangers fans, this team is resilient. This is why we should all be glad that we had two chances to win this thing rather than one.  
Game 7 will most likely be just as epic as Game 6 was. Everyone and the kitchen sink will be available to pitch Friday. And as I'm sure many of Rangers Nation might agree, I'd rather watch a kitchen sink pitch tomorrow than Alexi Ogando, Mark Lowe or Neftali Feliz right now.  
However, with both the Rangers' and Cardinals' bullpens having been bruised more than a case of bananas thrown from a skyscraper, tomorrow's contest will be one for the ages, but most likely not a good old-fashioned 1-0 pitcher's battle.
So here's the deal, Rangers fans: Back off the ledge. This thing isn't over yet. No matter what happened in Game 6, and the heartbreak that it caused us all, the fact of the matter is this:
The Texas Rangers still have just as much of a chance of winning the World Series in Game 7 as do the St. Louis Cardinals.
Game 6 of this year's Fall Classic is already destined for immortality. Who knows? It could go down as one of the greatest of all time.
And if you're the type of fan who likes to compare recently played games with classics from the past—and who doesn't?—then David Freese is certainly this year's version of Carlton Fisk.
And just like Fisk's Red Sox in 1975, here's hoping the 2011 Cardinals come up one game short of a World Series title.


If you crave more on the Texas Rangers...
Texas Rangers' Top 7 Postseason Pitching Performances
C.J. Wilson's Free Agent Stock is Falling
Why Colby Lewis is the Poor Man's Cliff Lee
Follow Timothy on Twitter @TMurrayHowell—he follows back, but not in a creepy way. Or hit him up on Facebook—you know you have an account.