Jason Miller/Getty Images
October 29, 2011
Grandpa Joe is not in a good mood. He got busted trying to get into the New York Jets game last Sunday with a ticket that he designed and printed out on his own. It didn't even have the correct date on it.
Anyway, it got even worse once he got to the police station. You see, the state of New York sends Grandpa disability checks twice a month. When he started talking with the cops about how good his golf game has been lately, they got a little suspicious.
So pops is in the county jail while the state figures out what to do with him. He can make phone calls, though, so I was able to get his picks when he rang the house today.
Grandpa: "Hey Gerald, is your mother home?"
Me: "My name is Errol. With an E. I've been telling you this for over 20 years."
Grandpa: "Listen, I don't have time for this right now, kid. Is your mother home or not?"
Me: "No, she's in California for a couple weeks. Do you need anything?"
Grandpa: "Yeah. I need five grand for bail."
Me: "I don't have that kind of money, pops."
Grandpa: "I know that. But this is what you're gonna do."
Me: "Listen, I'm not going around town pretending to collect money for the Boy Scouts again."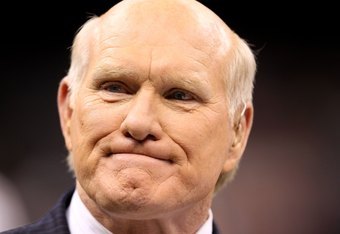 Ronald Martinez/Getty Images
Pops: "That was a good idea. It worked, didn't it? Here's another thing that's gonna work. I'm gonna give you five games to bet for Sunday. Call 'em in with O'Hara. The old guy that lives next to the pub. A thousand on each. My credit is good with him."
Me: "Pops, your credit isn't good anywhere."
Pops: "Don't worry about that. You got a pen and paper?"
Me: "Yes, pops. You better do good this week."
Pops: "Terry Bradshaw and Lynn Swann win another one at home for Pittsburgh. Yep, take the Steelers and three points at home against New England."
Me: "Pops, I told you those two guys haven't played since the early '80s."
Pops: "Well I bet on 'em last week and they won. And they're gonna do it again."
Me: "Okay pops. What else? You know, Bernie Kosar and the Browns are nine point 'dogs at San Francisco."
Pops: "Are Joe Montana and Jerry Rice playing?"
Me: "Nah, they're injured."
Pops: "Okay, take Cleveland and the nine points."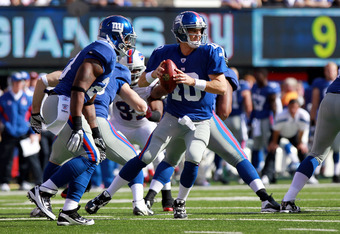 Nick Laham/Getty Images
Me: "Got it."
Pops: "And give me the Jets."
Me: "They don't play this week, pops."
Pops: "How about the Giants?"
Me: "Yeah, they're at the Meadowlands this week against Miami. Giants favored by nine and a hook."
Pops: "That's the only game we're gonna have on television here at County. So let's take the Giants minus the nine and a half. Listen, kid, my time is up, I gotta go. You make the other two picks."
Me: "Okay, under 48 with New Orleans vs. St. Louis, and over 41 with Detroit and Denver."
Pops: "Those two better win, or else the over under or whatever you call it for whacks to your head is gonna be about 67, capice? You got O'Hara's number?"
Me: "Yes, pops."
Pops: "I'll see you here Monday morning, kid."
Like the new article format? Send us feedback!