Why Kellen Moore and Boise State Don't Deserve a BCS Bowl Bid
October 28, 2011
Otto Kitsinger III/Getty Images
I'm sick of hearing about "BCS Busters." Of seeing that blue field. Of watching a team have runaway victory after runaway victory because every opponent it plays is at best a standout in the distinguished Mountain West Conference.
I get nauseated at the thought of one of college football's top ranked team's biggest tests of the year being against Nevada. I'm sick of watching a real contender battle through a true 12-game schedule, while another squad gets equal recognition for playing perhaps only one ranked team all year.
I'm sick of Boise State, and, trust me, I'm not alone.
Over the past five seasons, Boise State's football team has accumulated a record of 68-5, an impressive feat. However, it takes very little delving into the Broncos' schedule to discover a disturbing trend.
Boise State is a team that rarely competes against a top ranked team, and during this five-year period of success,  Boise has never played two teams that were both ranked in the top 25 in consecutive weeks.
In contrast, it is commonplace for a contender in a superior conference, such as the SEC or Big 12, to play two or perhaps even three highly ranked opponents in back to back weeks. Whereas Boise must simply beat one good team and cruise through the rest of its schedule, other contenders must face off against perennial front-runners within their own conference in order to have a chance at the championship game.
For example, in a few weeks time, the two best teams in the SEC and quite possibly the nation will face off, effectively eliminating the loser from championship contention. Meanwhile, the Broncos will face off against a UNLV team that has amassed a grand total of one win this season.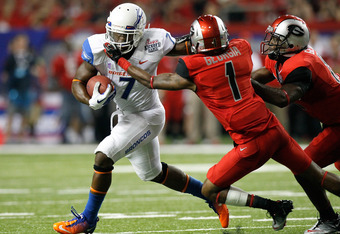 Kevin C. Cox/Getty Images
Fortunately, the voters that control which two teams play for the national championship have been able to see through the façade created by the Broncos from years of dominating subpar competition.
Despite claims that Boise should be considered an elite contender due to their continued success, their record against the Southeastern Conference paints a much different picture.
In the past decade, the Broncos have gone 1-4 against SEC opponents, their only win coming this year against a Georgia team currently sitting at sixth the conference standings. This win should stand out on the Boise schedule, as it is most likely the only ranked opponent the Broncos will face all year.
Last year, Boise played three ranked opponents and lost to a Nevada team that ended its season playing in the prestigious Kraft Fight Hunger Bowl. Although Bronco fans may claim they are true contenders, their record against even average teams is suspect at best.
Perhaps, if Boise State would simply defeat its inferior opponents soundly and quietly move up the rankings, the common fan would have no misgivings about the team.
However, Boise's arrogant, self righteous belief that they deserve to be in the BCS title game creates anger in any fan that watches his or her team battle ranked opponents every week. This contention is also negated by Boise's undemanding schedule and previous failures to defeat even mediocre opponents from major BCS conferences.
And who can forget the hideous blue field Boise plays its home games on? Their field and uniforms are eyesores for all of college football, and their fans loudly heap praise on the team after any and all victories, regardless of the caliber of opponent. As their incessant pleas for an undeserved national championship bid become louder with every blowout victory, one can only wonder when the madness will stop.
It isn't uncommon for a fan of an SEC school to dislike a team with Boise's credentials. After all, an SEC school must compete against high-caliber opponents on a weekly basis, while the Broncos may face off against perhaps one true contender a year.
However, my personal vendetta against Boise State stems much deeper than a disagreement regarding strength of schedule.
I dislike every facet of Boise State. From their overrated quarterback to their boisterous coach and fans, one truly cannot find an endearing quality hidden beneath layers of questionable scheduling and repulsive aesthetics.
When Boise was defeated at two in the morning last year, it was I who stayed up to watch Nevada take down the pretentious Broncos, and I can only hope for the chance to watch Boise fail again this year, as I know it eventually will.