Mike Napoli, Jeff Mathis and the Decision That Shaped Major League Baseball
October 28, 2011
On April 3rd of this year, Texas Rangers' catcher Mike Napoli hit his second homerun of the season. That same day, some 500 miles South, the efforts of Anaheim Los Angeles Angels' catcher Jeff Mathis to drive a baseball out of the infield were futile.
This was the case all six times he stepped into the batter's box. He also failed to thwart the base stealing attempts of the Kansas City Royals. This, too, happened six times. Note: this was not his most embarrassing throwing display of the season.
There is no justice to be had in likening these two players. Neither their styles nor their physical attributes make them comparable.
The middle segment of their Venn diagram encompasses only three logical points. They both catch. They both played for the Angels. They're both Caucasian.
When we remove ethnicity, only Halo-branded catching gear remains. Catching gear they shared for the better part of five seasons when splitting the duties for Mike Scioscia. It was a platoon that perplexed both fans and sabermetricians alike.
This past offseason, Scioscia and the Angels' front office decided that Anaheim wasn't big enough for both catchers. They traded Mike Napoli and Juan Rivera to the Toronto Blue Jays for underachieving, overpaid outfielder Vernon Wells.
The Blue Jays then turned around and flipped Napoli to the Texas Rangers for hard throwing (and chair throwing) relief pitcher, Frank Francisco. All told, the Rangers ended up with one of the best offensive catchers in baseball, and the Angels and Blue Jays wound up with players who bashed their fans in the face with folding chairs (metaphorically speaking, of course).
Napoli and Mathis went on to prove that April 3rd, 2011 was no anomaly. It was, in fact, the start of a trend.
Once every 12-times Mike Napoli put the ball in play this season, the ball left the field of play–for a home run. Jeff Mathis managed to leave the yard just three times in 247 at-bats. Mathis hit safely on just 43 occasions, 12 fewer times than Mike Napoli produced an extra­-base hit. Mathis failed to eclipse the Mendoza line for the third time in parts of seven major league seasons, steeping his career batting average into the tea-bag-region of .194.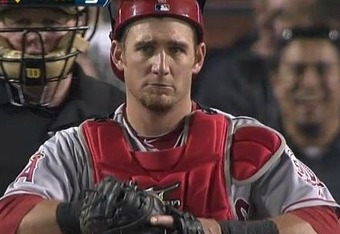 The bigger story here is Napoli. He led all major league catchers in home runs, OPS, SLG and isolated power (ISO). In fact, he finished with a higher OPS than any major league player except Jose Batista, the odds-on favorite for American League MVP.
You could even make the argument that Napoli's offensive season was historic for a backstop. His SLG ranks him third all time behind Javy Lopez in 2003 and Mike Piazza in 1997.  
Napoli's ISO places him behind only Javy Lopez and Rudy York's 1937 campaign. To give this more perspective, know this: Rudy York set the record that season for homeruns in August by hitting 18, surpassing a player named Babe Ruth.
Javy Lopez put up his numbers in 2003. You may remember that era, way back when, when players brought three duffel bags with them to spring training. Bats. Gloves. Syringes.
Even with the Angels, Napoli had a knack for hitting the long ball. He hit 20+ home runs in each of his last three seasons with the Angels. Mathis was always the defensive half of the unit.
Napoli's average or worse defensive skills were probably the main reason the Angels chose to discard him this winter. Being that Mike Scioscia was a defense-minded catcher during his playing days, this should come as no surprise.
So it is the ultimate irony that Napoli outplayed Mathis on defense this season.
Defense by and large is the most difficult skill to measure. Though defensive statistics have come a long way, there isn't much to point to (especially for catchers) that is both telling and consistent.
That being said, it was Mike Napoli who threw out a higher percentage of base stealers this season. And it was Mike Napoli whose CERA was a tenth of a run lower than Mathis', even though Mathis caught the likes of Jered Weaver and Dan Haren.
I'm not writing any of this to pick on Jeff Mathis (though I will not cower from it), who by all accounts seems a perfectly kind soul.
In fact, that kindness may very well be the gentle technique he displays swinging a baseball bat, carefully avoiding any outward damage to the baseball. A decisively contrary approach to Napoli's, which treats hitting like a slugfest, restructuring the identities of balls so they look like they came from Mr. Mertle's backyard in The Sandlot.
I haven't seen nearly enough Napoli-praising journalism this season. He produced one of the great positional seasons in the sport's majestic history and he continues to strike fear into opposing pitchers through the playoffs. Nor have I seen enough Mathis-bashing journalism this season.
I attribute this to baseball writers being genuinely nice guys. Either that or incredible offensive futility just doesn't get the site hits that it used to.
The Angels made a decision this offseason that has had and will have an enormous effect on their team's performance.
It was a bad decision. An awful decision. A decision that reeks of incompetence and favoritism. But the decision was made. Repercussions will be endured. Life goes on. As does Mike Napoli's season, which goes on to a Game 6 tonight, in St. Louis.
Follow @SpiceFreeman on Twitter and be automatically entered to win a lifetime supply of half-wit.