San Jose Sharks: How the Sharkies Got Their Groove Back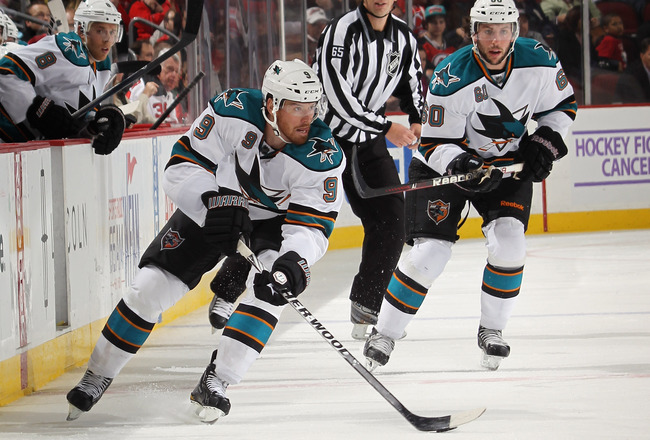 Bruce Bennett/Getty Images
The San Jose Sharks are doing what they do best on the road—win.
It's amazing what a little time together on the road can do for a team, as the Sharks look much more like the team San Jose has grown accustomed to seeing over the past decade.
After starting 1-3, the Sharks have won three straight games on the road.
What's turned this team around?
No. 1: Health
While the Sharks began the season without starting goalie Antti Niemi, backup Thomas Greiss played tremendously to start the season in his place.
Where the injury bug really hurt the Sharks early was with top forward Martin Havlat.
In past years, the Sharks had seven top forwards who could all play on the two best lines.
That means if someone got hurt, you had a top-line quality scoring threat to step in without the team missing a beat.
This year, they traded one of those forwards away (Devin Setoguchi) for a defenseman (Brent Burns).
Now if one of those top six remaining forwards gets hurt, it leaves a big hole in the offense (look for GM Doug Wilson to improve this depth via trade).
Martin Havlat's return as a playmaker on that second line is the No. 1 difference in the Sharks' reversal of fortunes.
No. 2 Passion and Chemistry
Okay, so maybe this video didn't have the outcome Sharks fans would want, however it's symbolic of something greater.
The most glaring element of the Sharks' game that was missing in their three straight losses was passion.
Even against rival Anaheim, the Sharks wouldn't hit, barely fought and looked like they didn't care.
Furthermore, new additions to the team like Brent Burns looked well out of place as they were just trying to figure out a new system with a new team.
Well these wrinkles are ironing out quite nicely now.
The Sharks' bench on the road is on their feet at times and into the game.
They're fighting for one another and when one of them does get knocked down, as Murray did in this fight video, the Sharks are finding a way to get back in the game and come out with a "W."
They're finally playing with some heart in a sport that demands it.
No. 3 Jim Vandemeer
Jim Vandemeer is a journeyman who is one of the best loved teammates on every team he plays with.
Colin Wilson has been the Sharks' weakest link on defense and was replaced by Vandemeer two games ago in Boston.
Vandemeer fought in the game and was back in the lineup again in Nashville.
Every chain is only as strong as its weakest link, and as the team's sixth and final defenseman, Vandemeer has completely shored up play at that position.
Vandemeer is a smart player who makes the right play nearly every time he's involved.
He makes quick and efficient breakouts and is already playing supremely in coach Todd McLellan's system.
Keep Reading

San Jose Sharks: Like this team?