Can Jrue Holiday and Evan Turner Lead Philadelphia 76ers into Next Generation?
October 28, 2011
Marc Serota/Getty Images
How would the 76ers' future look if Jrue Holiday and Evan Turner were team captains? Could the boat stay afloat, or would the ship be sinking?
First, sink your teeth into this: As extensions of their head coaches, NBA point guards are floor generals. A proper simile is to say lead guards in the NBA are like ship captains.  
A team without a leader at point guard is like an ocean liner without a rudder. The team will likely be run aground and over by the other captains and squads in the league.
NBA captains must put players in the right positions to execute offensive and defensive schemes. Teammates must be able to trust a point guard's ability to handle their opponent's defensive pressure, score and deliver key assists.
Other players must have enough faith to accept reprimands and encouragement from the floor leader. The No. 1 guard should, in line with that, know when and how to punish and reward teammates.
As Philly's presumed starting point guard for the next generation, Holiday, therefore, will need exquisite leadership skills. A few courses in psychology could help. He's playing a position of prestige in Philadelphia.
Great point guards of the past have included Hal Greer, who was known for his scoring assault on the NBA's record books. Greer is less recognized for racking over 4,500 assists in his 15-year career.
During the glory days of the 1980s, Philly had Maurice Cheeks and Clint Richardson to hold down the point guard position. Allen Iverson manned both guard spots like Holiday has the knack to do.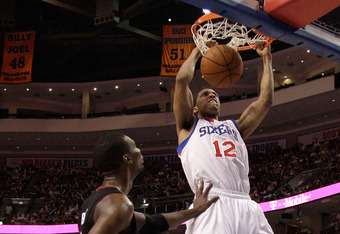 Rob Carr/Getty Images
If Holiday is going to fall in that floor general line of leadership, then he'll do well to develop a field officer to help him steer the ship. Evan Turner is the likeliest candidate to fill that role.
With those two at the helm as cornerstones, the 76ers would have two of the most talented young players in the league. For years, they could be faces of the franchise.
As potential guiding lights going into Philly's future, Turner would be in the throes of his second NBA season and Holiday's third. In the 10 to15 years to come, can they succeed in leading the Sixers' fast break brigade?
As a wide-ranging rule, generals ooze swagger when standing in front of their soldiers. To be sure, the swagger factor for Holiday is much higher than Turner's at this point.
Turner wasn't a starter last season, and he'll have to work the hardest between the two to gain confidence in his coaches and teammates. His talent is undeniable, however, and he was a leader on his Ohio State Buckeyes team.
The NBA, though, is a different beast. Young bucks who were the men in college have to carve out their niches among seasoned veterans. Holiday is a point guard by nature and Turner by instinct. Both can play guard from off the ball, and Turner can slide into any team's three spot.
That versatility and their added dimensions of size are invaluable for today's NBA franchises. To lead the Sixers, the young guns must also be valued for showing maturity and toughness.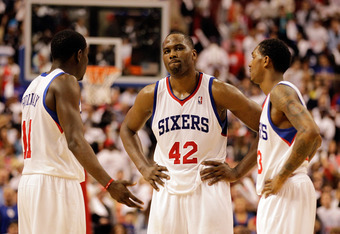 Rob Carr/Getty Images
They'll also need to show leadership qualities by using their exemplary hard work as examples. Setting the tone for being always willing to learn more and work harder than everyone else are more keys for them.
They must as well show that they are team players.
What I further like is that both realize it's often better to give a no-look pass than to receive one. Moreover, both are solid defenders.
In addition, both know the benefit of staying positive—having the glass is half-full as opposed to half-empty mentality.
Finally, even when they don't have the ball, both know how to lead and direct people to help the team's success. Jrue patterns his game after Deron Williams and Chauncey Billups—two superlative NBA leaders.
Not many other franchises boast such a young and dynamic set of multipurpose players. They could be the cornerstones on a perennial playoff team in Philadelphia.
These qualities make them quite capable captains who can keep the franchise's ship afloat into the next generation. Full speed ahead.
Contact Lake Cruise: Lakecruise@att.net