Week 8 Fantasy Football Projections: Brandon Marshall and Players That Will Flop
October 27, 2011
J. Meric/Getty Images
Nobody likes to lose, especially in fantasy football. When top players bust, it often can be the sole reason a fantasy player loses.
The trick is to make the right starts based upon who the teams are playing, and how that player or team has been performing lately. 
Over thinking and trying to second guess yourself never works, which is why the best advice anyone can ever give you is to just go with your gut. After all, it is just a game. 
As always, hit me up in the comments section with any questions regarding your fantasy team. 
With that said, here are three players to avoid starting in Week 8. 
The Miami Dolphins are in a world of trouble right now, and those fantasy players who own Marshall are going to suffer. Marshall isn't a strong fantasy option anymore, and not having a legit QB will do that to a WR.
He hasn't scored a touchdown since Week 2, and he was rather disappointing against a subpar Denver defense last week. He torched the Jets for over 100 yards receiving, but flopping against the Broncos is just pathetic. 
The Dolphins hit the road to take on the New York Giants, and because Matt Moore is a little banged up it's not going to end well for Miami. This means Marshall needs to be on your bench because his chances of scoring double-digit points are very slim, especially if J.P. Losman ends up replacing Moore.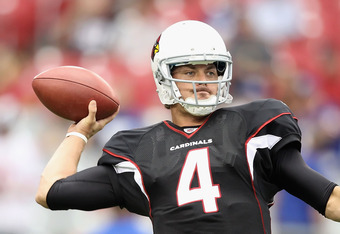 Christian Petersen/Getty Images
If you happen to own Kolb this season, then chances are you waited rather long to draft him hoping he'd be a steal. Kolb and the Arizona Cardinals have been a huge bust this season, and it's very unfortunate for those with him or Larry Fitzgerald. 
Hopefully you have another good option at QB because Kolb needs to be benched this week. The Baltimore Ravens defense is still solid, despite the fact that they lost this past week. Their offense is becoming putrid, but their defense keeps them competitive. 
While I think Fitzgerald finds the end zone once on Sunday, Kolb is not worth starting. The Cardinals QB won't have enough passing yards to score major points, which will hurt you in the end. In fact, he hasn't thrown for 275 plus yards since Week 1, and I wouldn't be surprised if he even reaches 250 on Sunday against the Ravens. 
Montario Hardesty 
The Cleveland Browns will decide between Hardesty and Peyton Hillis, but given recent problems with Hillis, and the fact that Hardesty carried the ball 33 times last week, the Browns are likely to go with Hardesty. 
However, neither running back will be a good start no matter who carries the load. The Browns are playing on the road against the San Francisco 49ers, who happen to be second in the league against the run. 
But the real stat to focus on is that the 49ers have not allowed a single rushing touchdown all season. If Hardesty is available in your league he is worth the add, but wait another week to start him because the 49ers will shut him down. 
Other players who won't fare as well as their owners hope are Maurice Jones-Drew, Sidney Rice and Philip Rivers. The Chiefs will prevent Rivers from a monster day, the Texans will slow down Jones-Drew with ease and Rice doesn't stand much of a chance against a well rested Bengals defense.