Ranking the Experts: ESPN vs. Yahoo! Week 7 Running Back Ranks
October 27, 2011
Bob Levey/Getty Images
When you set your fantasy football lineups each week you rely, at least partially, on the various Web sites' rankings of your players. For two of the major Web sites, ESPN and Yahoo!, I'm taking the top 20 running backs and seeing how the experts ranked them for Week 7.
It's time to turn the tables on the experts.
Using standard scoring for the running backs, I've listed the actual top 20 running backs from Week 7 (I've placed the ESPN rank and the Yahoo! rank next to the player's name):
1.  Arian Foster (ESPN: 4.8, Yahoo!: 4)
2.  DeMarco Murray (ESPN: 20.0, Yahoo!: 20)
3.  Adrian Peterson (ESPN: 4.3, Yahoo!: 5)
4.  Matt Forte (ESPN: 3.5, Yahoo!: 2)
5.  Darren Sproles (ESPN: 15.5, Yahoo!: 19)
6.  Steven Jackson (ESPN: 13.5, Yahoo!: 17)
7.  LaRod Stephens-Howling (ESPN: NR, Yahoo!: NR)
8.  Michael Turner (ESPN: 5.5, Yahoo!: 7)
9.  Jonathan Stewart (ESPN: 27.8, Yahoo!: 25)
10. Delone Carter (ESPN: 28.3, Yahoo!: 39)
11. Pierre Thomas (ESPN: 29.5, Yahoo!: 34)
12. Mike Tolbert (ESPN: 25.5, Yahoo!: 24)
13. Shonn Greene (ESPN: 19.3, Yahoo!: 22)
14. Montario Hardesty (ESPN: 25.3, Yahoo!: 27)
15. Michael Bush (ESPN: 32.0, Yahoo!: 30)
16. Ben Tate (ESPN: 35.5, Yahoo!: 36)
17. Marion Barber (ESPN: 45.0, Yahoo!: NR)
18. James Starks (ESPN: 24.5, Yahoo!: 26)
19. Mark Ingram (ESPN: 17.8, Yahoo!: 21)
20. Phillip Tanner (ESPN: NR, Yahoo!: NR)
OK, if you played, or even heard of Phillip Tanner before this week, raise your hand. You're lying—put your hand down. 
Both ESPN and Yahoo! get a pass on the LaRod Stephens-Howling and Phillip Tanner rankings, eh, non-rankings. It's a wash anyway.
So, in order to make sense of these numbers, I added up the total number of misfires (the difference between the projected ranking and the actual ranking) and divided it by the total number of players (20) to arrive at the Web sites' scores.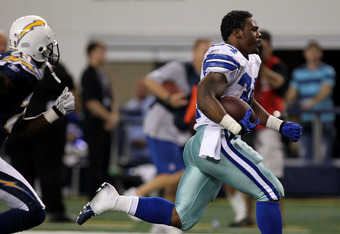 Ronald Martinez/Getty Images
For Week 7 running back rankings, ESPN was off by an average of 10 spots based on where the player actually ranked. Yahoo! fared worse. They were off by 12 spots. 
Both groups dropped the ball on the Maurice Jones-Drew and Chris Johnson rankings. Each week these guys are consistently ranked among the top 10 running backs, yet neither one has cracked the top 10 overall this season.  For the season, Jones-Drew is ranked 13th and the disappearing act named Chris Johnson is ranked 30th, according to ESPN rankings. 
And both groups refuse to respect New Orleans Saints running back Darren Sproles, who finished fifth among running backs this week. Each week, Sproles puts up solid numbers and is currently ranked 11th overall among running backs. Yet, he's never been ranked 11th or above this season by either group.  
Moral of the story: Depending on if you use ESPN or Yahoo!'s rankings, you can expect your player to finish where each group ranks them—give or take 10 or 12 spots.