2011 World Series: Game 7 Start for Chris Carpenter Now an Option for Cardinals
October 26, 2011
Rob Carr/Getty Images
If all had gone according to plan, Game 6 of the 2011 World Series between the Texas Rangers and St. Louis Cardinals would have been played tonight at 8:05 p.m. ET
Unfortunately, Mother Nature has a way of screwing with baseball's plans from time to time, and she screwed with them again today. The weather in St. Louis on this Wednesday is pretty awful, and the word from Richard Justice of the Houston Chronicle is that MLB has decided to take action: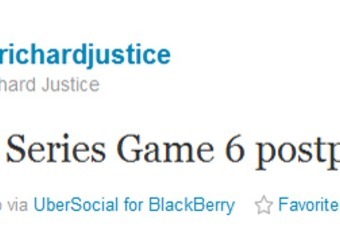 So there you have it. The best World Series in years will not be seen tonight. CNBC's Darren Rovell claims the game will be played on Thursday.
Presumably, the pitching matchup for Game 6 will not change. It was supposed to be Colby Lewis for the Rangers and Jaime Garcia for the Cardinals, and both pitchers are ones their respective clubs can feel comfortable using.
Game 7 will be another story. It will be played on Friday if it is needed, and that means Cardinals manager Tony La Russa could very well choose to use his ace.
That, of course, would be Chris Carpenter. He's made two starts in this series, one in Game 1 and another in Game 5. All told, he's pitched 13 innings and allowed four earned runs, and it was largely thanks to him that the Cardinals won Game 1.
Because Carpenter pitched in Game 5 on Monday, his availability for Game 6 was pretty much out of the question. He could have been used in relief in Game 7 if the Cardinals got that far, but starting would have also been out of the question. Indeed, Carpenter would have had just two days of rest.
But now that a Game 7 could potentially take place on Friday, La Russa will have the option of starting Carpenter on three days' rest.
True enough, starting Carpenter on three days of rest didn't work so great the last time La Russa did it. That was back in Game 2 of the National League Division Series against the Philadelphia Phillies, and Carpenter lasted just three innings. He gave up five hits, walked three and allowed four earned runs. Luckily, the Cardinals still managed to win 5-4.
Starting Carpenter on three days of rest again is definitely a tricky proposition. But the alternative would be to start Kyle Lohse. The last time we saw him, he was giving up two home runs in just three innings in Game 3.
La Russa is going to be picking his poison no matter who he decides to start, but I think starting Carpenter is the best choice for La Russa. Hands down.
But first, the Cardinals have to get to Game 7. We'll see what they can do on Thursday.
If they make it there, hand the ball to Carpenter and win, you can rest assured they'll send a thank you card to Mother Nature.