Manchester United 1 Manchester City 6: It Was Always Coming
October 26, 2011
Shaun Botterill/Getty Images
There is not a shred of doubt that Sir Alex is a master strategist, one of the finest of a generation. What he knows about football is beyond anything you or I could ever comprehend. When it comes to the beautiful game, the man lives in another dimension, like the other membranes of string theory, it is not perceivable to us mere arm chair mortals.
Even as a constant backer of the underdog, who would have reason to stand against United in almost any match they play. I can not help but over flow with admiration for the renewed vigor, consummate style and headline defying determination with which the Man United manager has constantly reinvented and rejuvenated his side since that dark day in 1989. He is popularly believed to have been one Mark Robins goal away from the end of his 3 year tenure at United, and maybe even one goal away from ending one of the greatest success stories in the world of football before the first chapter had been written.
But in all the time, and throughout the 27 major honours that Fergie has brought to Old Trafford since capturing his first FA Cup in 1990. He has never had to bounce back from a 6-1 defeat, not least at the hands of rising rivals, whom in multiple press interviews in the lead up to the Manchester derby, Fergie used a multitude of different tactics in order undermine and to refuse to acknowledge Manchester City as a big team or one to be worried about.
Mind games were at play way before the players set foot on the pitch with Mancini opting for the opposite approach of overloading his counter part with suffocating compliments, man love, and surrogate psychology.
But all that really counts is what happened during the 93 minutes of play. United were tactically outclassed, out possessed, and out-shot, for all but the first 20 minutes of the match, and for the first time in recent memory, and possibly ever, Ferguson seemed to acknowledge that he got it tactically wrong as City raided forwards again and again.
It would be crude not to acknowledge that United were down to 10 men, but this is nothing notable, United have been a man down on many occasions and never let their opponents feel the benefit. In fact, on many an occasion, I have seen their team react with utmost professionalism, galvanize and produce a performance worthy of 12 men, let alone 10.
On this occasion though, already 1-0 down, they seemed completely capitulate after their efforts in the first 15 minutes of the second half bore no fruit. The final 3 minutes of the match made an already astonishing home defeat (at 3-1), the first since Chelsea were 2-1 victors at Old Trafford back in April 2010 some 25 games ago. In to a 6-1 result that turned the world upside down, with perhaps even more shock and awe than the 8-2 master class that rocked Arsenal's world at Old Trafford less than 2 months ago.
We all make mistakes, we all get things wrong and despite all his herculean achievements, Sir Alex and his men may well be like the rest of us after all, there is no shame in that, but there was something unusual, and maybe even earth shaking about the nature of what happened at Old Trafford last week.
Whilst many were more than happy to lead with calls to the tune that this was symbolic victory that signified the consummation of a new order in the Premier League (probably many of the same people that drooled like hungry dogs at the unstoppable Fergie machine after the Arsenal match), we shouldn't get carried away, after all United have had their backs up against the wall before, and you would bet against them at your peril. But I can't shake the feeling that this was different, and I can't deny the fact that this wasn't that much of a surprise, in fact I'll be brave enough to say it had been coming for a while.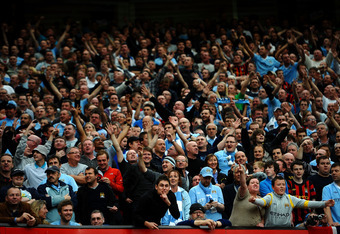 Laurence Griffiths/Getty Images
The Warning Signs
In the weeks prior to the match, various stats had been doing the rounds that made note of the fact that the United defence had conceded more shots than any team in the league. Not many paid attention, but this was a remarkable warning sign. A few weeks prior Basel had scored 3 at Old Trafford against a United team who had conceded a single goal in the group stages and only 4 in the entire competition all the way up to the Final in the previous season. Had it not been for the steely backbone of Brand United, the underlying frailties that have existed all season in the merry-go-round that is the Man United starting back line, would have been exposed there and then.  Basel only managed 4 shots on target, and when that yields 3 goals at Old Trafford it means one of two things, either the defence was badly exposed by every meaningful attack, or the goal keeper was incompetent, or worse still a combination of the two.
A few days earlier United came away from Stoke, perhaps lucky to get even point, and when you consider the fact that Stoke have had the fewest shots in the league this season with 65 in 9 games (an average of 7 per game), and have made fantastic success out of containing teams and attacking only when necessary, managed to out shoot United at The Britannia with 14 shots. You can brush it aside as another meaningless stat, or you can take note of what it might mean. Consider that 8 shots on target is rather a lot to be conceding against a team who have only managed 22 shots on target in 9 games.
You can add to that the fact that when Norwich visited Old Trafford the following week they seemed to share similarly abundant success at breaking through the historically solid brick wall that protects the final third of the pitch at Old Trafford. In fact, without being unkind, if the Canneries had had a Balotelli or Dzeko instead of a Pilkington they would have been 2 up before Anderson broke through to add the first after nearly 70 minutes. The same goes for Liverpool the week after that. Had Suarez had his shooting boots on, or the cross bar been an inch higher up, Liverpool would have comfortably won a match in which they also out shot, out possessed and out played Man United.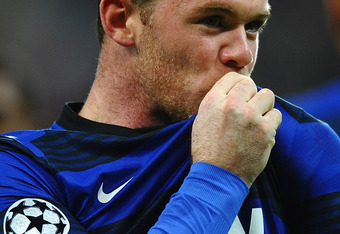 Laurence Griffiths/Getty Images
I hate to pile the misery on, but if you look at United's last 4 games vs. the 4 games prior to that you get these stats:
Last 4 games        W4, D0, L0, F19 A3
4 games before     W1, D2, L1, F5 A8
What this says to me is that the glorious rate with which United were hammering in the goals and Rooney's magical, record breaking start may have done a lot to paper over the cracks of some underlying weaknesses, which as a result of their success were not given enough attention.
Looking at the volume of chances they had conceded prior to the game against City and the ebbs and flows of those games before hand, it was an easy read to make the signs seemed to be there, and before you say that hindsight is 20-20, this is not hindsight. I had been quietly harping on about it to deaf ears on my own site for a number of weeks before the City game. It was no wild call or act of soothsaying to suggest that it was only a mater of time before a team with quality in every position, and perhaps a little rub of the green would expose these pre-existing conditions and stun the world with a result like this.
Everton Await
But never ever write Fergie and United off, whilst there is no living precedent for the wall they have their backs up against right now, and they have not suffered a defeat so large since 1955, but writing them off or rubbishing them off the back of a few precarious results is an act of digging your own journalistic grave.
It will though be fascinating to see what happens when at the weekend, they visit an Everton side against whom they've had little success in recent years. Only one victory against Moyes' men in the last 3 meetings and just one win at Goodison Park since 2007, so don't be stunned if this little blip becomes a balls-up before things inevitably get better and I have to very gladly eat my words, and fall at the feet of a gleaming Sir Alex once again.