2012 MLB Offseason: Philadelphia Phillies Fielding Breakdown
October 26, 2011
Drew Hallowell/Getty Images
The Philadelphia Phillies surrendered the fewest runs in baseball in 2011, and most of that can be attributed to the front four of their starting rotation.
However, any honest pitcher will tell you that they can't succeed without good fielders behind them. This was obviously true in the case of the Phillies this past season.
Moreover, when see pitchers like Vance Worley and Kyle Kendrick succeed, you know that there has to be some good fielding behind them.
Roy Oswalt and Brad Lidge did not have their options picked up. If they aren't brought back, it will be even more important for the fielding behind the pitchers to be as strong as ever.
DER: .703 (6th)
RA: 529 (1st)
FLD%: .988 (2nd)
Baseball Reference: +26 runs (6th)
Fangraphs: -10.0 runs (18th)
Fielding Bible: -32 runs (27th)
Baseball Prospectus: 11.9 runs (8th)
Composite Runs: -1.0 runs
The fielding metrics were lagged behind fielding percentage and DER in this case.
The Phillies case this year and moving forward is interesting, to say the least. They either have brilliant defenders or horrible defenders. Chase Utley and Placido Polanco are both at the top or near the top at their position.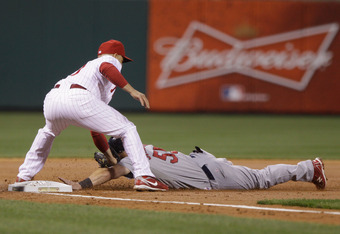 Pool/Getty Images
Raul Ibanez and Ryan Howard are near the bottom at their position.
The rest of the fielders fit somewhere in between and fluctuate from season to season depending on how they are doing. The end result is often unpredictable.
Who knows what kind of impact this played down the stretch and in the playoffs?
Best Fielder
In normal seasons, this would be easy.
Chase Utley is the best defensive second baseman in the National League (with all apologies to Brandon Phillips fans). This year he was as well, but the value simply wasn't there. He missed too much time early in the season to register as the best overall.
Placido Polanco was the best fielder on the Phillies this year, as he enjoyed maybe his finest season defensively at third base. Polanco is a valuable guy to have around, because he can play second base and is an excellent contact hitter.
Worst Fielder
I've read some different pieces suggesting that Raul Ibanez would make an excellent signing for 2012.
Those always make me chuckle, because those folks only pay attention to home runs, RBI and runs. They didn't pay attention to a dwindling OPS or the fact that Ibanez has become a butcher in left field.
Ibanez gave the Phillies two-and-a-half good seasons of baseball, and they will gladly move on to someone younger and cheaper.
Possible Changes
When Ryan Howard ruptured his Achilles on the final play of the 2011 NLDS, Phillies fans and management collectively fainted.
The smelling salts came with the realization that with Ibanez gone and Howard on the shelf, the Phillies just rid themselves of their two worst defenders. So, while the offense will likely struggle, the fielding behind the brilliant pitching staff just got measurably better.
2012 Outlook
Yes, the offense will struggle in 2012, but a staff that allowed 529 runs could be even better in 2012 with better fielding behind the pitching.
The 500-run barrier seems to be in reach, and if they allow that few, they will be a playoff team regardless of how their offense does.