Theo Epstein "Feels Great" and John Lackey Doesn't: The Reason Theo Left Boston
October 26, 2011
Jonathan Daniel/Getty Images
Theo Epstein "feels great."
At least that's what he told the media at his introductory press conference in Chicago yesterday.
Really, Theo?
You leave an organization that's made the playoffs six of the last nine years for a team that's won 90 games just once in the past 13, and you feel great?
Three hours later, as if by cosmic intervention, the heavens rendered an explanation for Epstein's good vibrations.
When new Red Sox GM Ben Cherington took a detour from his media meet n' greet to deliver news that John Lackey elected for Tommy John surgery and would miss the 2012 season, it all became strikingly clear:
John Lackey is the reason Theo Epstein left the Boston Red Sox.
Not Tito Francona, John Henry, Jon Lester, Josh Beckett, Tom Ricketts or Steve Bartman—John Lackey.
And it's not because John Lackey's absence will torpedo the Red Sox chances to compete in 2012. Quite the opposite, in fact.
It's because losing John Lackey has almost no bearing on Boston's playoff aspirations next year, because shelving a pitcher that Epstein gave five years and $82.5 million hardly registers as a loss at all.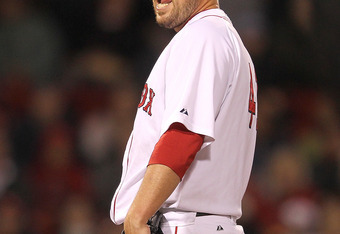 Jim Rogash/Getty Images
We all know the Red Sox will plaster over the Lackey fiasco with another big signing or trade. Maybe they'll get C.J. Wilson or Roy Oswalt or even CC Sabathia. The name matters little, only that they will find someone to replace him and the Boston machine will continue to hum as if nothing ever happened.
Lackey is to the Red Sox what Carl Pavano was to the New York Yankees.
When the Yankees signed Pavano in 2004, they were still just a few years removed from their late '90s dynasty, a team built through guile, guts and some semblance of strategy.
When Pavano faltered in New York and the team kept winning in spite of him, it was clear that no amount of imprudence could stop the Yankees from dominance. The days of Scott Brosius, Jim Leyritz and Joe Girardi were dead, replaced by an insatiable appetite for high-priced talent that would steamroll the last vestiges of front office savvy.
When the Red Sox continue to win the wake of John Lackey's disastrous deal, the transformation from upstart to empire will be complete. Kevin Millar, Bill Mueller and Mark Bellhorn will fade into memory, complete with the knowledge that today's Red Sox would never field players with such little luster.
Being Red Sox GM in the post-John Lackey era is like trying to complete a jigsaw puzzle with everything but the borders already finished.
Sure it's easy and there's a high chance of success, but the intellectual rigor is non-existent.
From everything I hear and see of Theo Epstein he doesn't want to become a life-long border-filler; he wants the challenge of building from scratch and the notoriety that comes with successfully completing such a transformation.
"We're going to build the best baseball operation we can. We're going to change the culture. Our players are going to change the culture along with us in the major league clubhouse. We're going to make building a foundation for sustained success a priority."
That may sound like canned optimism to you, but to me it sounds like a man out to make his name.
Fans remember Epstein as the man who put the the finishing touches on an already-solid base in Boston. For the Yale graduate, "boy genius," Moneyball disciple, that legacy wasn't sufficient.
Epstein wants a jigsaw puzzle in disarray, one with pieces lodged under couch cushions and others warped by age. He feels compelled to prove, to us and to himself, that he's capable of taking a team from the brink all the way back to prominence.
Epstein looked at John Lackey, saw Carl Pavano and knew he would never have that opportunity in Boston.
Then he looked in the mirror, saw Brian Cashman and quickly packed his bags.