Cristiano Ronaldo vs. Lionel Messi: Who's Been Better so Far This Season?
October 26, 2011
While Spain's La Liga remains in the shadow of the English Premier League as Europe's dominant footballing attraction, Spain does possess two of the best footballers in the world today.
Dissecting Lionel Messi and Cristiano Ronaldo's contribution to their respective sides so far this season comes down to their performances in the goals department. After all, that is at the top of their to-do list as Barcelona's and Real Madrid's principal forwards.
Delving a little further into the performances of each player suggests that there is a significant improvement, or progression, to their individual game. No longer should we look to these players simply as goal machines but rather as far more complex footballers who can deliver on so many different levels.
Cristiano Ronaldo, first and foremost, has been a wonderful revelation this season.
The Portuguese forward has developed his game far beyond the ego-driven, showboating, yet, wholly-entertaining figure that arrived in Spain from English shores. What we have now is a far more well-rounded team player.
Ronaldo has thus far picked up five league assists to complement his 10 league goals. But rather than being the player who spearheads an attack, Ronaldo has seemingly linked arms with the rest of the Madrid offense and formed a very successful hammer blow to opposition defences.
His pass to set up Karim Benzema's goal earlier in the season against Getafe was not only a moment of genius but also a highlight of the technical prowess. It was a moment of brilliance that maybe a year or so ago we would not have associated with Ronaldo but rather someone like Xavi Hernandez or Andres Iniesta.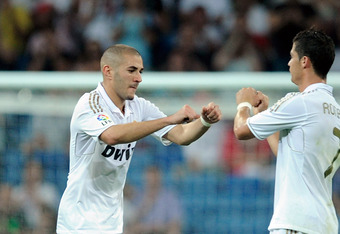 Denis Doyle/Getty Images
Ronaldo's performances so far this season suggest that he is very much enjoying his footballing and the supporting cast he has at his disposal.
Teammates like Gonzalo Higuain and Mesut Özil will always bring the best out of any player, but as one of Europe's finest talents and second only to Messi, it seems Ronaldo has pulled the rest of his teammates up to his level and are forming a far more lethal attack on Barcelona's title reign.
Lionel Messi, similarly, is the first player we look to on Barcelona's team sheet.
Here is another who has picked up right where he left off last year and has continued to stun opposition defences into submission and dazzle the world's football audience.
Messi, most recently, displayed one of his most outstanding performances against Czech Republic's FC Viktoria in the Champions League where he, despite not scoring, showed the world he still had a number of new tricks in his locker.
The little Argentine also managed to assist a wonderfully-crafted goal through Iniesta and continues to show that along with his phenomenal dribbling ability and composure in front of goal, he can also go toe-to-toe with the best passers in the world.
Yet with all his ability and his status as a modern footballing deity, one must ask the question: is he as integral to Barcelona as Cristiano Ronaldo is to Madrid?
It's widely accepted that Xavi is the engine inside the Barcelona machine; one that keeps the rest of the team ticking. This is a responsibility that will eventually fall to Thiago Alcantara via Cesc Fabregas.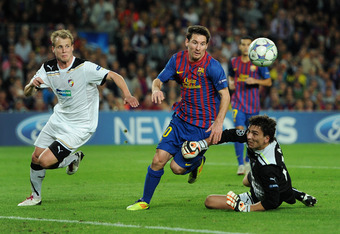 Jasper Juinen/Getty Images
Ronaldo brings life to the rest of the Madrid attack line. Without him or his important co-stars, Xabi Alonso and Mesut Özil, Madrid begin to lack a little of the bite that has seen them outperform Barcelona this past weekend in the league.
Though at the same time, Barcelona continue to threaten through the likes of David Villa, Iniesta, Fabregas, and, of course, the marauding Dani Alves.
Yes, it's always going to be detrimental to either side's hopes of winning if you take their most productive star player out of the equation. But while Ronaldo has been assisting and scoring to ensure his side go above their rivals, Messi is yet to score away from the Nou Camp this season.
Being a part of 62 per cent of your side's goal thus far is a great achievement and goes on to further support how vital Messi is to the success of his club. But being unable to convert away from home must surely go against you if you're looking to pip your closest rival for personal accolades.
Two footballing greats who, arguably, have yet to reach the height of their powers.
A personal battle between the two continues to rage alongside the fierce rivalry between their two elite clubs.
At this stage in the season, the upper hand will go to the man who, with a game in hand, is two points behind Barcelona in the league standings, and who has guided his team to the only 100 per cent record so far in the Champions League—Cristiano Ronaldo.