Saints vs. Rams: TV Schedule, Live Streaming, Radio, Game Time and More
October 26, 2011
Al Messerschmidt/Getty Images
The St. Louis Rams must be shaking in their boots after the New Orleans Saints blew out the Indianapolis Colts last week.
The Rams have yet to win a game this season, and you can guarantee that it won't come this week against the Saints.
New Orleans is proving to be one of the best teams in the NFL, while St. Louis has regressed significantly this season.
Don't expect a turnaround this week.
Where: Edward Jones Dome (St. Louis, Missouri)
When: Sunday, Oct. 30th at 1 p.m. EDT
Watch: Fox, DirecTV 706
Listen: Sirius 91 (NO), Sirius 138 (STL)
Betting Line: Currently unavailable according to Bodog Sportsbook.
The spread for this game likely won't be released until the status of Sam Bradford is determined. The Saints are going to be favorites either way, but the line is going to be incredibly high if Bradford misses another game.

What's at Stake:
The Rams are desperate for a victory. They are sinking further and further into a hole and find themselves in the Andrew Luck sweepstakes.
The last thing this team needs is to acquire the No. 1 pick in the 2012 NFL draft. Having to make a decision between Sam Bradford and Andrew Luck won't go over well with the fanbase. There will be plenty of Bradford supporters and plenty of Luck supporters, so it's a can't-win scenario for St. Louis.
The Saints will be looking to strengthen their lead on first place in the NFC South, a division that has struggled mightily to this point in the season.

New Orleans Injury Report:
| | | | | |
| --- | --- | --- | --- | --- |
| 10/24/11 | DB | Roman Harper | Head | Left Week 7 vs. Indianapolis |
| 10/24/11 | RB | Mark Ingram | Heel | Left Week 7 vs. Indianapolis |
| 10/23/11 | LB | Will Herring | Hamstring | Missed Week 7 vs. Indianapolis |
| 10/23/11 | DL | Turk McBride | Shoulder | Missed Week 7 vs. Indianapolis |
| 10/23/11 | TE | David Thomas | Concussion | Missed Week 7 vs. Indianapolis |

St. Louis Injury Report:
| | | | | |
| --- | --- | --- | --- | --- |
| 10/24/11 | WR | Danario Alexander | Hamstring | Questionable for Week 8 vs. New Orleans |
| 10/24/11 | DB | Justin King | Groin | Questionable for Week 8 vs. New Orleans |
| 10/23/11 | QB | Sam Bradford | Ankle | Missed Week 7 at Dallas |
| 10/23/11 | DB | Brian Jackson | Knee | Missed Week 7 at Dallas |
| 10/23/11 | LB | Brady Poppinga | Calf | Left Week 7 at Dallas |
| 10/23/11 | DL | C.J. Ah You | Wrist | Missed Week 7 at Dallas |
Injury reports courtesy of CBS Sports.

Fantasy Start 'Em, Sit 'Em and Sleeper

Drew Brees (Start 'Em)
How in the world could you bench Drew Brees after last week?
He threw five touchdowns last week against a Colts secondary that had been playing well this year.
He now gets the opportunity to light up a Rams secondary who has been exposed at times, including by the Baltimore Ravens and Torrey Smith.
Through just seven games, Brees has put himself on pace for nearly 5,000 yards this year. The Rams better watch out because Brees is going to put on a show.
Steven Jackson (Sit 'Em)
Falling behind early in the game is going to be disastrous for Jackson's fantasy value. He carried the ball 18 times last week but picked up just 70 yards. That game remained close until after halftime, but that won't be the case this times around.
The Saints offense is going to jump on them early, and ruin any hope of a big day from Jackson.
Darren Sproles (Sleeper)
Sproles is flying under-the-radar as a legitimate fantasy option each and every week. He totaled over 100 yards of offense last week and caught six passes. He added his second touchdown of the season as well.
Look for those good fortunes to continue this week against a Rams team that has really struggled to slow the run. St. Louis allowed huge yardage last week to rookie RB DeMarco Murray, expect them to continue to give up huge chunks of yards this week.

What They're Saying:
Steve Spagnuolo, head coach of the St. Louis Rams, is highly upset with his team's defense according to Nick Wagoner of the team's official website:
"I will just sum it up this way," Spagnuolo said, shaking his head. "We have got to solve the defensive issues. I think most of it can be solved by tackling. I added it up this morning, on the 11 plays we missed tackles, after the missed tackle there was a total of 183 yards given up. So you can do the math and figure out if we don't tackle better that part is not going to get better."
Down in the Big Easy, they are concerned about the defense. Ralph Marlbrough of WWLTV had this to say about the team's defense,
The 2011 Saints defense is on pace to give up over 400 points and create only 11 takeaways and 32 sacks. So basically they are failing at every important aspect of a Gregg Williams coached defense. No QB hits, sacks, or big plays. A whole lot of nothing.

So far the additions of Shaun Rogers and Aubrayo Franklin haven't amounted to much. Jonathan Vilma looks a step slow because of his knee injury, Malcolm Jenkins hasn't taken the leap to stardom like Jimmy Graham has, and the outside linebackers are in year six of not covering tight ends.
Oh and whatever evil spirit that has possessed Tracy Porter's body would you please exit? The aggressive ball hawking corner who has the two biggest interceptions in team history is nowhere in site.  Porter looks like an old slow corner afraid to get beat so there is no aggressive play. 

Player to Watch for Saints: Darren Sproles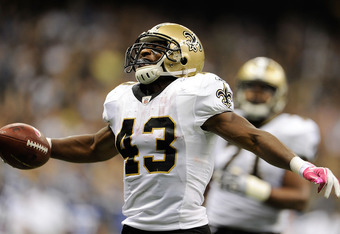 Stacy Revere/Getty Images
The playmaking RB has the chance to rack up huge chunks of yards this week and absolutely dominate the Rams lackluster defense.
St. Louis can't stop the run to save its life this season, so don't expect that to change this week. Sproles is quick and shifty, which could cause a ton of problems for the Rams, who couldn't slow DeMarco Murray last week.
If Sproles lights up the Rams, it's going to be a long day for Steve Spagnuolo's team.

Player to Watch for Rams: Brandon Lloyd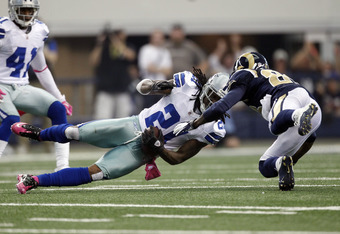 Layne Murdoch/Getty Images
Lloyd performed well in his first game with St. Louis. He recorded 74 yards on six catches after being acquired just days earlier.
To make matters worse for Lloyd, he didn't have Sam Bradford throwing him the ball.
If Bradford returns to the field this week, Lloyd could have a huge week against the Saints.

Key Matchup: Rams run defense vs. Saints rushing attack
As if this hasn't been mentioned enough, St. Louis can't stop the run. Not that the Rams want to force the ball into Drew Brees' hands, but they can't afford to let Darren Sproles rack up big gain after big gain.
If Sproles does that, this game could quickly resemble the Saints' victory over the Colts.

On the Hot Seat: Steve Spagnuolo
This is his third year running this team, and while Spagnuolo might not officially be on the hot seat yet, he's certainly getting closer with each week.
The Rams contended last year, but they are far from that status this year. At this point, they are closer to Andrew Luck than they are to a playoff spot.
Fans and the team have to be disappointed up to this point in the season.

Prediction:
New Orleans 38, St. Louis 10