San Jose Sharks: Early Season Report Card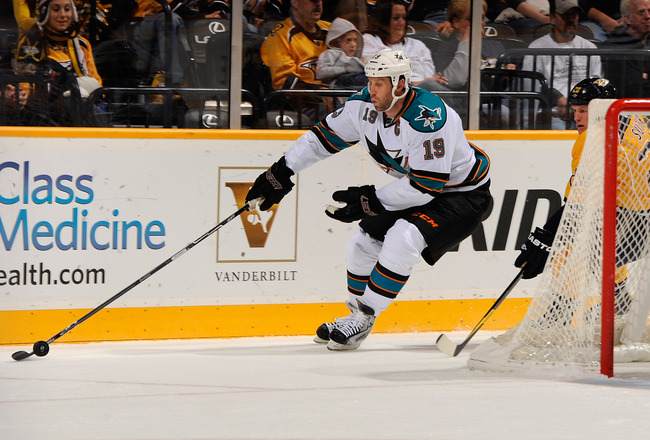 Frederick Breedon/Getty Images
After a 1-3 start to the 2011-2012 season, the San Jose Sharks are finally turning it around on this road trip. Tuesday's win at Nashville makes it three straight wins on the road. However, they find themselves fourth in the Pacific Division, arguably the toughest division in the NHL
The Sharks are a talented team, and they look poised to make their move to atop the Pacific. They have dynamic and dangerous players on all levels, from offense and defense, to goaltending.
Here is my San Jose Sharks' early season report card.
Offense: B+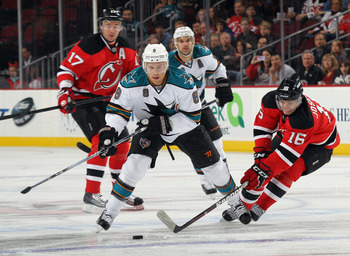 Bruce Bennett/Getty Images
The Sharks' offense has been erratic from the get go. After erupting for six goals in their first game against Phoenix, they managed to muster up just four goals in their next three games (which were all losses). However, in their last three games on the road, they scored 10 goals.
One of the bright spots for the Sharks on offense is Joe Pavelski, who leads the team with six goals and eight points. Most of his success can be contributed to him being on the top line with Joe Thornton, who leads the team in assists with five.
Martin Havlat has been a nice addition, making his presence felt with three points in three games.
Expect players such as Patrick Marleau, Logan Couture and Michael Handzus to produce more offensively after a slow start.
The reason I am giving only a B+ is because of their three-game slide, where their offense looked mediocre at best. They definitely have tons of potential, and when on a roll, this can be the most potent offense in the NHL. I project that their offense will be at an "A" level by midseason.
Defense: B-

David Clarkson's goal as a result of poor defense by the Sharks.

Defense was the major component that GM Doug Wilson attempted to improve this offseason. He brought in superstar Brent Burns, and signed free-agent deals with veterans Colin White and Jim Vandermeer. Add this to Dan Boyle, Douglas Murray and Marc-Eduouard Vlasic, and on paper, this is one of the best defensive lineups in the league.
Well, the Sharks have definitely been average on defense, and have not really shown much improvement over last season. Miscommunication and mishandling the puck have led to goals for their opponents.
Against the Blues on October 15, a turnover in his own end by Sharks' defenseman Jason Demers led to a breakaway goal for St. Louis. Later in that game, the newly acquired Burns misplayed a three-on-two that led to a wide open score late in the third period, which turned out to be the decisive goal.
In the third period against the Devils, White and Demers were going back defending a two-on-two. As they entered the zone, White and his man, David Clarkson, made contact. White fell down, perhaps attempting to draw a penalty. Demers, oblivious to the fact that White's man was unguarded, pursued his man into the corner. This resulted in a pass to a wide-open David Clarkson in front of the net, and an easy go-ahead goal for the Devils. (See above video.)
One last example: against the Boston Bruins on Saturday, a loose puck sprang free to Bruin forward Tyler Seguin outside the Sharks' zone. Inexplicably, Dan Boyle and Douglas Murray, the last two defensemen back for the Sharks, both went for the puck. These two guys have been playing with each other for more than two years; and they should know each others' tendencies and movements by now. This led to a two-on-nothing, which led to goal.
Bottom line, the Sharks need to live up to their expectations, and they need to prove that Doug Wilson made the right moves this offseason.
Goaltending: A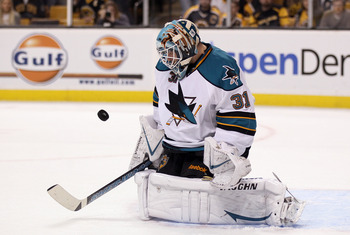 Elsa/Getty Images
The one solid position for the Sharks so far has been the goaltenders. Anti Niemi and Thomas Greiss have a GAA of 2.22 and 2.36, respectively.
Niemi has shown that he is a more than able replacement to Evgeni Nabokov, and is clearly the number one guy going forward. Look for him to start 90 percent of the games the rest of the season, barring injury.
Greiss has shown that he is more than able backup. He was stellar in his three starts in place of the injured Niemi, and if it wasn't for the atrocious defense, he would have a few more wins under his belt.
Overall Grade: B+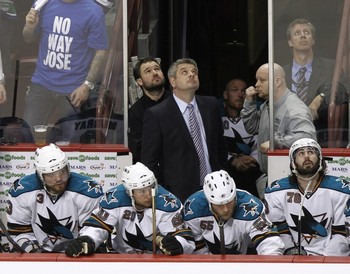 The San Jose Sharks have shown that they have what it takes to be one of the NHL's elite. However, there are still some rough patches, especially on defense, that they need to fix. Solid goaltending and a dynamic offense should carry the team through the season and into the playoffs.
A "B+" signifies an above average grade, but it still needs some work. The new guys will blend in, and this team will hit their stride at some point. By midseason, look for this grade to be above an "A-."
Keep Reading

San Jose Sharks: Like this team?