NFL: Saints' Jimmy Graham, Pats' Rob Gronkowski Headline New Age of Tight Ends
October 26, 2011
Sam Greenwood/Getty Images
In the NFL over the past few years, there existed an exclusive batch of elite tight ends. Names like Dallas Clark, Antonio Gates, Jason Witten, Tony Gonzalez and Chris Cooley were part of this group.
Rarely were these guys supplanted in each year's Pro Bowl.
However, this year, a phenomenon has occurred. The most dominant tight ends in the league are new, fresh faces. They are young and play with a less gritty style. They reek of youth and are associated with the terms "weapon" and "attack."
This is the new age of NFL tight ends.
Gone are the big, bulky tight ends who were considered safety nets and favorite targets for NFL quarterbacks. In are the new crop, seen as legitimate weapons and even number one receivers.
It's not as if the position hasn't already been evolving for a while now. Tight ends used to be essentially extra linemen, before the rising prominence of the aerial game ushered the pass catching age that brought names like Witten, Gonzalez, and Sharpe.
But the tight ends emerging today seem to have a different feel to them. These guys are fast weapons more so than convenient targets. Offenses and defenses view them as legitimate threats.
And, perhaps, they are finally seen as "exciting."
It just didn't feel that way with the tight ends of the past, who valued toughness and being a "rock" for their team in times of trouble. Today, the  position may finally feel like a glamour position.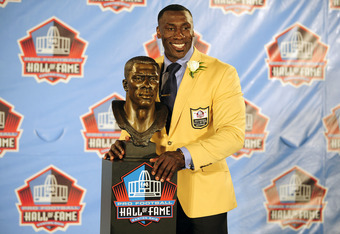 Jason Miller/Getty Images
The examples are plentiful. The top fantasy producer at tight end this year is Jimmy Graham, the explosive second—year player for the Saints.
Drew Brees's favorite target this season, Graham has caught 45 balls for 674 yards and five touchdowns, good for sixth in the league in yardage.
What's interesting about Graham is he was seen as a physical demon coming out of college. He had only one year of football experience, and played power forward for Miami's basketball team for three years.
He was extremely athletic and had an ideal frame at 6'6" and 260 pounds.
Graham has emerged for the Saints as a premiere tight end. He's such a big red zone threat, but at the same time, he's a mismatch anywhere on the field with his unique blend of speed and size.
These are terms and sentiments not attributed to tight ends of the past.
And you have to admit, Brees to Graham has a nice ring to it. It's also purports a feeling that if Brees was so good throwing to wide receivers his whole career, a great tight end would open up a whole new avenue for him to explore.
Brees, though, isn't the only elite quarterback that's beginning to realize the value of a tight end to an offense. Tom Brady of the Patriots has another one of these new-age tight ends in Rob Gronkowski. The second year player is known for his red zone prowess, his ability to both block and catch, and his ridiculously long arms.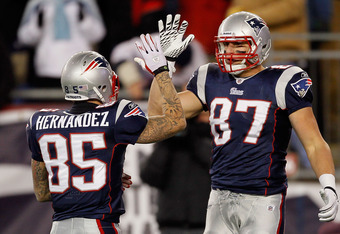 Jim Rogash/Getty Images
Gronkowski, along with fellow second-year tight end Aaron Hernandez, is part of a two tight-end offense for the Patriots that is currently the best air attack in the league.
When has an offense that features tight ends been able to produce so efficiently?
He's is also a perfect model of the new age tight end in that he can block. Though the ability to catch has become more of a priority, its not like all of today's new tight ends are one-trick ponies. 
A final quick note is that Gronkowski has been a target of tight end screens. Screens, usually reserved for speedy, quick running backs and wide receivers, are going to tight ends now.
It shows that tight ends are more and more getting viewed as an integral and exciting part of the offense.
We haven't been able to say that in the past. Tight ends are no longer lumbering, tough receivers. They are no longer safety nets and favorite targets. Just when you thought the league was getting faster with more and more wide receivers and running backs, tight ends suddenly get a quick makeover.
They are now seen as mismatches that give defenses nightmares. Their position is emerging as a "glamorous" one. They are threats and weapons, and are involved in every facet of the offense.
We are watching a revolution of the position before our eyes.