Pittsburgh Steelers: Defense Cannot Sit Back Against Brady, Patriots
October 26, 2011
Jared Wickerham/Getty Images
The Steelers have taken their fare share of beatings over the years, but, as history shows, few have been the kind of beatings that they have taken from Tom Brady and the New England Patriots.
Brady does not just beat the Steelers; he owns the Steelers, winning six of seven games against Pittsburgh.
Over those seven games, Brady has passed for 2,008 yards, 14 touchdowns and three interceptions.
Brady's lone loss to the Steelers came in 2004, where Brady threw for 271 yards and two interceptions, but had two interceptions and was sacked four times.
For one game, Pittsburgh found the key in defeating Brady, and that was putting him under pressure. Sunday afternoon should be no different. If they don't, expect a result like last year's game.
Pittsburgh found themselves trailing 23-3 in the fourth quarter of last season's game behind the aggressive game plan of the Patriots. Meanwhile, Pittsburgh's defense sat back as Brady completed 30-of-43 passes for 350 yards and three touchdowns.
More importantly, Brady was not sacked and was rarely pressured. This enabled him to pick apart the Steelers' secondary, as he connected with eight different receivers, with Wes Welker and Rob Gronkowski having particularly dominating performances.
It was no surprise that Brady had his way with Pittsburgh's defense, as he has averaged 373 yards over his last three starts against the Steelers.
Pittsburgh hasn't faced anyone near Brady's league. In fact, Joe Flacco and Matt Schaub are the only two above average quarterbacks that they have matched up with this season.
The Steelers have been able to sit back and let the quarterbacks try to beat them, though with a weakened ground attack, teams have been able to move the ball on the ground.
New England will certainly try to exploit this weakness as they attempt to develop a balanced attack against Pittsburgh. But it will come down to Brady's arm, and if Pittsburgh sits back, chances are Brady will win that matchup.
Pittsburgh's secondary has played better this season, with Ike Taylor playing some of the best football of his career and Keenan Lewis stepping up on the outside. However, they have not faced a quarterback that has the precision of Brady.
Brady can make any pass and has completed over 67 percent of his throws this season. He could eat Pittsburgh's secondary alive if they let any of the Patriots' quick receivers run free.
Last week, Kevin Kolb missed a number of open receivers, as did Blaine Gabbert the previous week. Brady does not miss, which is why he is one of the top two quarterbacks in the league.
Rather than drop everyone into coverage, the Steelers need to apply pressure to Brady. As good as he is, he can be rattled and does not like contact.
LaMarr Woodley will be the key component in this area. He has five and a half sacks in the past three games and has been unblockable at times.
Woodley will have to consistently get pressure from the outside, and it will be imperative that Lawrence Timmons can get hits on the quarterback as well.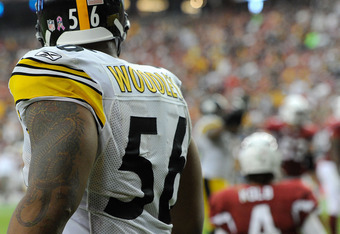 Karl Walter/Getty Images
For the first time since moving to the outside, Timmons was able to use his speed to pressure the quarterback last week.
Another player who has come up just short on the pass rush has been James Farrior. He is a liability in coverage, especially against a team that is a quick as the Patriots, and he may be better used getting to Brady.
If not Farrior, then some corner blitzes could bring an element of surprise.
William Gay was victimized by Brady and Gronkowski last season, but he could be used in a different way this season.
Gay is excellent at blitzing from the corner and can help overload on the outside, forcing Brady into making quick decisions.
By utilizing Gay on the blitz, the Steelers would also be able to keep Troy Polamalu back in coverage.
The important thing is that Pittsburgh does not play coverage for the entire game. Instead, they need to attack early and often in order to dictate the tempo of the game.
Conversely, a conservative game plan would be a recipe for disaster against Brady, who would be licking his chops to utilize his pocket protection to pick apart the Steelers' secondary.
The last thing the Steelers want is another blowout defeat against Brady and the Patriots.
It is time to change history, and that change will come with what has helped the Steelers become one of the top teams in the league: a ferocious pass rush.
Follow me on Twitter @ChrisG_FC