Champions League: AC Milan Can Defeat Barcelona in Wednesday's Clash
November 23, 2011
Paolo Bruno/Getty Images
AC Milan traveled to Spain in September in a bad state. The club was coming off a draw against Lazio in its first game after the league began late. Injuries were starting to plague the club, especially with Zlatan Ibrahimovic's last-minute knock.
Kevin-Prince Boateng left the match early and his replacement, Massimo Ambrosini, picked up an injury of his own.
Yet, despite all the misfortune, Milan walked out of Camp Nou with a 2-2 draw against mighty Barcelona.
Is it crazy to say that Milan, one of the elite in their own right, can take all three points against the European champions and gain control of Group H when the clubs meet Wednesday at the San Siro?
Not at all.
Barcelona will certainly be the favorites and rightfully so. They are the odds-on favorites every time they take the pitch, but are they invincible? No. AC Milan showed that.
There's no questioning the talents of Barcelona. In total in La Liga and the Champions League, they have 51 goals for and eight against.
Their only two allowed in the Champions League came against Milan: one when Pato stormed through the defense and scored one of the fastest goals in the competition's history, the other when Thiago Silva climbed over the top-notch defense and grabbed a stoppage time equalizer.
You have to be incredible to do what Barcelona do match in and match out, but it also has to be remembered that La Liga takes more flack than any of the other major leagues for its lack of competition.
It is a league dominated by Real Madrid and Barcelona whereas Milan in Serie A play in a league where any of the current top seven: Juventus, Lazio, Milan, Udinese, Roma, Palermo and Napoli could win the title and the competition at the top is regularly a battle from the champion through the European slots.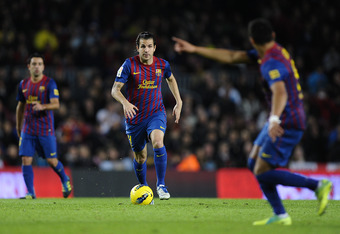 David Ramos/Getty Images
Therefore, would Barcelona currently be sitting on only six goals allowed in the league if they were in Serie A? They certainly wouldn't have 38 in a league that is defense-oriented.
Playing an Italian team in Italy didn't work out so well last time for Barca. In 2010, they were knocked out of the Champions League in the semifinals because of a 3-1 loss to Inter in the same stadium they will be gracing today, the San Siro.
Milan have a strong offense, one that has exploded lately and now sits on 23 goals in Serie A. The return of Pato from a two-month injury aids the attack and Milan have a weapon they didn't have last time, Ibrahimovic.
The Swede has been criticized for shying away in big games, but if Milan are to win, he will need to prove that he is capable of getting rid of that common critique. If there's any team to do it against, its Barcelona, a club that pushed him aside. If you want the full details of his misery at Barca, check out his new book that was just released.
Back to the match, Milan are healthy, they are finally playing quality football, and at their best, they can compete with anybody.
The key may come down to Allegri's selections. There are two pressing issues: the midfield and left back.
Who will Allegri choose at left back? Barcelona will know to try and avoid messing with Ignazio Abate, who is playing world class football over the past year, and know that the left is where the Milan defense is most vulnerable.
There are three options: Luca Antonini, Gianluca Zambrotta and Taye Taiwo.
Taiwo has failed to gain the trust of Allegri thus far. Antonini is hit or miss. Zambrotta may be the guy based on his experience and ability to still show some quick bursts of speed. He will need to put the thought of allowing Pedro to run by him while he stood as if like a statue in the previous encounter out of his head and focus on the job at hand.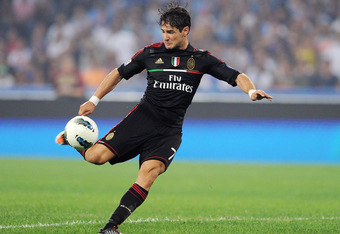 Giuseppe Bellini/Getty Images
In the midfield, unless Kevin-Prince Boateng picks up another mid-first half injury, he will be vital to the play, especially on the attack. Allegri loves Clarence Seedorf, but the pace just isn't there anymore.
This may be a chance for the new midfielders, Antonio Nocerino and Alberto Aquilani, to show why Adriano Galliani and company put so much faith in them by bringing them in during the transfer window. Both have played quite well, especially Nocerino, who is one of the club's top scorers.
Their speed and attacking ability could help Milan put pressure on the defense. Massimo Ambrosini will likely be called upon in a holding role.
If Allegri can make the right selections, playing at home, and with a healthy squad, Milan have a chance to win.
It would be crazy to say Barcelona aren't the favorites, but it would be equally crazy to say that Milan stood no chance in this matchup.
Potential Lineup: Christian Abbiati, Ignazio Abate, Thiago Silva, Alessandro Nesta, Gianluca Zambrotta, Massimo Ambrosini, Alberto Aquilani, Antonio Nocerino, Kevin-Prince Boateng, Alexandre Pato, Zlatan Ibrahimovic
Follow Tim on Twitter @TimFontenault