Oregon Football: Why Ducks Fans, Media Should Support Suspended Cliff Harris
October 25, 2011
Steve Dykes/Getty Images
On October 24th, Oregon defensive back and NCAA All-American Cliff Harris was cited in Eugene, Oregon for three traffic violations.
Harris, 20, is now facing another indefinite suspension from the Oregon Ducks football program after the latest incident.
At the time, he was driving a 2010 grey Ford Mustang convertible (which has since been impounded) and was pulled over a few blocks from campus for not wearing a seatbelt. Harris was also cited for not having insurance and for driving on a suspended license.
This time, however, Harris faces "a complete prohibition from all football activities until the matter is resolved." The matter has become increasingly serious, as this is not the first time that Harris has faced trouble this season.
That, in truth, is all that we know. It's perpetually hard to accept, and as sports fans, we grow attached to the athletes of our favorite teams.
Children like me exist in homes across the country. We grow up in homes where fathers raise their children in New York Mets bibs and Dallas Cowboys hats. Sports mean everything, and everything means sports. I've written it before, and I'll write it again. The athlete becomes a God, and he is held on a moral pedestal above the rest of our society.
It's a recurring truth in the world of the athlete, and as the NBA faces a serious lockout, it's one that casual fans reach in an interesting recollection.  Sports, at the end of the day, are a business in an industry that provides entertainment. For many adolescents, practicing and perfecting a sport is an outlet of financial success.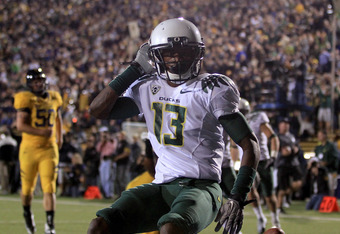 Ezra Shaw/Getty Images
One of the most respected Oregon Ducks writers in the game right now, Ken Goe of The Oregonian, writes an interesting character study of the young athlete Cliff Harris. In his piece, he discusses one of my favorite quotes from Harris, where Harris said that he likes that Oregon is green because "money be green."
For Harris, the University of Oregon is currently the stage that he is performing on in order to impress NFL scouts from across the league. If he gets drafted as highly as his talent should allow him to, he could capitalize and become a very rich and famous individual. After helping out his school here in Eugene, that is what fans here wish for him.
On top of using the school to get his name out in public, Harris is also earning the right to an education. Many critics of Cliff worry that he is not benefiting from this opportunity, and that he is not actually learning from his own mistakes.
To that, I remind these people that Harris is young. He is a twenty-year-old kid that is becoming (and is treated as) a national celebrity. Harris, charismatic and talented beyond his years, is learning the nature of his world. He is, whether he likes it or not, being forced to come to terms with his own decisions and the nature of the world that surrounds him.
Goe, who has actually met and talked to Harris, said that he likes Cliff. Those in the media and those at home become quick to scrutinize him, scribbling hateful messages and wandering around dorm complexes yelling about "what he was thinking."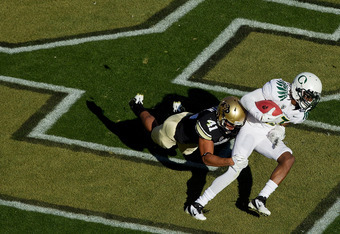 Justin Edmonds/Getty Images
Harris, who may not have been thinking, wasn't wearing a seatbelt. There are worse things in the world. Unlike many others that face criminal allegations, his intentions do not come with malice.
Following allegations across the corrupt field of college football (see: Miami, the University of), it's frustrating to see that we will not be able to see the incredibly special player on the field. After watching him play for three years and see him develop as a player and as an individual, we almost feel like it's owed to us.
Harris, really, owes nothing to us. At my first football game at the University of Oregon, fans from across the student section chanted an especially interesting series of words. "We want Cliff," they yelled. "We want Cliff."
At the football games, we want those electrifying moments of Harris returning punts for thirty extra yards. We want the rush of thrills when Harris intercepts Andrew Luck in the red zone on the road. "We want Cliff," and we want him to play football.
When the times are rough for Cliff, like they are right now, many of those same students and writers are blatantly bashing the young student athlete. Cliff Harris, above all, is young. Then he is a student. Lastly, he is an athlete.
Take a moment to humanize Cliff. He is twenty, has years of experience to put under his belt, and is making mistakes. This is when he needs support, as the largest interest in life has just been revoked.
As news broke of the latest incident, many took to social media to voice their cruel opinions of disapproval. The most interesting observations that I heard, however, came from the Twitter feed of Oregon voice and music video team Supwitchugirl.
The band, who have emerged as spokespeople in the world of social media for the university, said, "would you say in person what you tweet […] if Cliff Harris was in the room?" They later said, "Hopefully fans are worked up about Cliff because they care about him as a human being and not […] as a defensive back."
This is a reminder to think about how you would feel if people that had never met someone that you loved were trashing that person on the Internet.
To play football at the University of Oregon is rare, and it is a privilege. As Harris received media disapproval, multiple athletes and friends spoke up and became his voice. Star receiver Josh Huff and linebacker Dewitt Stuckey stepped up and voiced their opinions.
"Right or wrong," Stuckey wrote, "he's apart of our family." Stuckey, who actually knows Harris, brings up an interesting point. "He's only human," said Huff. "Instead of throwing [him] under the bus, how bout you guys be behind him through thick and thin."
Huff's Twitter feed was a fascinating insight into the actual mind of the players on the field in a culture where we've been accustomed to watching big men tackle each other and let sportswriters be their voice.
If I want to know how Cliff "should" act or "should" be, I would seek moral guidance from religion or family or friends or my own values, not Internet message boards criticizing a kid in college for making mistakes. It's gone too far.
Chants of "We Want Cliff" are bigger than the surface value. If we want Cliff, now is the time to show support and to do our best to show our love to the man that is now facing trouble. Ideally, Harris will learn from his mistakes and mature into a productive and impressive individual.  
Meanwhile, fans will wait and see if Chip Kelly will use Cliff Harris as an example, and if we don't see Harris again this season or in his college career, then I wish him the best and am infinitely disappointed that I wasn't able to see him fully develop as a player. 
Click here to Follow @BryanKalbrosky.