Detroit Tigers 2012: 10 Minor League Players to Keep an Eye on
October 26, 2011
Leon Halip/Getty Images
The offseason can be an exciting time for fans, especially if their team is chasing after one of the premier free agents, their team has won a World Series, or came close and are gearing up to try and get back to the fall classic.
The Detroit Tigers find themselves in a situation where their biggest needs will most likely not be met via free agency. The Tigers have holes at second, third, fifth starter, back-up catcher and a bullpen spot or two. It is possible they will address one or two of those holes through free agency—probably the bullpen—but the other ways of acquiring players seems more likely at this point. Those options; trade or advancement of minor league players.
The Tigers no longer have a "deep" minor league system, but it is a system which has talent, much of which I think is underappreciated. These are ten players from the Tigers system who I think could either push for playing time in 2012, or be used in a possible trade to fill one of the above mentioned holes on the roster.
(Players ranked according to value as I see it)
1. Jacob Turner. Turner is one of Detroit's best blue chip prospects. He projects to be a top of the rotation type pitcher. He has decent command already, and is improving his secondary pitches. During stops at double and triple A, Turner complied a record of 4-5 with a 3.44 ERA in 20 starts. He showed his command by striking out 110 against only 35 walks, and opponents hit .238 against him.
Turner also make three spot starts at the Major League level. Turner showed his potential during his call ups, but also showed his need for refinement before he is ready to pitch every fifth day. His 0-1 record with a 8.53 ERA, eight strikeouts and four walks, with opponents batting .315 against him provides the evidence.
Short/Long Term: Turner will come to spring training with a chance to be the fifth starter. I don't know if he wins the job in spring training, but I think by the All-Star break there is a good chance Turner will be on the major league staff.
2. Andy Oliver. Oliver took what seems to be a step back this year after pitching in the majors last year. However, I think the struggles Oliver faced at AAA will help him become a better pitcher. He projects somewhere between two to four range in a major league rotation. Oliver pitched the whole year at AAA Toledo compiling a record of 8-12 with a 4.71 ERA, 143 strikeouts and 80 walks, while opponents batted .272 against him.
Oliver made two spot starts in the majors this year posting an 0-1 record with a 6.52 ERA, five strike outs, and eight walks while opponents hit .289 and three home runs off of him.
Short/Long Term: Oliver is another pitcher who will come to spring training with a chance to earn the fifth spot in the Tigers rotation. The major advantage for Oliver is his being left-handed, a quality which the current Tigers rotation lacks. If Oliver cannot prove he has a better mastery of his control he will head back to Toledo to continue to refine that aspect of his game.
3. Drew Smyly. The second round pick from 2010 put together a stellar first campaign in professional baseball, playing at two levels and quickly moving up to be one of Detroit's top prospects. Smyly showed improvement as he moved up the minor league latter, lowering his ERA, and opponents batting average at AA. Between the two stops at advanced A, and AA, Smyly posted a record of 11-6 with a 2.07 ERA, 130 strike outs, 36 walks, and an opponents batting average of .227.
Short/Long Term: Smyly is another pitcher coming to spring training with a chance to crack the big league roster. Smyly is a left-hander and so far has shown better command and more polish than Andy Oliver. The Tigers will have to decide if it is better for Smyly's development to pitch in the majors, either out of the 'pen or starting, or to send him to AAA for more refinement.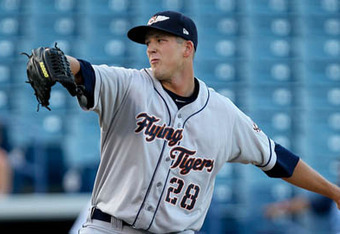 4. Daniel Fields. Fields was drafted out of high school and transitioned from the infield to the outfield. This was his second season at advanced A, where he has done ok, considering his age. He projects to have plus power and speed, and should hit for decent average at the major league level. So far though, the numbers haven't measured up to the hype. This year he hit only .220 with eight home runs and 46 RBI's. This will be a big year for him as he needs to take a step forward.
Short/Long Term: This will be a big year for Fields, there is a good chance he'll be playing at advanced A again, and needs to show improvement at the plate to continue his trajectory toward the majors. If he's able to improve at the plate and moves up to AA this year he'll have a chance to make a cameo in the majors in 2013, and a legit chance at making the roster in 2014. Right now with Detroit needing help at second and third, I would not be shocked if Fields is part of a package for an impact infielder.
5. Ryan Strieby. Strieby was the first baseman of the future before the trade that netted the Tigers Miguel Cabrera. Strieby has struggled with wrist injuries the last couple of seasons, but has shown the ability to hit with plus power and decent average. He has been playing first base in Toledo, but will have to switch to another position if he is going to play in Detroit. This year at AAA, Strieby hit .255 with 19 home runs, and 76 RBIs. As long as he is healthy he could get a call up for a spot start or two, and would definitely get a September call up.
Short/Long Term: Strieby was working at one point on playing right field, but for whatever reason he was back playing first. If he is not able to play another position his path to the majors is blocked by Miguel Cabrera. Long term, he is most likely going to be part of a trade that will either net Detroit more minor league pitchers, or a deal to improve their current holes. Strieby should be able to hit major league pitching as long as he remains healthy.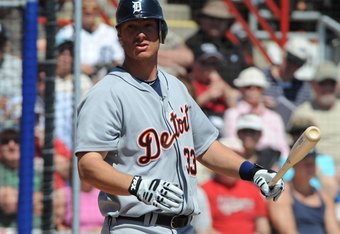 Al Messerschmidt/Getty Images
6. Duane Below. Below has been pretty consistent with his rise through the minors. The left-hander is a location pitcher who has the ability to make hitters miss. At Toledo this year Below posted a record of 9-4 with a 3.13 ERA, 83 strike outs and 37 walks, while opposing hitters batted .232 against him.
Below was called up to make a couple of spot starts in the majors where he struggled, but found more success pitching out of the 'pen. In Detroit he posted an 0-2 record with a 4.34 ERA 14 strike outs and opponents hit .252 against him.
Short/Long Term: Below might have an advantage over everyone else on this list when it comes to making the Tigers opening day roster. This is because he has been successful pitching out of the 'pen, which may give him the tie breaker over the other pitchers on this list. Long term Below is a fourth or fifth type starter, who will eat innings and give his team a chance to win when he takes the mound.
7. Danny Worth. Worth has proved his worth as a defensive infielder, but the question is whether he can hit enough at the major league level to be an everyday infielder. In 86 games at Toledo, Worth hit .256 with eight home runs and 37 RBI's. In 30 games in Detroit, mostly as a late inning defensive replacement, he hit .270 with no home runs and 3 RBI's.
Short/Long Term: Worth plays plus defense at second, third and short. Worth will go as far as his bat takes him, right now where he ends up next year is tied to what Detroit decides to do at second. If the Tigers decide to resign Ramon Santiago, and use him as their primary second baseman, Worth will have an excellent chance to make the team as a utility defender. Worth would also have a good chance of making the Tigers next year if they decide to not resign Santiago, and instead use Worth in the roll Santiago has played the last several years.
8. Will Rhymes. Rhymes is a spark plug type player, who started the year as the Tigers second baseman, but couldn't hit enough to hold the job. It took him a little while, but after returning to Toledo, Rhymes rediscovered his swing, but wasn't brought back up as Santiago played adequately enough to hold the position. In the minors this year Rhymes hit .306 with three home runs and 24 RBI's. Rhymes has some speed, which adds value, to his solid defense. In the majors he hit only .235.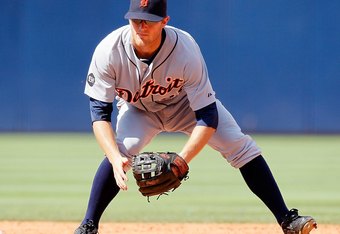 Kevin C. Cox/Getty Images
Short/Long Term: Rhymes is in much the same boat as Danny Worth, he'll go as far as his bat takes him. I think there is a pretty good chance Rhymes will be traded during the off-season, either as part of a package or for another mid level type minor league player. If he's not traded and Detroit doesn't land a second baseman either through trade or free agency, Rhymes will have a chance to try and earn another shot with the Tigers. 
9. Fu Ti Ni. Ni began the year as a reliever, but then made the transition to starting where he found good success. As a reliever Ni posted a 3-0 record with a 4.12 ERA over 22 games. As a starter he posted a 3-3 record with a 2.76 ERA in 12 starts. Ni isn't overpowering, but when on mixes his pitches well and is capable of getting strikeouts. Ni has experience in the majors in both 2009 and 2010, but didn't make an appearance in 2011.
Short/Long Term: It will be interesting to see what the Tigers decide to do long term with Ni. He has been an affective bullpen arm before (2009, 2.61 ERA in 36 games). I would guess he'll come to spring training with a chance at either the fifth spot in the rotation or as a long relief option out of the 'pen.
10. Adam Wilk. Wilk has steadily progressed up the minor league ladder showing good command and solid pitches. Wilk spent most of the season at AAA Toledo compiling a record of 8-6 with a 3.24 ERA, 76 strike outs and 14 walks, while opponents batted .262 against him. 2011 saw Wilk get his first taste of the majors, where he posted an ERA of 5.40 in five games.
Short/Long Term: Wilk projects as a back of the rotation lefty, who isn't overpowering, but gives his team a chance to win when he pitches. Wilk will get an opportunity to compete in the big league camp this spring to win a spot as long relief. He also has an outside chance of winning the fifth spot in the Detroit rotation, but a spot in the 'pen seems more likely. There is also a chance he could be included in a trade package.
Just for kicks and giggles here are three bonus minor leaguers to keep an eye on:
Casey Crosby. The number one question with Crosby is "can he stay healthy?" If the answer is yes, Crosby could be in the majors as soon as 2012. Outside of staying healthy, the other challenge for Crosby will be improving his control. If he is able to stay healthy and cut down his walks, he projects to be a middle of the rotation lefty.
Jay Voss. Voss is a name to keep an eye on next year. Voss pitched at two levels this year posting a 12-7 record with a 3.56 ERA. He shows pretty good control and ability to make hitters miss. Depending on how things work out in camp he'll either start the year at AA and make the move to AAA by mid season, or he might go straight to AAA. Either way keep an eye on him.
Avisail Garcia. Garcia is a toolsy outfielder who is still very young and raw. Garcia turned 20 in June, and put up solid numbers in advanced A this year, .264 with 11 home runs, and 56 RBI's. Avisail show's good range in the outfield and has a strong arm. He stole 14 bases this year and could be a 20 steal player as he develops. Right now it would appear Garcia is the right fielder of the future.