Manny Pacquiao: 5 Reasons Juan Manuel Marquez Will Defeat Him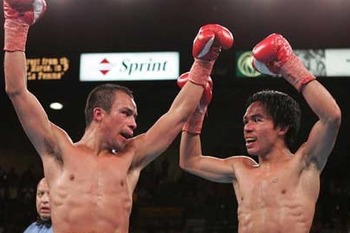 On November 12th at the MGM Grand Garden Arena in Las Vegas, Manny Pacquiao and Juan Manuel Marquez will go head-to-head for a third and perhaps final time.
The last two times these veterans locked horns was in 2004 and 2008, the first yielding a dubious draw at featherweight and the latter resulting in a split-decision loss for the Mexican at junior heavyweight.
Three years since their last encounter, both Manny and Juan have improved upon their skill sets becoming more consummate, formidable boxers to be reckoned with.
Because Pacquiao has added so much to an already devastating left arm-centric arsenal, many experts contend he has become an indomitable warrior who cannot be felled from his perch.
As mythic as Pacquiao's rise has been, however, it will be Marquez's time to shine, effectively shedding the albatross off his back after getting so close to the precipice of redemption the last time...
Manny Has Trouble with Juan's Counter-Punching Style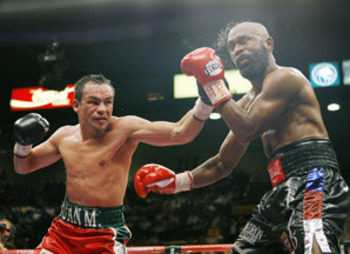 Pacquiao is an aggressive fighter who is known to take the fight to his opponent, sometimes in an unpredictable fashion.
Aggression might work in most cases, but against Marquez, a renowned counter puncher, headlong delivery can be foolhardy.
Even Bob Arum, Pacquiao's promoter, has admitted to the Mexican's ability to counter-attack, heralding the 38-year-old as the best counter puncher he's ever seen.
Unlike Floyd Mayweather, whose defensive style is kryptonite to a counter puncher, Pacquiao matches up very well for Marquez.
On November 12th, Manny's biggest strength as a fighter—his carpe diem approach—will end up being his downfall if Juan uses it against him, which he has proven to do in the past.
Pacquaio Has Less Experience Than Marquez Who Has More To Prove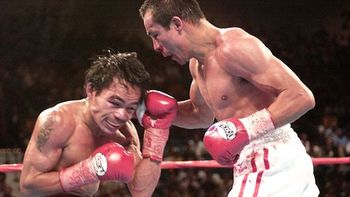 Perhaps more than any other sport, experience plays a paramount factor in boxing where acquired reflexes amount to a difference in being vulnerable or not.
Although he is six years older than Pacquiao, Marquez has two more years of experience than his rival.
Some may scoff at only a two-year disparity, but when everything else is fairly even, often times the most minute of dissimilarities can affect an outcome.
Case in point—both fighters have done everything by the book in preparation for each other. For instance, in their last bouts, Marquez fought a Pacquiao-esque fighter with an aggressive edge in Likar Ramos and Pacquiao took out Shane Mosley, a Marquez-like counter puncher.
While many may point to the six-year gap favoring Pacquiao, the elite conditioning required of top notch boxers makes the age discrepancy irrelevant.
The remainder is experience, which Marquez not only has an advantage in, but will be driven to use in order to prove his competitiveness with Pacquiao in the last two matchups was no fluke.
Marquez Is Going All Out To Train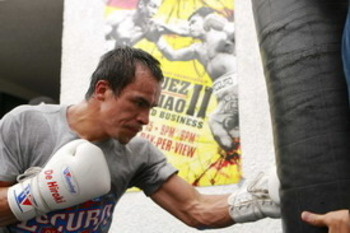 Remember Rocky IV when Sylvester Stallone, to the tune of catchy 80's tunes, traipsed through the Russian snow and hiked up a mountain where he shouted Ivan Drago's name in defiance of the challenge that lay before him?
According to the LA Times, Juan Manuel Marquez has been training relentlessly in the mountains of Mexico—several thousand feet above sea level.
His training has been going so well that a plethora of reports have been spilling out detailing the Mexican's increased lung-capacity and second to none, take no prisoners attitude and mission to dethrone boxing's golden goose.
Marquez has much more to prove than Pacquiao, who could be suffering from complacency after reaching a stratosphere very few boxers dream of being in.
How many commercials has Marquez starred in highlighting the nearest casino in the L.A. area?
Fewer distractions (compared to the Filipino) has allowed him to focus with more clarity and train with more purpose.
Marquez Will Be Considerably Heavier Than the Last Two Bouts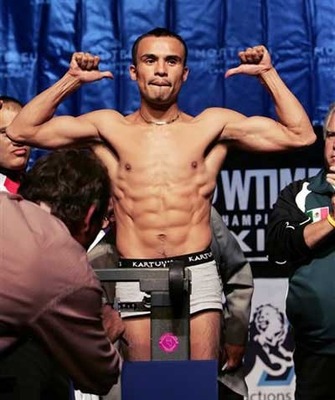 A controversial topic of discussion—besides the notion the fights may have been mired in boxing politics—is that Marquez fought below his optimal weight.
In their 2004 and 2008 bouts, the Mexican weighed in at 126 and 130 pounds, respectively.
This time, however, both he and Pacquiao will be matched up at a catchweight of 144 pounds.
Because Marquez is not known for his speed and frenetic movements inside the ring, it is believed the 14-18 pound weight increase will have little to no effect on the fighter, who has made his living as a technical wizard.
Conversely, logic and empirical evidence suggest that a fighter whose repertoire is predicated on agility and celerity will be impeded by more body mass vis-a-vis an opponent whose fighting style is actually accentuated by the extra weight.
At 144 pounds, the intensely motivated Juan will have a more fortified base to deflect and counter Pacquiao's attacks.
Pacquiao's More Refined Style Will Play into Marquez's Hands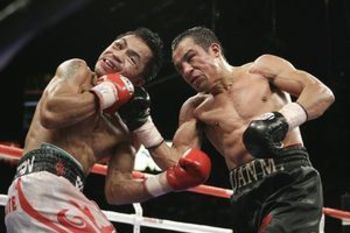 Despite his Tasmanian, mercurial penchant for surprising opponents, Pacquiao has actually reined in his wild ways.
In the past, Manny proved to be hugely successful by simply sticking with a rudimentary jab and left-handed punch, which was more than enough to vanquish opposing boxers.
Since then, the Filipino has expanded his repertoire and technical prowess, making more refined, standard movements—offensively and defensively.
Ironically, however, becoming a more by the book, well-rounded technician will end up being a disadvantage against Marquez, who will be more likely to identify and predict Pacquiao's fighting template and plan of attack.
For example, in their two previous fights, Pacquiao had a habit of jumping in and out of the fray which seemed to disrupt Marquez's circadian rhythm. As that habit has fallen largely by the wayside in recent years, Marquez will see the Filipino as a reflection of himself in many ways—which can only be a good thing.
Keep Reading