Kyle Orton Deserves to Be Loved More Than Tim Tebow
October 26, 2011
Christian Petersen/Getty Images
Hi, my name is Kyle Orton. Please love me.
Of course, I'm not Kyle Orton, but if I was, or if Orton is a member of group counseling, that is how I would start every conversation. Honestly though, can anyone remember another player who has been so hated and disrespected for absolutely nothing in the history of the NFL?
Orton is no gigantic draft bust like JaMarcus Russell. He isn't a hothead who is always in trouble with the law like Pacman Jones. Orton is simply a football player, and a pretty darn good one at that.
However, wherever Orton has been, whether in Chicago or Denver, it seems like no one wants him. It doesn't matter how well he plays, people can't wait to get rid of him.
Take Orton's stint with the Chicago Bears as an example. In his rookie season, Orton was thrown into the starting lineup in Week 1 because of how much Rex Grossman sucked (I mean because of an injury), and led the team to a 10-5 record and a first-round bye in the playoffs.
The intelligent thing would have been to let Orton continue to play, but head coach Lovie Smith decided to start Grossman instead and the Bears lost to the Carolina Panthers at home. The following season, the Bears demoted Orton to third-string quarterback behind Grossman and newly acquired Brian Griese.
Orton would finally regain the starting position for the Bears in 2008 and lead the team to another winning season. Unfortunately, when Jay Cutler was placed on the trade market, Chicago traded Orton and numerous high draft picks for Cutler.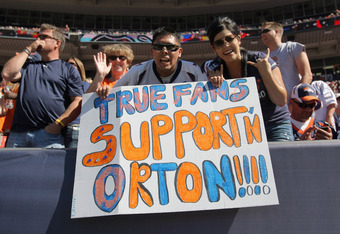 Doug Pensinger/Getty Images
Once again, Orton was left feeling unloved and unwanted by a franchise that all he did was win for. Sure, it wasn't the prettiest winning, but a win is a win, and that was what Orton was consistently doing for Chicago.
Fast forward to 2011 and Orton is once again left feeling unloved by a franchise that he has played relatively well for. In 2009, he was 8-7 in his first year with the team and while he struggled in 2010, the blame certainly can't be placed solely at the feet of Orton.
Not even Tom Brady or Aaron Rodgers would have been able to win in the dysfunctional, untalented state that the Denver Broncos were in during 2010. Ultimately, Orton was benched in the final games of the season for rookie, and much undeservedly loved, Tim Tebow.
Now Orton is back on the bench behind a player that isn't as talented as him. Even thinking about how frustrating it must be for him is currently making me angry.
However, Orton hasn't said a peep. He hasn't asked for a trade or openly bashed management. He isn't out partying every night and coming to practices and games hungover. He's simply patiently waiting to sign with another team.
Of course, it's likely that he will start for his new team and eventually be booed out of town and hated for nothing, but still, a man needs hope. A man needs to feel loved and no man, and certainly not Tebow, deserves more love than Orton.
So, please love Orton while we still can. God knows he deserves it for all he has been through in his career.