World Series 2011: In Albert Pujols, A Legend Without an Asterisk
October 24, 2011
Rob Carr/Getty Images
When the baseball left Albert Pujols' bat in the ninth inning of World Series Game 3 Saturday night, there was little doubt that something special had just happened.
Perhaps what was truly special was the fact that this was his third homer of the game. Maybe the significance was in the fact that with that shot, Pujols had driven in six of St. Louis' 16 runs on the night on his own.
Or perhaps it was something on a deeper level.
Pujols became the only man ever to have five hits, three home runs and six RBI in a single World Series game on Saturday night in Arlington, TX.
And Pujols is arguably the greatest hitter in baseball today and the premier slugger of his time, with a career .328 batting average, 2,073 hits, 445 home runs, 1,329 RBI and a 1.037 OPS.
Such staggering statistics would make Pujols a unanimous first-ballot Hall of Fame inductee. Pujols is still only 31, and barring injury, could well play another 10 big league seasons.
The free-agent-to-be showed just how valuable he really is with his legendary Game 3, even when some balk at the idea of signing a 31-year-old to a long-term contract that would include declining years after age 35.
But there's something else here. There have been mammoth feats achieved by a cavalcade of ball players around the game over the past two decades; indeed, it seemed for that stretch of time that another hallowed record was under attack virtually every baseball season.
In 1998, the year that baseball finally recovered from the strike of '94, Sammy Sosa (66 home runs) and Mark McGwire enthralled us all with their pursuit of Roger Maris' single-season home run record of 61. When McGwire not only broke, but shattered the mark with 70 home runs, we were awe-struck.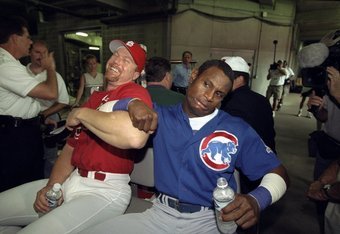 Vincent Laforet/Getty Images
Just three seasons later, Barry Bonds broke McGwire's record with 73 home runs. In the span of 36 months, a record that once stood for 37 years had fallen twice.
Bonds then set the all-time career home run record in 2007, surpassing Hank Aaron's 755 and finishing with 762 for his career.
Baseball has always been a game centered around heroes. Heroes who were ordinary men that did extraordinary things; individuals who we could relate to in their humanity and pull for in their strive for athletic immortality.
The game took what some thought was a fatal blow with the labor stoppage of 1994. Fans were slow to return to the national pastime (if they returned at all) and it looked as if the grand old game would never be the same.
But when Sosa and McGwire began their chase, they captured our hearts and we returned. Much, if not all, of the thrill in witnessing their historic run was that these were just ordinary people like us, who were reaching for history.
We now know that all of that was engineered in dark corners of clubhouses around the country, where our heroes were artificially enhancing their performance; destroying the very core of why we loved to watch the riveting theater they produced day after incredible day.
But what we witnessed in Game 3 of the 107th Fall Classic was different. It was genuine. There was no need for the score-keeping fan to add an asterisk next to the name Pujols after his history-making display.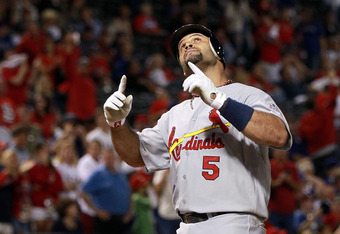 Ronald Martinez/Getty Images
In the era following the tarnished steroid period, an era in which performance-enhancing drug-testing is stricter than ever before, Pujols has never failed us.
He's clean, and he's been nothing short of incredible in what he does on the field and what he does off of it. While on the field he terrorizes opposing pitchers, off of it he runs a charitable organization benefiting children with Down Syndrome.
His faith is very important to him, and he displays values that make us celebrate heroes of the diamond, not cringe with every allegation of cheating a glorious game.
Game 3 of the 2011 World Series is one we'll never forget.
After he became only the third man in baseball history to hit three home runs in a World Series game (see Babe Ruth and Reggie Jackson), Pujols' teammate Lance Lynn expressed his gratitude for being able to witness a once-in-a-lifetime happening.
"That's something I'm going to be able to tell my kids and grandkids," he said. "That I actually witnessed that in person."
And when Lynn does one day tell his children and grandchildren about that historic night, he won't have to add a sad ending to the tale. He won't have to tell those kids that the hero in this story was actually cheating.
Instead, he can just let the hero be who he really was: A legend without an asterisk.