Florida Marlins Have Sights Set on Trading for James Shields
October 24, 2011
Bob Levey/Getty Images
One of the biggest offseason priorities for the Marlins is to upgrade the starting rotation, and with a not so stellar free agent market that includes the likes of CJ Wilson and quite possibly Japanese product Yu Darvish, the franchise is expected to make a run at James Shields of the Rays. 
Per Buster Olney of ESPN.com (insider subscription), the Marlins aren't favoring trading for Carlos Zambrano and having to swallow whatever chunk of the salary they may have to ($18 million). Instead, the Marlins are going to make an effort to land James Shields, who had a Cy Young caliber year going 16-12, with a 2.82 ERA, 11 complete games, 4 shutouts and 225 strikeouts. 
Olney mentions Logan Morrison would be the featured piece because he would fit easily in the Rays outfield or quite possibly could be their first baseman. 
Such a trade would require more than just Morrison and some other players who could be involved include Chad James, Rob Rasmussen, and Jose Ceda. 
If the Marlins were to pull it off, they'd probably do it with acquiring more offense in mind. Would a run a either Prince Fielder or Jose Reyes be far off if they successfully traded for Shields? The Marlins big bats would only be Stanton and Ramirez (if healthy) and the team needs a big name splash aside from a small market name acquired in a trade.
Maybe the Marlins try to have BJ Upton added in that deal as well? Upton was dangled in trade talks by the Rays at the July trade deadline but the haul the Marlins would have to give up in that scenario becomes astronomical.  
Remember, Logan Morrison has 70K followers on Twitter and he is a fan favorite. But let's not forget his actions off the field got him demoted by the Marlins in August.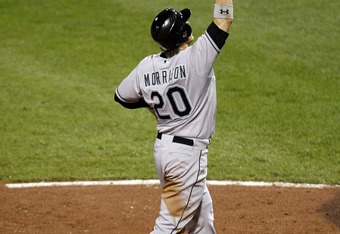 Justin K. Aller/Getty Images
Shields and Johnson along with Sanchez and Nolasco would arguably be one of the better starting rotations in baseball, probably be on par with the Phillies rotation if healthy and effective.
But do the Marlins have a plan for their depleted outfield if LoMo is dealt? Yelich and Ozuna remain ways away and the team also scored the fewest amount of runs in a full season since their inaugural 1993 season.  
Either way it will be interesting to see how the Marlins make a statement this offseason. But, here is a few things to note, the Rays and Marlins have never made a trade between each other in their history. 
On the subject of Zambrano, he could still be a possible addition by the team if he is cut by the Cubs and even then Marlins could have him as either a 5th starter or convert him into a closer.