Marco Simoncelli: Racing World Struck by Another Terrible Tragedy
October 23, 2011
Mirco Lazzari gp/Getty Images
For the second Sunday in a row, the racing world has been rocked by a shocking tragedy. Earlier today in Malaysia, Italian motorcycle racer Marco Simoncelli passed away shortly after he was involved in a terrifying crash at the Malaysian MotoGP race in Sepang.
According to news reports (see ESPN), Simoncelli suffered injuries to his chest, head and neck, and there was simply nothing medical personnel could do to save him. MotoGP medical director Michele Macchiagodena claimed Simoncelli died 45 minutes after the crash.
He was just 24 years old.
Concerning the crash that ultimately claimed Simoncelli's life, there's really not much that can be said about it. It was horrifying (you can watch the video on the right, but be warned that it is a very distressing sight). Simoncelli lost control of his bike and started veering off to the right of the track, where he found himself right in the path of American racer Colin Edwards and Italian racer Valentino Rossi. The two of them collided with Simoncelli, whose helmet came flying off.
Simoncelli's passing comes just a week after the crash that claimed the life of Dan Wheldon. The two-time Indianapolis 500 champion was involved in a 15-car wreck in Las Vegas that injured several drivers. Wheldon got the worst of it, and he died from his injuries.
In the hours and days immediately following Wheldon's death, one of the main questions being asked is whether or not his death could have been avoided. Perhaps there are additional safety measures IndyCar racing can take to avoid similar tragedies in the future.
The same questions must be asked about Simoncelli's death. Is there something that can be done to make sure nothing like this ever happens again?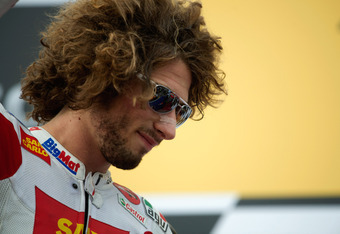 Mirco Lazzari gp/Getty Images
Obviously, one has to be optimistic that the answer is yes. Both IndyCar and MotoGP racing have come a long way since they were originally introduced, but there have to be changes that can still be made.
There is, however, one thing that will never change: racing is, by its very nature, a very dangerous sporting activity. With vehicles going at such tremendous speeds, accidents are going to happen. And when they do, the possibility exists that the consequences are going to be dire.
But rest assured, if positive things can come out of the deaths of Wheldon and Simoncelli, they will.
For now, thoughts and prayers go out to Simoncelli's family. He has been lost too soon.