Miami Dolphins Give Up Against Denver in the Great Tebow Scam
October 23, 2011
Marc Serota/Getty Images
Which turnip truck do you think we all fell off, NFL?
Let me ask again, what exactly was that I just watched from the Miami Dolphins?
The ball hit the ground in the replay, but that catch was barely looked at.
Tebow ran in for the two pointer untouched.
The announcers, everyone in the stadium and most likely the Miami defense, knew he was going to run.
What a great way to spark interest in the NFL and pave the way for the London Bulldogs and the Mexico City Conquistadors or something.
Who ever scripted that ending should get an Academy Award along with the actors on the Miami defense.
If I wanted to watch sports with predetermined endings, I would turn on wrestling.
That fourth quarter scam will send a hands-tied Tony Sparano packing, check in hand, along with plenty of assistants.
The Dolphins will buy a big name to coach this team and also to bring Andrew Luck along correctly.
How much will Miami have to give the Rams, who are also trying for 0-16. They have Bradford, who actually could be trade bait in the "Suck For Luck Sweepstakes."
The Chicago Bears also got a big lead only to let Tampa Bay come roaring back, making for a jolly good game in London.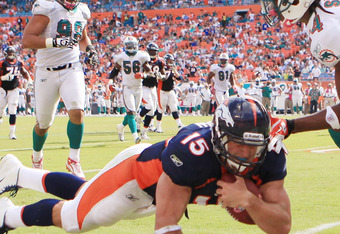 Marc Serota/Getty Images
The Bears won in another scripted like finish.
Great Tebow headlines coming! Good for the league.
An exciting game across the pond. Good publicity for the worldwide NFL.
I would love to hear halftime conversations, communication from the league office to teams not making the playoffs, and the like.
Close games and comebacks are great. We get it. This one stunk! We still get it.
Andrew Luck will be a Dolphin. That seems to be paid for,