MMA: 25 of the Craziest Moments in MMA History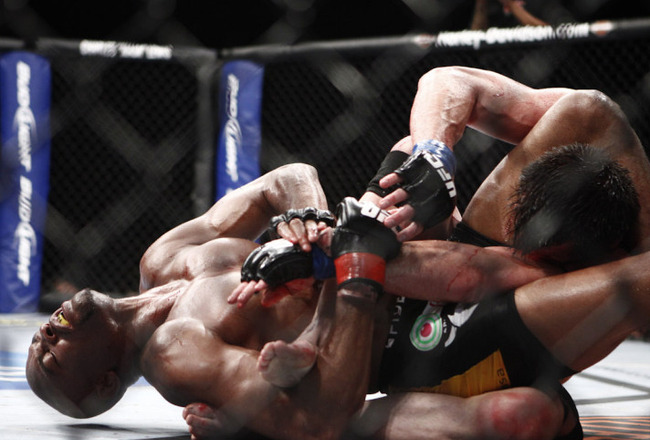 Anything can happen in a fight, even unexpected things that shock the MMA community so much that they instantly become part of MMA lore.
There are many of these unanticipated, unpredictable, "crazy," moments in mixed martial arts, and some of them don't even pertain to events that happened in the cage (or ring as it may be)!
So what are some of the craziest moments in the history of mixed martial arts? Read and find out!
Art Jimmerson Wears One Glove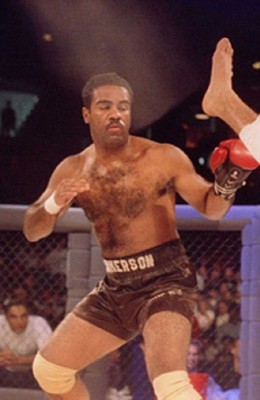 Art Jimmerson is one of MMA's everlasting punchlines (and "punchline" is not an attempt at an awful pun).
The story is well known. The accomplished boxer wore only one glove to the Octagon and from then on, he was one of the most mocked men in the history of MMA.
The whole incident seems played out and passé now but back then, seeing somebody walk out with one glove was enough to elicit vast befuddlement.
Royce Gracie Doesn't Win UFC 3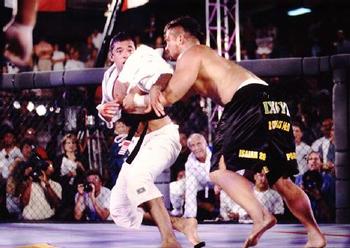 The UFC was the brainchild of Rorion Gracie and Art Davie, with Bob Meyrowitz agreeing to put it on pay-per-view.
Davie envisioned a martial arts tournament in which all of the world's martial arts could come together and compete to see which was better.
Gracie envisioned not a true martial arts tournament but rather an infomercial for Gracie Jiu-Jitsu.
An infomercial for Gracie Jiu-Jitsu was exactly what it was. Royce Gracie represented his clan and effortlessly dispatched all of his opponents, including shootfighting legend Ken Shamrock.
Another dominant performance at the second UFC event proved that Royce Gracie and his style were no fluke.
Because of this, Gracie was an enormous favorite heading into UFC 3. Unfortunately for him and the Gracies, there was a monster of a man named Kimo Leopoldo—although he was billed simply as "Kimo" at the time—in the tournament.
Despite losing, Kimo pushed Gracie further than he ever had been pushed before. Gracie was so battered and exhausted by Kimo's onslaught that he couldn't continue. For the first time in UFC history, a tournament was not won by a Gracie.
While this doesn't seem "crazy" per se, there are many different levels of crazy. This was crazy in the sense that it was highly unexpected; it was crazy to see the once invincible Royce Gracie humbled!
Kimo and Joe Son Walk out on Crosses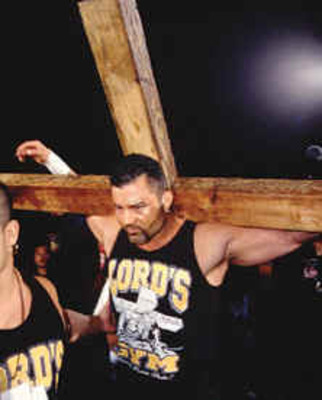 When people saw Kimo Leopoldo walk out at UFC with a hood over his face and carrying a crucifix, "crazy" was one of many words that came to mind.
To make matters worse, Kimo's trainer Joe Son did the exact same thing at UFC 4!
These entrances were the craziest in MMA history at the time and are still remembered for how outlandish they were.
Tank Abbott Knocks out Jon Matua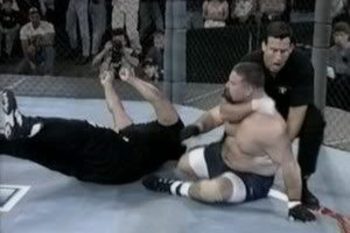 Photo courtesy Heavy.com
Why is Tank Abbott's knockout of Jon Matua so crazy? Because not a single KO like it had ever been seen in the UFC before. Matua's limbs were starched in the air; the Samoan was a living statue.
To top the craziness off, Abbott mocked his defeated opponent's position when the fight was over.
Emmanuel Yarborough vs. Daiju Takase
There are freakshow fights and then there's...this.

When you watch the fight between massive sumo wrestler and UFC veteran (although anyone who's time in the UFC consisted only of getting hit in the head repeatedly without winning doesn't really deserve the term "veteran") Emmanuel Yarborough and below-.500 Japanese fighter Daiju Takase you'll realize that the whole idea was just absurd; there's no reason for this fight to have been booked!

Furthermore, it's actually kind of boring. At first, it seemed as though Yarborough was so massive that he had formed his own gravitational pull and poor Takase was trapped in orbit. But upon closer inspection, it can be realized that Takase is just choosing to run around him in circles for the greater part of the fight (and to think, Takase once tapped out Anderson Silva).

Overall, it wasn't MMA's finest hour in terms of sane matchmaking and its one of the fights that sums up what was (and still is) wrong with Japanese MMA.
Anderson Silva Gets Flying Scissor Heel Hooked
Ryo Chonan is Japanese fighter of average skill, Anderson Silva is the UFC middleweight champion and arguably the best pound-for-pound best fighter in the world.
What happened when they met back in 2004? Chonan submitted Silva with one of the craziest submissions ever pulled off in MMA: The flying scissor heel hook.
It was Silva's last true loss and the highlight of Chonan's career.
Speaking of Anderson Silva...
Anderson Silva Dances the Night Away (and Dances Customers Away from Their TVs)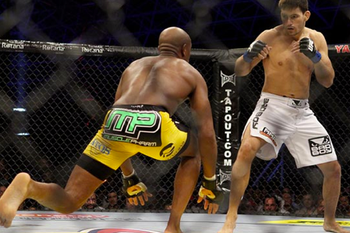 Anderson Silva's unanimous decision victory over Demian Maia at UFC 112 wasn't the most exciting thing to watch, but it was certainly one of the craziest.
Silva did bizarre taunts and stances throughout the whole fight (which resembled a strange dance-off rather than a proper fight) and even hid behind referee Dan Miragliotta!
It's remembered as one of the worst main events of all time and one of the worst fights of all time. However, it was and still is pretty crazy.
Anderson Silva Destroys Vitor Belfort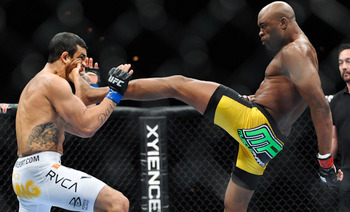 This picture has been my desktop background since the night of the fight! (Photo courtesy Heavy.com)
Anderson Silva's fight against Vitor Belfort at UFC 126 was one of the most anticipated fights of Silva's career. Finally, there was a striker who could match (and perhaps even exceed) Silva's fabled striking abilities.
The masses were let down in the sense that the bout wasn't competitive but they weren't let down since the fight ended with one of the craziest and most unexpected knockouts in UFC history.
Anderson Silva hit Vitor Belfort in the face with a front kick and knocked him to the floor, a couple of follow-up punches on the ground and it was over; screams of joy, shock and awe (and horror from Belfort's fans and family) could be heard across bars, dens and man-caves across the world.
Anderson Silva vs. Chael Sonnen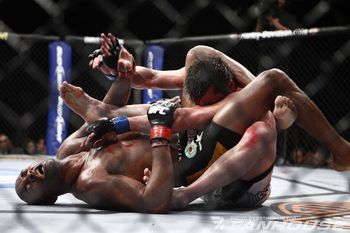 Photo courtesy AllElbows.com
The lead up to the UFC 117 fight was crazy due to Chael Sonnen's trash talk, and the fight was crazy due to the fact that Sonnen dominated Silva for almost the whole fight like no other fighter has ever done, but the craziest of all was Silva's hail-Mary triangle choke submission victory over Sonnen in the closing moments of the fight.
The whole experience was a trip!
Matt Serra vs. Georges St-Pierre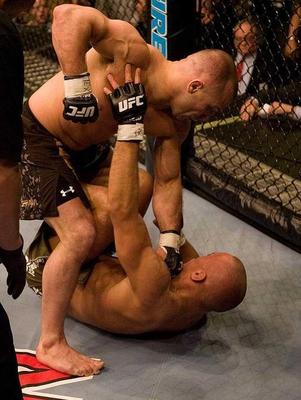 Serra smashes St-Pierre.
Georges St-Pierre was 2007's version of Jon Jones; he was the young hot-shot who wouldn't be deposed until the arrival of the next generation of fighters...
Unless the next generation of fighters is one that tests positive for "espresso and marinara sauce."
Matt Serra was the winner of the fourth season of The Ultimate Fighter (titled "The Comeback" since it featured fighters who were formerly in the UFC) and because of his victory, he earned a title shot against St-Pierre at UFC 69.
Many expected a match that wasn't competitive and they were right; Serra dominated St-Pierre. The Long Island native stunned St-Pierre with only one punch and then followed up with a barrage of devastating ground and pound, finishing the Canadian off and at the same time performing one of the craziest upsets in MMA history!
Fedor Emelianenko vs. Fabricio Werdum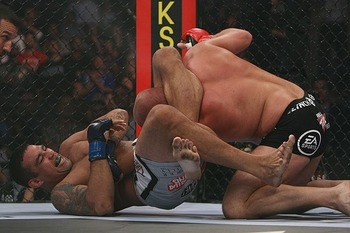 Speaking of crazy upsets, Fedor Emelianenko vs. Fabricio Werdum was one of the craziest.
The entire MMA world (except for Werdum and his team) thought—nay, they knew—that Emelianenko was going to smash Werdum.
The match didn't go that way.
Instead, Emelianenko was submitted in only 69 seconds. So began the terrible decline of "The Last Emperor."
Fedor Survives Getting Slammed on His Head
Some of the craziest moments in MMA are viewed by thousands daily on YouTube. One of these moments that burgeoning MMA aficionados first look up is Kevin Randleman's epic suplex of Fedor Emelianenko and Emelianenko's subsequent Kimura submission victory.
The suplex and Emelianenko's calm demeanor throughout the whole ordeal make the moment one of the most exciting and crazy in MMA; nothing like it has happened on such a big stage since.
Quinton "Rampage" Jackson Powerbombs Ricardo Arona
When professional wrestling and MMA intertwine, it's usually regarding fighters like Chael Sonnen harnessing the pro-wrestling style promos and trash talk.
But when Quinton "Rampage" Jackson met Ricardo Arona at Pride Critical Countdown 2004, MMA borrowed more than promotional tools from wrestling; Jackson borrowed the powerbomb.
When faced with a triangle choke, Jackson picked Arona up and slammed him to the mat in a powerbomb-like move, knocking the Brazilian unconscious in what is one of the craziest and most famous moves ever done in MMA.
Jose Canseco Fights Hong-Man Choi
Disgraced baseball star Jose Canseco actually tried his hand at MMA. Who was better than Korean giant Hong-Man Choi—Japan's go-to guy for freakshow fights—to welcome Canseco to the sport?
This fight was crazy just for the sheer freakshow value of it. Jose Canseco was in a ring fighting a seven foot Korean kickboxer. How much crazier does it get before it stops being MMA and becomes pro wrestling?
Shinya Aoki Fights a Mixed Rules Bout and Loses
After spending years exhausting freakshow talent, Japanese promoters finally came up with a new gimmick: Use good fighters but different rules.
To this end, famed MMA grappler Shinya Aoki was set to battle kickboxer Yuichiro Nagashima in a mixed rules fight. The first round of the fight was to be kickboxing rules, the second MMA.
Aoki, knowing he would dominate Nagashima in the MMA round, simply wasted time throughout the whole three-minute kickboxing round. He stalled incessantly, grappled and threw bizarre attacks (which included a number of flying drop kicks) to take time off the clock.
At the start of the MMA round, Aoki predictably shot for a takedown only to be met with Nagashima's knee.
Aoki was out cold; a pure striker beat a grappler!
Corey Hill's Leg Falls Off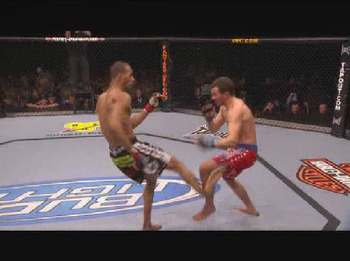 Well, it didn't fall off, but the picture is worth a thousand words. Look and be horrified!
Doughy Mike Russow Knocks out Chiseled Todd Duffee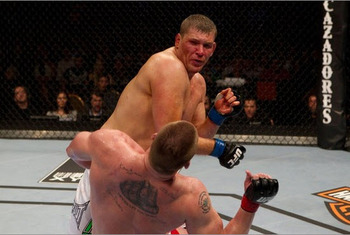 At UFC 114, the chiseled athlete Todd Duffee met the UFC's answer to the Stay-Puft Marshmallow Man, Mike Russow.
Duffee battered Russow throughout the fight and appeared to have him nearly finished on several occasions.
All it took was one punch to reverse the fight.
Russow landed square on Duffee's face and sent him to the canvas. Russow pulled off one of the craziest comebacks in UFC history, but it's nothing compared to...
Cheick Kongo Blasts Pat Barry While out on His Feet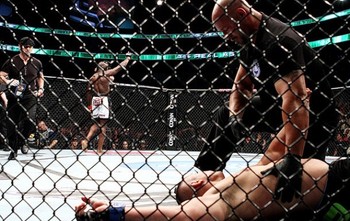 Photo courtesy Tracy Lee|Yahoo Sports
Cheick Kongo vs. Pat Barry is the craziest come-from-behind victory in UFC history.
Barry appeared to have Kongo out at least twice but somehow, the Frenchman persevered. Kongo eventually caught Barry on the way in and put the Louisiana native out for good in an epic knockout.
The comeback was crazy; nobody expected the fight to end in the way that it did!
Lyoto Machida's Crane Kick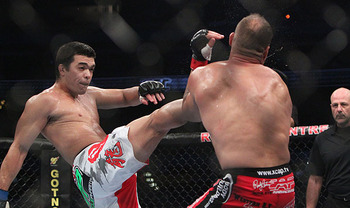 Photo courtesy Ken Pishna|MMAweekly.com
An MMA fight ended with a crane kick (or at least the closest thing to one seen in MMA) a la The Karate Kid and UFC legend Randy Couture was on the receiving end.
Does more need to be said about why this was a crazy moment?
Dennis Hallman's "Shorts"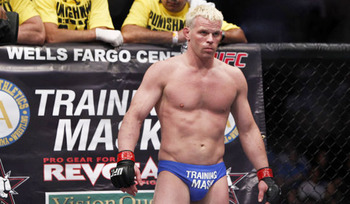 Dennis Hallman may be the only man to have beaten Matt Hughes twice in under 30 seconds both times, but that accomplishment is negated by the fact that he's the only man in UFC history to have tainted an entire pay-per-view with horrific shorts!
If you didn't see the event, just look at the picture and imagine someone grappling in that. Not pretty!
Paul Daley Finally Lands a Punch on Josh Koscheck...after the Bell!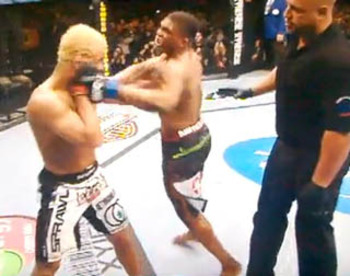 While Paul Daley may not have liked Josh Koscheck and may have been upset with things that the wrestler said to him while he was being dominated, Daley had his chance to hit Koscheck and hitting him after the bell was the worst mistake of his career, since it essentially relegated him to Strikeforce for the rest of his life.
This moment was so crazy because nothing like that had really happened on camera before and nothing has happened since. It'll be remembered forever because of this!
Bob Sapp Fights Cartoon Character
In 2008, in Japan's famous end of the year show, "Dynamite!! 2008" Bob Sapp was matched up against a cartoon character; the freak show fight to end all freak show fights.

Mind you this was not a fighter who was so lively that he was described as a cartoon character, it was a fighter who wore the outfit and mask of the Japanese cartoon character Kinniku Mantaro.

Inside the mask was Japanese professional wrestler Akihito Tanaka.

Sapp won the fight but when a fighter who already has a reputation as a freak show fighter beats up a pro wrestler/cartoon character, there really are no winners.
Since then, there haven't been any Cartoon vs. Freakshow fighter matches, making Sapp vs. Mantaro/Tanaka unique and crazy.
James Toney Fights in the UFC
Was there anything crazy about a one-dimensional boxer getting taken down and submitted in MMA? No.
Was there anything crazy about James Toney actually fighting in the UFC? Yes!
Toney had no business being there and Toney, an overweight, out of shape boxer with literally zero MMA skills (the man didn't even know how to tap out properly) having been in the Octagon is absolute lunacy!
Pick Any Moment from Nick Diaz's Career
Nick Diaz's career has been an amalgam of crazy moments.
There was his gogoplata victory over Takanori Gomi (a victory that got overturned due to Diaz's testing positive for marijuana), his hospital brawl with Joe Riggs, his throwing a shoe at Diego Sanchez, his threatening to slap Ariel Helwani and, more recently, his failure to show up to UFC 137 press conferences.
So just take your pick of any one of these moments, or other crazy Nick Diaz ones that I've neglected to mention!
Strikeforce: Nashville
Strikeforce: Nashville, was the event at which the infamous brawl between Jason "Mayhem" Miller and Jake Shields (with his Caesar Gracie Jiu-Jitsu allies) took place.

During Shields' post fight interview, his middleweight rival Jason "Mayhem" Miller grabbed the microphone and asked for a rematch.

What followed was arguably the biggest black eye in the sport's history. Miller was shoved by Strikeforce lightweight champion Gilbert Melendez, and then Strikeforce welterweight champion Nick Diaz threw a punch at Miller.

A brawl started and the fighters involved were fined. Strikeforce has not appeared on CBS since and many cite the brawl as the reason for that. It was one of the craziest moments in MMA because it was literally a full-fledged brawl erupting in the cage!
Funnily enough, it's also pretty crazy because Miller walked away without a scratch despite being in a brawl with three of Strikeforce's champions (Jake Shields, Gilbert Melendez, Nick Diaz) at once.
Keep Reading