Packers vs. Vikings: The True Story of a Wisconsin-Minnesota Border Dweller
October 23, 2011
Jim Prisching/Getty Images
Greetings from the Frozen Tundra, friends!  And, let me tell you, what a week it has been! 
First, there has been Manpig (my dear husband) drama.  I returned home and found the television set on, the Old Milwaukee chilling, unopened, on the deck, and no Manpig.  The recliner, which has a permanent indentation of Manpig in it, sat empty.  
Where, oh, where, did my little Manpig go?
After I searched his normal hiding spots (bathroom, bedroom, kitchen, setting the snow blower on fire in the shed), I started to think that maybe someone had abducted Manpig.  When our hound started to howl with joy, I knew he had returned, dressed head-to-toe in camo.
"Where were you?" I asked.
"Trying to provide food (aka venison) for my family?  You know, hunting?  Duh, Jackie," grunted Manpig.
"WELL!  I thought you were abducted!  But then I realized that you couldn't have been abducted."
"And why is that?" sighed Manpig.  You see, Manpig is used to my sense of humor by now, and he knows the cadence of my humor.  He knew the punchline was coming and he was waiting for it.
"Because if you HAD been abducted, there would've been a note.  Like you didn't leave?"  Silence from Manpig.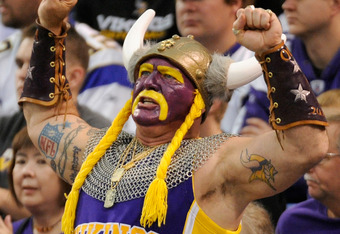 Hannah Foslien/Getty Images
"I'll be in the bathroom," said Manpig as he wisely chose to exit the conversation.
And that was just the beginning of the week.  The rest of the week bordered on chaos, which forced me to ask the question: What in the world was going on?  What was the reason that the world was spinning out of control?  Was it a change in the weather?  Was it a full moon?  Or did we all run out of our medications?
And then I looked at the Packers' schedule and realized that our beloved team is playing the Minnesota Vikings this week.  All the craziness in my little corner of Western Wisconsin can be blamed on that, I say!
If you do not live in Wisconsin or Minnesota, you may not be aware of the intense, and often funny, rivalry that occurs between Packers and Vikings fans.  That's where I come in, my friends, to help give you some background on the fans of these two teams.  While this is not an all-encompassing view, it may give you some insight as to why this game is so important to both sets of fans.
When the Minnesota Vikings came to exist in the National Football League in 1961, the Vikings' name was chosen as a nod to the Scandanavian immigrants that settled in Minnesota. 
Both Wisconsin and Minnesota have strong Scandanavian roots.  And, for the most part, both Packers fans and Vikings fans share a similar love of football, although for two very different teams. 
Since the two states do have a similar background, it is not uncommon for people in Western Wisconsin to not even know that there is a difference between the states.  Hey, we might even have friends from Minnesota! 
But that doesn't mean that we always see eye to eye.  When Green Bay is winning and the Vikings are losing, we are forced to call Vikings fans.  You know, just to let them know that WE know the Vikings are losing.  This rule also works in reverse if the Packers are having a bad season.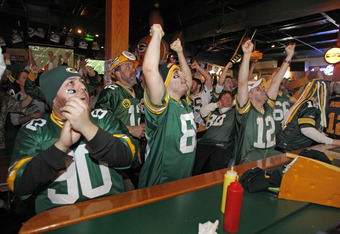 Matt Ludtke/Getty Images
Thankfully, that rule has not applied to the Packers this season. 
Fans of both teams take great pride in having at least one friend or (gasp) family member who follows the other team.
Need an example of taunting? 
When I was 18, I decided to take a year off before going to college.  This "gap year" was meant for me to go out and see the world, experience new things and learn about life in general. 
However, what I failed to realize was that in order for me to accomplish these things, I also needed to find a way to finance these great adventures.  I gained employment at a local factory—which gave further proof as to why I needed to go to college—and met many great people. 
While I had grand plans to see the world, working 40-plus hours a week at a factory did not allow me to travel far.  Therefore, I had to seek an "alternative" plan, which included a tour of the local taverns in an attempt to see how fast a liver can really be destroyed.  Football was one of the main topics of conversation during this misspent time in my youth, from what I can remember.
During one of these tours of the local taverns, my coworkers and I invited a new coworker to participate in the fun and frivolity.  He seemed like a normal guy—funny, talked about his family with affection, liked beer.  And then we started to talk about football.
"I think the Vikings are going to go to the Super Bowl this year."  He said, real friendly-like.  Kind of like he was commenting on the weather, you know?
If you have never been in a bar in Wisconsin, here's a brief description—imagine a packed bar, filled with people who are mostly related or who have known each other for their whole lives (small towns equal lots of relatives).  Jimmy Buffett's "Cheeseburger in Paradise" plays in an endless loop with Hank Williams Jr.'s "Family Tradition" in the background. 
Now, imagine that once your new friend (who you knew was from Winona, Minnesota but incorrectly assumed that he was one of those Minnesota Packers fans) declares his football allegiance, the music skips, then stops. 
Somewhere in the distance, whistling could be heard that precedes a Western gunslinging showdown.  The tavern becomes eerily quiet as one hundred drunk Packers fans turn to stare in shocked disbelief that someone would have the audacity to say such a thing in Wisconsin.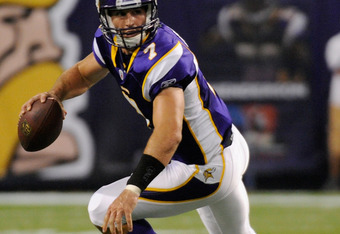 Hannah Foslien/Getty Images
After a few "Oh no he didn't" looks were passed around the bar, our purple-loving new friend smiled sweetly at the shocked patrons.  That one smile caused the bar to erupt into chaos, as one Packers fan, followed by others,  began to howl, "GO BACK TO MINNESOTA, YOU PURPLE #&&!*@*!" followed by a rather lusty version of "Go, Pack, go!"
Our new friend beat a rather hasty retreat and did not return to the tavern with us again. 
While he remained employed with us for a long time, and on a friendly basis, it was noted that we could not be friends at least two, possibly three weeks (including playoffs), out of the year. 
Taunts would be exchanged from both sides, Packers bumper stickers were hastily attached to his car without his knowledge (and he wondered why the whole department would stand, watching and waving happily at him as he drove off into the night, back to Minnesota, as a newly devoted No. 1 Packers fan—at least according to his bumper sticker). 
When he would return to work, after being questioned by family and/or friends on his newfound love for the Packers, great hilarity would ensue and threats of bodily harm would occur.
Ahh, memories.
This week brings the 6-0 Packers playing the 1-5 Vikings in the re-inflated chaos that is known as the Metrodome. 
While the sight of Ragnar, the Vikings' mascot, reminds me fondly of past family reunions, the thought of Christian Ponder having his first NFL start against the Super Bowl champions leads me to believe that Coach Frazer may be sadistic in his game plan. 
Also, in case you missed it, the Packers defense woke up last week.
Christian Ponder, may I introduce you to Clay Matthews, Tramon Williams, B.J. Raji, Charles Woodson and our bird-flipping friend A.J. Hawk?  Have fun, buddy!
The Packers, I expect, will be 7-0 this evening.  If, by some act of God, the Vikings pull off a win, I expect Minnesota to be renamed to Ponder-Land or Ponder-sota by Monday morning. 
Either way, beer sales will increase in both states, and generally taunting will ensue.
Keep it fun, keep it clean, and let's get ready for some football!