Green Bay Packers: First Half Awards
Jeff Gross/Getty Images
The defending champion and currently undefeated Green Bay Packers will take a break in their dominance this weekend due to a much-deserved bye week.
The break will also mark the halfway point of the 2011 season. The Packers will have a chance to look back at their success, but they also must keep their eyes focused ahead.
Now that Week 8 has arrived, it's time to hand out first half awards to the Pack's top players on both sides of the ball.
Defensive Player of the Year: Desmond Bishop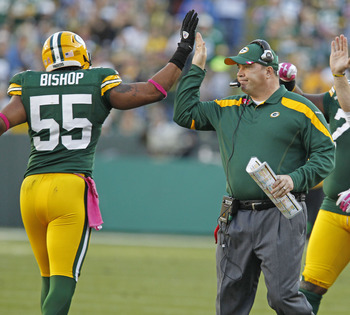 Matt Ludtke/Getty Images
Desmond Bishop doesn't receive much publicity for his contributions to the Packers defense, but he's been their most consistent player since replacing Nick Barnett in the linebacker corps.
He's quietly taken a spot among the league's best inside linebackesr because of his versatility. He's an effective pass rusher and a solid run stopper, and he can even play in pass coverage.
Bishop has 65 tackles, three sacks and a forced fumble in 2011.
Offensive Player of the Year: Aaron Rodgers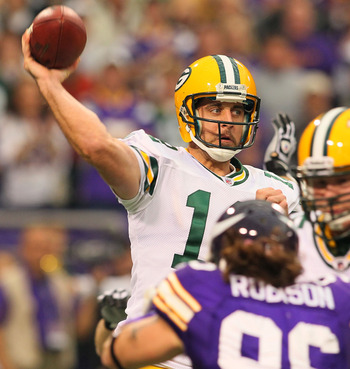 Adam Bettcher/Getty Images
With 2,372 yards passing and 20 TDs, Aaron Rodgers is on pace for well over 4,000 yards and 40 TDs this season.
The Packers offense runs directly through him, and he has yet to let his team down. He's only thrown three picks in 2011, and his 125.7 passer rating is the best in the league.
Rodgers has been tearing apart defenses and spreading the ball around to all of his receivers, but what is most incredible is his ability to throw on the run and scramble.
Offensive Rookie of the Year: Randall Cobb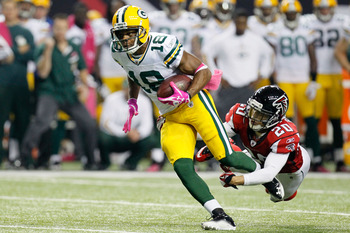 Kevin C. Cox/Getty Images
Randall Cobb has been everything the Packers expected when they grabbed him in the second round of the 2011 NFL Draft.
His return abilities have sparked the special teams unit, and he even took a kickoff back 108 yards for a score in Week 1.
As a receiver, he has just under 200 yards and a touchdown.
Defensive Rookie of the Year: D.J. Smith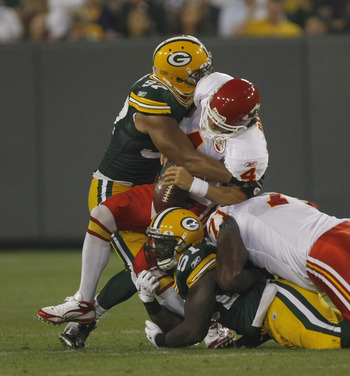 Scott Boehm/Getty Images
The Packers first years haven't had too many opportunities on defense through the first half of the season, but D.J. Smith is the best candidate for the award.
He leads all the Pack's rookies with five tackles, and he's also contributed on special teams.
Comeback Player of the Year: Jermichael Finley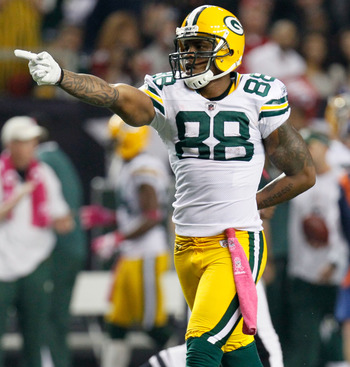 Kevin C. Cox/Getty Images
Jermichael Finley has made it back on the field in 2011 after a knee injury held him out for the majority of the 2010 season.
The young and athletic tight end was ready to take over the league last year, and now he has his chance.
While he hasn't quite revolutionized the TE position like he had hoped, he is certainly making a solid comeback. He gathered 344 yards and four TDs thus far as one of Aaron Rodgers' many targets.
Most Valuable Player: Aaron Rodgers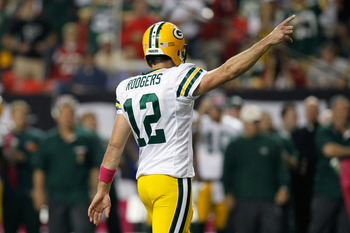 Kevin C. Cox/Getty Images
Aaron Rodgers is also, without question, the team's most valuable player. Even if the defense plays horrible, he has the ability to continually put points on the board.
His passing skills have been described as surgical and flawless. His leadership is evident, and as long as he's on the field, the Packers have a great chance to win.
Rodgers was the Super Bowl XLV MVP, he's a prime candidate for this year's league MVP and he's certainly the Pack's MVP.
Keep Reading

Green Bay Packers: Like this team?