2012 MLB Offseason: Florida Marlins Fielding Breakdown
October 22, 2011
Nick Laham/Getty Images
The Florida Marlins (or Miami Marlins as they will be next season) have traditionally been a poor fielding team. Simply put, they've had to pinch pennies wherever possible and fielding became one of those areas they were willing to sacrifice. Even their stars were subpar defenders. Heck, their double play combination, until this season, was arguably the worst double play combination in baseball. When Mike Jacobs was the first baseman, their Tinkers to Evers to Chance was known as the happy lexicon. 
Some of that changed this season, but the team lost Hanley Ramirez and Josh Johnson for good parts of the season. Then, there was the Logan Morrison and Wes Helms controversy in the middle of the season. Helms was cut and Morrison sent down to the minors. Sending down the player second on the team in OPS was a hard sell to the media. Still, the club moves into the new stadium and a modicum of dedication to fielding has them at least in the average range.
DER: .694 (14th)
RA: 702 (16th)
FLD%: .985 (11th)
Baseball Reference: -7 Runs (21st)
Fangraphs: -5.5 runs (16th)
Fielding Bible: -9 runs (20th)
Baseball Prospectus: 18.0 runs (4th)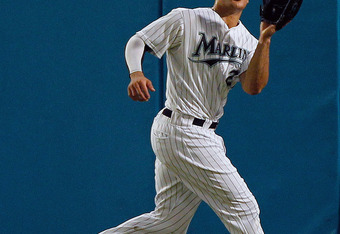 Mike Ehrmann/Getty Images
Composite Runs: -0.9 runs
The Marlins have traditionally been poor, but their DER and composite runs show a mediocre fielding team. Sure, a healthy Hanley Ramirez would have turned out badly, but with a change here and there this team could become good offensively.
Best Fielder
It's a shock, but Mike Stanton is more than just a guy that can hit the ball a real long way. He was very underrated as a fielder this past season. Hopefully he will start getting his just due as an all-around player.
Worst Fielder
Hanley Ramirez is as dynamic an offensive force as any player in the game, but he simply cannot play shortstop adequately. He has enough offense to be shifted to almost any position without losing a great deal of value. Maybe playing a little second base would be better than what he is doing right now.
Possible Changes
The Marlins are a team in a constant state of change. This year, there could be changes at third base and center field. If the club deals Logan Morrison, there will be an additional change to that mysterious list. I don't know how much more money they will have to spend, but the new ballpark will provide some additional funds.
2012 Overview
They elevated themselves from pitiful to mediocre in one season. If they choose the right guys to fill those holes on the defensive end, they could become one of the better fielding teams in the league. It will take a lot less than you think.