Sam Bradford Injury: A.J. Feeley in for Rough Game vs. Cowboys
October 22, 2011
Dilip Vishwanat/Getty Images
Despite a history of injuries in college, Sam Bradford has never missed a start in the NFL. He made every start in his rookie season, and started the first five games of 2011.
On Sunday, that that streak will be coming to an end.
Saturday, October 21 at 1:17 p.m. EDT
Calvin Watkins of ESPN Dallas reported that Bradford has been officially ruled out of the Rams' game on Sunday vs. the Cowboys.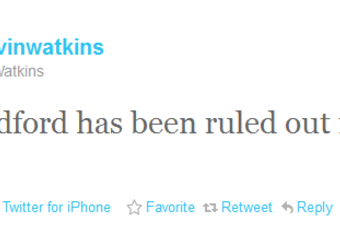 Starting in his place will likely be A.J. Feeley. Feeley relieved Bradford a week ago against the Packers, but had otherwise not started, or even played, since 2007.
On the one hand, this is a terrible assignment for Feeley. Remember that the Dallas defense just had a tremendous effort against the Patriots and their vast array of weapons. How are the winless Rams going to do anything against them?
But that very thinking will be the best thing to happen to Feeley. Expectations aren't exactly high for the Rams in this game. Their chances at beating the Cowboys in Dallas were slim anyway.
The St. Louis defensive secondary has been awful this year. Going against Miles Austin and Dez Bryant doesn't exactly indicate that a good game is likely.
But if Marcus Spears and DeMarcus Ware were going to give Bradford trouble, how are they going to do against a quarterback who hasn't started a game in four years?
That's really the prevailing logic here. The low expectations will be a good thing, just not anywhere near good enough.
The Rams will need to use Steven Jackson early and often. Dallas will have no problem keying on the run.
It's not like Feeley was ever an elite, top-of-the-line quarterback. There really is no past "magic" to revive here.
This was going to be one of the week's biggest blowouts, even with a healthy Bradford. Low expectations aren't a bad thing, but they won't help in this one. Feeley will have a tough day and the Cowboys will win in a blowout.