WWE Vengeance 2011 Live Coverage, Results and Analysis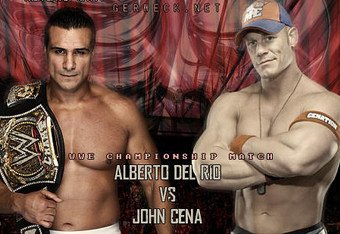 WWE Vengeance PPV is tonight and with the lineup of matches set this is sure to be a great show. Please not that the most recent updates are at the top of the list so if you start reading late begin at the bottom and work your way up so you don't miss anything.
Here is a list of the matches with my predictions for the outcomes.
Last Man Standing Match for the WWE Title
John Cena vs. Alberto Del Rio
Predicted outcome is Alberto Del Rio wins.
World Heavyweight Title Match
Big Show vs. Mark Henry
Predicted outcome is Mark Henry wins.
WWE Tag Team Title Match
Dolph Ziggler & Jack Swagger vs. Kofi Kingston & Evan Bourne
Predicted outcome is Ziggler and Swagger win.
WWE United States Title Match
Zack Ryder vs. Dolph Ziggler
Predicted outcome is Zack Ryder wins.
WWE Divas Title Match
Eve Torres vs. Beth Phoenix
Predicted outcome is Beth Phoneix wins
The Miz & R-Truth vs. CM Punk & Triple H
Predicted outcome is CM Punk and Triple H win
Randy Orton vs. Cody Rhodes
Predicted outcome is Randy Orton wins.
Sheamus vs. Christian
Predicted outcome is Sheamus wins
Keep refreshing the page for live updates as I will updating the action constantly as well as providing up to the moment analysis of the events and possible repercussions.
The show closes with Del Rio celebrating and Cena looking bewildered in the ring.
Match #8 John Cena vs Alberto Del Rio for the WWE Title.
Del Rio enters first and Cens Follows with the biggest pop of the night.Cenas got new gear complete with camo shorts.
The ring is still in shambles as they begin the match. A lets go Cena, Cena Sucks chant breaks out. The bell rings and John tries to give an AA to Rodriguez but Del Rio pounces and gets Cena down.
Del Rio with a big kick to Cena. They seem to be trying to work around having no ring ropes to use. Del Rio keeps kicking Cena til he rolls to the outside. Del Rio rams Cena into one of the ring posts that is still standing.
Cena starts to moutn some offense and hits lefts and rights til Del Rio hits another kick to the head. Cel Rio hits a three back suplexes on Cena as the ref starts the first count of the match. Cena is up by 7 and hits a clothesline on Del Rio.
Del Rio want to climb the ropes but can't. Del Rio two standing spulexes on Cena before getting reversed and getting one himself.
Cena with shoulder blocks and a spin out powerbomb. Cena wants to hit a 5 knuckle shuffle but has not ropes to go to so he just drops his fist.
Del Rio hits a german suplex to take Cena down. Cena hits a gut wrench suplex on Del RIo and both men are down.
Del Rio makes it up by the 4 count and hits a tilt a whirl back breaker on Cena. Del Rio does not let Cena get up before ten and starts beating him down. He sets one of the downed posts against Cenas chest and runs over it crushing Cena under the ring post.
Cena gets up by the 8 count and hits the AA on Del Rio. Both men are down as the ref starts the count over.
Cens is up at 7, Del Rio at 8. Ricardo Rodriguex stops another AA and Del Rio locks in a sleeper on Cena. He gets Cena on the mat and keeps applying pressure.
Cena looks like he is out and Del Rio rolls off so the ref can count. Cena makes it up and throws Del Rio off the ring into the baracade.
Del Rio whips Cena into the ring steps. Cena picks up Rodriguez and racks himon one of the ring posts. Del Rio uses this as a chance to get the upper hand and has cena down before being thrown onto the same post as Rodriguez. They both get injured by the post.
Del Rio rams the bigger part of the stairs into Cenas head and Cena is down as the ref begins another count.
Cena grabs the ring steps and misses Del Rio. Alberto nails him with rights and lefts before slamming Cenas head into the steps.
Cena is up by 8 and starts hitting rights on Del Rio. He fights him back to the locker room area. Cena slams Del Rio into a production table.
Cena tries to knock over a massive production box onto Del Rio but misses. Del Rio fights back and hits a slam on Cena onto the huge production box.
Cena is up at 7 but ends up falling down again. Del Rio knocks part of the interview area set onto Cena. He topples overall four huge pieces of the interview set totally covering Cena.
The Ref starts to count as Cena is burried under the set. Cena makes it out from under the set pieces at 9.
The two fight their way back to the ringside area. Del Rio send Cena crashing through the huge V in the Vengeance set.
Del Rio is setting up a table. He gets Cena on the table and starts climbing the set but Cena grabs him and pulls him down through the table on the cement floor.
The ref starts the count. Del Rio is up at 9. Cena starts beating Del Rio as they go into the crowd. Cena takes him back to the ring but Del Rio throws him into the Spanish announce team.
Del Rio pushes Cena into the ring post and goes for an enziguri, but Cena moves and Del Rio hits his shin on the post.
Cena lifts Del Rio up for an AA, climbs the steps and slams him through the announce table.
Miz and Truth run in and attack Cena. Miz hits the skull crushing finale and Truth hits his finisher.
They leave and both men are down. Del Rio is getting up as Cena lay motionless. Cena makes it up by 9 and Del Rio runs in and hits him with the title belt.
Cena is down and the ref starts counting. Cena can't make the count and Del Rio wins.
Winner and still WWE Champion- Alberto Del Rio
Match #7 Mark Henry vs Big Show
Big Show comes out first and gets a big ovation. Henry is out next and he looks like he is ready for action.
The two giants stare each other down before locking up. Henry Powers Show into the but Show reverses it and starts punching Henry in the corner. Henry rolls out to get some breathing room.
Henry is slow to get back in the ring. Big show meets him at the ropes and pulls him in over the top rope. Henry runs at Show but gets a kick to the jaw.
Henry Rolls out again. Henry goes to grab his title and leave but Show chases him down and gets him back in the ring.
Henry hits a low knee block and picks up Show for a big slam. Henry starts working on Shows knee.
Henry is trying to get Show to submit with a log lock. Show fights out but cant lift Henry for a slam and almost gets pinned.
Henry puts Show in an ankle lock and tries for another submission. Show kicks Henry off but still cant stand. The two stare each other down intensely before running into dual clotheslines.
They make it to their knees and begin trading blows. Henry with a headbutt, and Show answers with o ne of his own. Show begins to take the advantage and knocks Henry down with a big strike.
Show gets Henry up for a body slam and calls for the chokeslam. Show hits the chokeslame but Henry kicks out.
The slow motion replay was one of the coolest things I have ever seen. A Doctor comes down to check on Show and Henry. They call to the back for a stretcher. and Henry looks like he may be hurt.
Show is pissed now and sets up for the WMD but Henry catches him with the world strongest slam. He covers Show for a close two count.
Henry goes to the top rope but Big Show catches him with a huge Choke slam from the top rope for an extremely close two count.
Now Big Show heads to the top rope but Henry stops him. Henry climbs to the second rope and hits a superplex on Show. That was awesome. It broke the ring!
The crowd is chanting Holy S#@# as Show and Henry lay motionless in the broken ring. They are now calling for something bigger than a gurnee, this match looks like it is over.
No winner.
Teddy Long and John Funkhauser make their way to the ring to see what's going on. It looks like there may be genuine injuries here.
Henry is barely moving and Show is looking very dazed as he lays in the ring. Henry can't make it to his feet and looks like he is actually being told not to move at all. Big Show is starting to get up but still looke like he is in rough shape. The lay Show on a huge cart and take him to the back. Big Show just swore as a trainer tried to move his knee.
Mark Henry can;t support his own weight as they pull him from the ring and he falls down hard. Mark pushes everyone off him but keeps falling down as he tries to crawl to the back.
Either Henry is selling this really well or he is really injured. He finally makes it to his feet and the crowd cheers as he is helped to the back.
Funkhauser gets on the mic and says the WWE title match will still happen despite the broken ring.
They play a video hyping the Rocks return.
Match #6 Randy Orton vs Cody Rhodes
Orton is out first to a big ovation. Rhodes is out next with two baggers. Rhodes goes for an early takedown but gets a clothesline.
Orton throw Rhodes to the outside and slams his head into the ring steps. Rhodes rolls back in and Orton goes for a pin and gets two.
Rhodes hits Orton with a kick and takes him down. Rhodes hits a face first suplex on Orton and goes to the second rope for a diving elbow.
Rhodes with more offense in the corner. Orton fights back with punches and uppercuts. Cody explodes out of the corner with a clothesline for a nearfall.
Cody puts Orton in a headlock. Orton reverses with a back suplex. They both get to their feet but Orton eats a nice dropkick from Rhodes for another two count.
Rhodes keeps stomping Orton as he circles the ring. Rhodes puts Orton in a Boston crab in the middle of the ring.
Orton rolls out and kicks Rhodes in the face to get him off of his legs. Rhodes comes back with more offense but Orton gets a rollup for a nearfall.
They trade punches til Rhodes hits an Alabama Slam on Orton for another near fall. Cody climbs to the top and misses a huge moonsault.
Orton gets back to his feet and takes Rhodes down with clotheslines and a powerslam. Cody gets to the top rope and jumps off into a drop kick by Orton.
Orton with another nearfall. Orton tries for a back breaker but Rhodes fights out and hits the beautiful disaster kick for another two count on Orton.
Orton fights back and hits Rhodes with his signature back breaker for a two count. Orton sets up Rhodes on the top rope but Cody fights back and ends up hitting the big moonsault off the top on Orton.
Rhodes back to the second rope but misses a diving knee drop. Orton turns into Cross Rhodes but kicks out at two.
Rhodes drops down and looks to be setting up for the RKO but Orton hits a dropkick. Orton hits the rope hung DDT.
Orton drops down and starts gearing up for the RKO. Rhodes runs at Orton but hits one of his baggers. He turns into an RKO. Orton gets the pin and the win.
Winner- Randy Orton
Miz and Truth have an exhcange with John Laurenaitis about being suck ups. Truth says he sucks up better than Miz. Miz talks about how CM Punk and HHH are the ones who really suck the most. They also trash Booker T and Texas.
Match #5 Awesome Truth vs TriPunk
I am predicting we will see an appearance by Nash judging by how much he was shown in the video package.
Miz and Truth make their way out first. CM Punk is out n ext to a huge pop. Triple H is next to a big pop as well.
Punk and Miz start out. A Punk chant start before they even lock up. Triple H slaps Miz in the back of the head for a distraction while Punk kicks miz. HHH tags in and Miz hightails it to Truth and tags him in.
Triple H and Truth lock up, Truth is whipped into the ropes and gets a big clothesline from HHH.
Truth does some dance moves before getting a big right hand from HHH. Punk tags in and continues to beat down Truth.
Miz tags in but eats a right hand from Punk. Triple H tags in and slaps on a figure four leg lock. Miz makes it to the rope and Punk tags back in. Miz reverses an irish whip and goes back on offense.
Truth tags in and continues to punish Punk. He slaps Punk in a headlock. Punk fights back and back suplexes Truth. Both men are down. Punk makes a tag and Triple H comes in and cleans house of both Miz and Truth.
He double clotheslines both men out of the ring. Miz distracts HHH while Truth hist him with a dropkick. Turth hits Triple H with punches on the outside.
They roll back in and Truth continues to beat HHH before tagging in Miz who continues the beatdown with stomps and punches.
Truth tags back in and they double team HHH for a near fall. Truth puts HHH in a front facelock. Truth hits the corkscrew elbow for another nearfall.
Miz tags back in and they continue to assault HHH. Miz puts Triple H in a camel clutch. HHH fights out with strikes but miz reverses into the back breaker neck breaker combo for another two count.
Truth back in and they keep double teaming Triple H. Punk is trying to get HHH riled up but Truth keeps him down with a bodyscissors.
Triple H gets Truth up on his shoulders and drops him with an electric chair. Both men are crawling to their corners. Miz tags in and goes for a running attack but eats a clothesline from Trips.
Both men are down again and Miz makes the tag to Truth who misses a scossors kick and ends up getting a DDT from Triple H.
Punk finally gets the tag and goes tow work on Miz. Truth comes in and Punk hits him with a high knee and bulldog while clotheslining Miz. Punk covers Miz but gets only 2.
Punk goes to the top rope and goes for the macho elbow and hits it. Punk sets up for the GTS. Nash comes from the crowd and hits HHH.
Truth and Miz hit their finishers on Punk at the same time for the pin and the win.
Winners- Awesome Truth
After the match Nash continues his beatdown on HHH. He gets him in the ring and keeps hitting him in the corner. Nash hits the jack knife power bomb on HHH before leaving the ring. NAsh exits back through the crowd as Triple H lies in the ring motionless.
Match #4 Christian vs Sheamus
Christian makes his way out followed by Sheamus to a nice pop. Christian is hesitant to get in the ring to start. The bell rings and they lock up. Christian slaps Sheamus and Sheamus rushes in but gets reversed in the corner.
Christian with right hands until Sheamus pushes him off and hits a shoulder block. Sheamus continues a beat down on Christian before getting reversed into a headlock.
Sheamus powers Christian to the outside and starts hitting Christian as he is draped over the ropes. Sheamus suplexes Christian back into the ring while holding him in the air for about five seconds.
Christian gets up and hits couple neck breakers to put Sheamus down. Christian back Sheamus to the corner and hits him repeatedly. Sheamus tries to fight out but gets a boot for his trouble.
Sheamus tries for a shoulder block but gets rammed into the ring post. King comments on how Christian looks so much more tan than Sheamus.
Christian continues to dominate Sheamus as he hits a flying european uppercut for a nearfall. Christian climbs to the second rope again and hits a missile dropkick.
Christian goes to the top and misses a flying headbutt. Sheamus starts hitting clotheslines on Christian.
Sheamus hits a fall away slam for another two count. Christian low bridges Sheamus and sends him to the outside.
Sheamus with more offense but Christian counters with a back drop and a cover for a one count. Christian lines up for the killswithc, Sheamus reverse into a celtic cross but Christian gets out.
Sheamus drops Christian over the ropes and gets another nearfall. Christian with two of his spring kicks in the corner and a close two count.
Christian tries for his springboard sunset flip but gets cught in a back breaker. Sheamus goes for the brogue kick but eats a spear for a really close two count.
They trade offense before Christian hits a big hurricanrana. He tries for another spear but runs into a big kick from Sheamus for the pin and the win.
Winner- Sheamus
Match #3 Beth Phoenix vs Eve for the Divas Title
Beth makes her way out first followed by Eve. Beth takes control early on. She hits tons of offense on Eve before getting a two count.
Eve reverses and hits some impressive moves before tying Phoenix up in the ropes with Beth's own outfit. Eve hits her a bunch of times while Beth is ties up. Beth breaks free and runs into a kick. Beth throws Eve to the outside and starts kicking her as she is down on the ground. Beth pulls Eve in the ring and goes for a pin and a nearfall.
Beth puts on a modified abdominal stretch. Eve fights out with punches before getting caught in a gut buster for another nearfall.
Beth slaps on a body scissors. Beth is screaming at Eve to make her cry as she wrenches the body scissors. Eve fights out with strikes and hits some high kicks and a flying clothesline.
Eve gets another nearfall. Beth reverse a whip but runs into an elbow. Eve wraps her legs around Beths head and puts on a strange but effective submission. Eve gets both down and has her screaming in pain.
Beth gets to the rope and the hold is broken. Eve continues Beth drapes Eve on the top rope and sets up for the glam slam. Eve reverse it into a roll up for a near fall. Beth goes back on offense right away.
Eve hits a nice kick. Eve climbs the ropes for a moonsault but misses. Beth hits the glam slam and pins Eve for the win.
Winner and still Divas Champion- Beth Phoenix
Ted Dibiase is checking out CM Punk's Tattoos before HHH walks in. He and Punk have and exchange about trusting each other. Punk says he knows someone else is pulling the strings. HHH says he wants to skip the speeches.
Punk wants to show Miz and Truth why Raw is really an unsafe working environment.
Match #2 Zack Ryder vs Dolph Ziggler for the US Title.
Ryder's music hits as Air Boom celebrate their win. Ziggler looks pissed he has to wrestle again right away.
Ryder takes it to Dolph right away. Ryder gets a couple of near falls before Ziggler takes back control.
A Ryder chant breaks out. Ryder reverse a whip for a big clothesline. Ziggler rolls out and tries to go to the back but Air Boom throw him back in. The Ref boots Air Boom from ringside.
Ryder still in control with three big punches and a back body drop. Ryde tries a cross body but gets tied up in the ropes. Ziggler takes control with a big jumping elbow drop. Ziggler gets a two count.
Ziggler slaps on a submission hold. Ziggler hits another big elbow for a nearfall. Ziggler with a flying cross body in the corner. As Ryder lays Ziggler stalks him for another cross body. Ryder moves and goes for a big boot, but Ziggler moves and Ryder racks himself on the rope.
Ziggler gets Ryder in the corner and starts pounding on him. Ziggler gets a running start but Ryder moves. Ryder hits the facewash in the corner for a nearfall. Swagger tries to interfere but gets a kick from Ryder.
Ryder turns right into a superkick from Ziggler for the pin and the win.
Winner and still US Champion- Dolph Ziggler.
Match #1 Air Boom vs Team Vickie for the tag titles
Vickie comes out and introduces Jack Swagger and Dolph Ziggler.
Air Boom come out to a decent pop.
Kofi and Dolph start out. Kofi goes behind but Ziggler takes him down. Kofi and Dolph Trade offense. Kofi with a leapfrog and take down. Kofi monkey flips Ziggler out of the corner for a near fall.
Evan tags in and dropkicks Ziggler for another near fall.
Swagger tags in and gets knocked down by Evan. Kofi with a tag and a double team for a near fall on Swagger. Another tag to Evan and another double team on Swagger for a near fall.
Evan and Kofi forget which one is legal and Evan goes for a near fall until the ref says Kofi is the legal man.
Jack Swagger reverses a hold and suplexes Kofi for a nearfall. Ziggler tags in and puts a submission on Kofi. Swagger back in with more offense on Kofi.
Swagger shoulder blocks Kofi and puts him in a headlock. Kofi reverse and tags in Evan who comes in with a headscissor takedown on Swagger. Evan hits a high knee and then takes out Ziggler. Evan hits Swagger with a big kick for a nearfall.
Evan goes up top for Air Bourne but Swagger gets his knees up. Ziggler tags in and tries to pin Evan but it is broken up by Kofi. Ziggler puts on a half nelson to Evan.
Evan rolls up Ziggler reverse for another nearfall and then Ziggler starts to beat down evan. Swagger tags in and gets another nearfall on Evan.
Swagger tries to lift Bourne but Bourne rolls him up for another nearfall. Swagger goes for the ankle lock but gets reversed and thrown out of the ring.
Swagger pulls Kofi off the apron and then continues his assualt on Evan. Dolph and Swagger trade tags and offense on Evan. Swagger is just beating Bourne down now while Kofi works up a chant.
Bourne counters with a kick and both he and Swagger are down. Swagger makes a tag and so does Evan. Kofi starts taking it to Ziggler.
Tons of reversals with Kofi finally getting t he upper hand. Kofi with a high cross body for a really close two count.
Kofi goes for trouble in paradise but gets broken up by Swagger. Swagger puts Kofi in an ankle lock but Evan hits him from the top rope.
Evan tags in and hits air bourne on Ziggler for the pin and the win.
Winners and still champions. Air Boom
Show opens with a video package going over the major feuds going into tonight.
Scott Stanford is taking us through the lineup.
Miz and R-Truth do a promo about their match with Punk and Triple H.
Check out my article about CM Punk and Triple H while you wait for the action to start.
While you are waiting for the show to start check out my article on Dolph Ziggler being in 2 matches tonight.
Check out Ryder hyping his match tonight
live coverage begins at the start of the pre-show.
This article is
What is the duplicate article?
Why is this article offensive?
Where is this article plagiarized from?
Why is this article poorly edited?