Pittsburgh Penguins: James Neal Needs to Stay Hot in Contract Year
October 21, 2011
Marianne Helm/Getty Images
By now, every Pittsburgh Penguins fan knows the story of winger James Neal.
Neal was traded to the Penguins from the Dallas Stars last season in a deal that also brought defenseman Matt Niskanen to Pittsburgh. In return for the two players, the Penguins sent offensive defenseman and power-play quarterback Alex Goligoski to the Stars.
Before the trade, Neal had already posted his third 20-goal season, with 21 goals in 59 games. Because of this, the Penguins had high expectations for him.
However, he only posted one goal and six points in 20 games in black and gold. He finished the year with 22 goals and 45 points—a drop-off from his 55-point campaign in 2010.
This year, though, things are different so far.  
Neal is currently first in the NHL with seven goals through nine games and seventh with eight points. His tallies include two power-play goals and one game-winning goal.
Most importantly, he is a restricted free agent at the end of the season. With his hot start, it is understandable that Penguins fans are saying he should be signed as soon as possible. While his performance has earned the discussion, it might not be the best thing for Ray Shero to jump the gun and lock up Neal for the long term.
Why should Shero be concerned? Well, it's because Neal's production also started off strong last season, but he eventually cooled off. Here's a look at his total points and points per game from the 2010-11 season:
October: 10 games, 10 points (one point per game)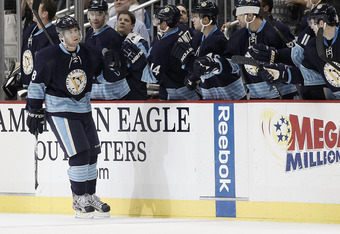 Jared Wickerham/Getty Images
November: 13 games, 11 points (0.85 points per game)
December: 16 games, eight points (0.5 points per game)
January: 11 games, eight points (0.72 points per game)
February: 12 games, two points (0.17 points per game)
March: 14 games, five points (0.36 points per game)
April: Three games, one point (0.33 points per game)
Neal's totals included several scoreless streaks, the longest being a seven-game stretch without a point in February. Another scoreless stretch started in his first game with Pittsburgh, a Feb. 23 matchup with the San Jose Sharks. That lasted until March 8, when he had a goal and an assist in a game against the Buffalo Sabres.
While there is no underestimating Neal's contributions so far in the new season, he has proven in the past that he can be inconsistent. For what he is expected to do for the team, this is a concern that should be taken into consideration.
Of course, Neal does contribute in other areas besides pure goal scoring. For example, he has come through in big moments.
In the playoffs last year, he scored the game-winning goal in double overtime of Game 4 of the Eastern Conference Quarterfinals against the Tampa Bay Lightning. Yes, the Penguins lost the series, but Neal's goal was arguably the biggest highlight over the seven-game matchup.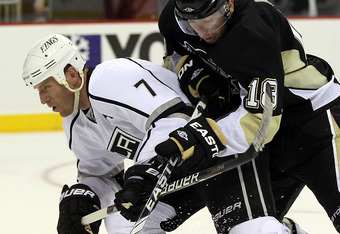 Jamie Squire/Getty Images
He also stays healthy, as he missed only three games last season and four games in 2009-10. On a Penguins team that has been depleted by injury the last two years, this is especially important. Neal will be around and ready to go when called upon, whether it's in an early-season game against the Edmonton Oilers or a matchup in March where the Penguins are trying to get the highest playoff seed possible.
This year, he is fourth on the team with 15 hits and second with 4:15 of ice time on the power play. He also has a shootout goal, which shows that once again, he can stand out even if the Penguins end up on the losing end of the scoreboard. He is also not afraid to use his body and deliver crushing hits.
If Neal keeps up at the pace he is at, he is capable of putting up 0.89 points per game. That will give him 65 points at the end of the season to go with 24 goals, as he has averaged 0.33 goals per game over his career. The overall points total is a realistic projection, given that Neal had his 55-point season in 2009-10 after scoring 37 points in 2008-09.
Neal is making $3.5 million this year, and he will certainly need to keep up his production to make the increased salary worth it. Last season, he was pulling in $2.25 million.
He will also have additional competition on the free agent front. Arron Asham and Joe Vitale also have expiring contracts, and they have been off to solid starts this season as well. Chris Kunitz was recently re-signed to a contract extension, and Pascal Dupuis re-upped in the offseason. Dupuis and Kunitz remain locker-room leaders in addition to their on-ice contributions, so Neal should not fall into the trap of thinking an extension is a guarantee.  
If Neal can keep doing what he's doing, then he should certainly be a part of the Penguins' plans beyond this season. However, it is a little too early to plan for that, and it's just best to see if he doesn't drop off in the later parts of the season.
But, if he continues to perform at a high level, then I would have no problem bringing him back at close to what he is making now, or a little higher.