Arsenal vs. Stoke City: Why Per Mertesacker Faces His Most Important Test Yet
October 21, 2011
Julian Finney/Getty Images
You could say Per Mertesacker was bought to play Stoke City.
After all, teams exactly like Stoke gave Arsenal the most trouble last year, as fans were forced to watch their players crumble under the physical pressure that the Gunners just could not contend with.
Every time a corner was whipped in or Rory Delap unleashed one of his signature throw-in missiles into the box, chaos would ensue, often resulting in a defensive collapse and a back-breaking goal.
Arsenal fans have been hoping for their stubborn manager Arsene Wenger to finally buy a defender with massive size and presence instead of just technical skill and maneuverability. On transfer deadline day, they certainly got their wish in the form of Mertesacker, a 6'6" German giant.
And, if Mertesacker is truly the answer to Arsenal's size and physicality problems, there is no better game for him in which to prove it than in this weekend's fixture against Stoke City at the Emirates Stadium.
With an extremely capable partner in Laurent Koscielny, Mertesacker is generally confined to the penalty box, while the more mobile Koscielny roves around and stymies attacks before they can even get started.
This plays to the German international's strengths, and is why the two have formed such a strong partnership in the absence of Thomas Vermaelen. With his great positional sense, Mertesacker can track any pesky strikers or defend any aerial balls over the top of Koscielny with his superb aerial ability.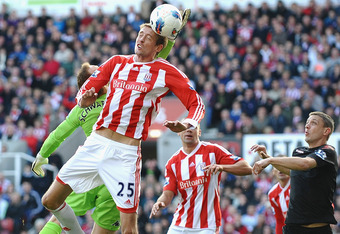 Laurence Griffiths/Getty Images
No fixture will test these qualities as much as the team of battering rams that is Stoke City. With both Kenwyne Jones and the gargantuan Peter Crouch up front, the Potters surely figure they can out-muscle and out-jump any back line in the Premier League.
Maybe they could have gone into a past fixture against Arsenal with this mentality, but not now. This time, we have Mertesacker.
There are not many defenders in the Premier League—indeed, in the world—who can cope with the constant aerial threat of the aforementioned Crouch, at 6'7". However, Mertesacker, with his equally impressive height and jumping ability, is one of them.
And Jones's physical power? Mertesacker may be slow, but he is nothing if not powerful.
This is not to say that Mertesacker is a fix-all for Arsenal's defensive problems, however. He still does not have a great deal of Premier League experience, and as many defences can attest to, Stoke's basic, physical approach to the game can be quite difficult to deal with at times.
Our German giant is getting better with every passing game, though, despite the occasional lapse in concentration or lost challenge.
He does have his faults, namely an extreme lack of pace, but Stoke are not set up to exploit this weakness at all. Instead, their style of play fits in perfectly with Mertesacker's strengths: aerial warfare and strength on and off the ball.
If, as I am confident that he can, Mertesacker can put in a quality performance against the Potters on Sunday, it will go a long way toward proving that he can be a success with Arsenal.
If he can perform against an archetypal English squad, not only will it show that he's developed, it will indicate that he can be the rock that Arsenal need him to be against any domestic team.
And if he doesn't turn in a fantastic performance, it is not necessarily proof that Mertesacker cannot adapt or turn into that presence the Gunners need. He is still evolving, and Stoke may present a little bit too much of a challenge a little bit too soon.
I doubt it though; Mertesacker should be up to the task, and he should turn in a very good performance against exactly the team he was purchased to combat.
But in any event, just remember one thing: He's not Sebsatien Squillaci. For Arsenal, that is the greatest blessing of all.
Follow me on Twitter: @AmeriGooner