IMPACT 10/20: Storm Wins Big, Sting GM, Return of a Knockout, Hulkamania (Humor)
October 21, 2011
Hello, again.
Just because I'm curious, who reads these every single week? They're good, right? I'm telling you—everyone that doesn't read these is missing out.
It's time for my weekly update of my notorious #TwitterQuest where I get a response from IMPACT wrestlers, one person at a time.
I've previously had replies from Don West, Robbie E, Eric Young, Douglas Williams, Al Snow and Gunner. Not bad, you say? I'm proud to say we can add our first Knockout to the list! 
The VP of the Knockouts division, Karen Jarrett, quoted something I said!
I said she was the best thing to happen to the division all year. You can say I'm sucking up to her, but it's more of a fact than an opinion. Seriously. This division was in the crapper before Mrs. Jarrett.
I also got one of the backstage guys to follow me! Okay, I'm not sure of his job really, but he's following me on Twitter! He is @JasonTNA.
Look him up and get back to me, it's time for a review!
Opening Segment
WARNING:
This opening segment takes a very long time. Close to 40 minutes! Yes, I kept my eye on the clock after the 15 minute marker.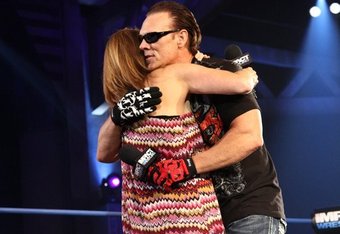 Sting comes out in his Hogan t-shirt. Sting talks about his BFG match and the entire power struggle that's been going on in TNA for the past year. He asks Hogan to come out.
Hulk Hogan comes out to a loud pop and he's wearing so much red and yellow you'd think he's a McDonald's employee or promoter. (Wiz Khalifa, anybody?)
I forgot how much red and yellow Hulkamania wears.
Hogan says he made the wrong choice in following Bischoff and Immortal. He says Hulkamania is back and he leaves after about 10 minutes.
Sting asks for Dixie Carter to come out. Thank god we cut to commercial during her "theme song." It sucks.
Sting and Dixie talk about how badly Dixie f'ed up last year and say it won't happen again. Dixie asks Sting for his help to run IMPACT (I predicted this!) and Sting accepts.
I don't know what his position is, but I'll refer to him as a General Manager, or "the guy with a big bat", until a better name presents itself.
Now, Kurt Angle comes out.
Angle says everything is perfect but one thing. He asks Sting if Bobby Roode should be here with his World Heavyweight title. Angle says he beat Roode and starts to ramble on about how great he (Angle) is.
Roode comes out and is pissed that Angle would take a win the way he did at BFG. Roode wants a rematch and new GM Sting wants to give it to him.
Catch is, Angle asked Heel Hogan and Bischoff to tweak their contract a bit before BFG. It said Roode only gets one shot.
James Storm now comes out and asks Angle, since Roode can't get a shot, can he? Sting likes the idea and makes a title match main event.
It is actually longer than this write-up so if you DVR'ed it, you're welcome. Just read this and skip the whole 40 minute bit.
Last year's post BFG IMPACT had even more talking, remember?
Immortal Trouble
Hulkamania is walking backstage when Immortal confronts him like small children on a play ground. That's the image I got out of it, anyway.
Immortal wants to beat Hogan, but Bischoff has something to say to him in the ring later.
Knockouts Tag Team Championships
Winter & Angelina Love vs. Champions, Tara & Brooke Tessmacher
Anyone else tired of seeing the five time Knockouts Champion, Angelina Love, serve as a sidekick to Winter? Yeah, me too.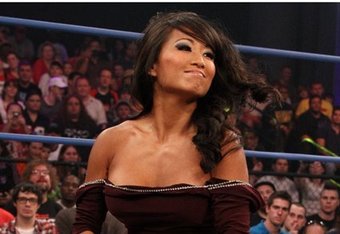 Speaking of them...
Angelina comes out and whoa! I'm watching IMPACT in HD, but when Angelina is shown—it becomes HDD. She is hot tonight!
Before Tara and Brooke even do their entrance together, they get attacked.
The heels pretty much dominate Brooke until she tags in Tara, who cleans house. Tara hits a double clothesline and tosses Angelina out of the ring.
Brooke is back in and hits a cross body off the top rope for the win.
Winners: Still champions, Tara & Brooke Tessmacher
I enjoyed seeing the Knockouts. Especially seeing Brooke and Angelina. Wow.
The match was alright, and we finally get to see another Knockouts Tag Team title match.
Jeff and Jeff
The Jarrett's come to the ring and Jeff Jarrett calls out Jeff Hardy.
Jarrett tells Hardy he can either drop his mic and leave IMPACT forever, or suffer the consequences if he decides to stay.
They brawl until security comes. They brawl after security comes. I'd make another security guard Murphy reference, but he seems to have been released.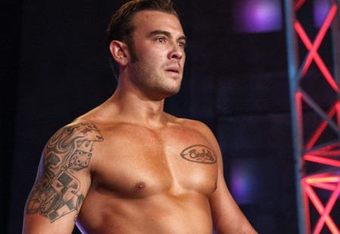 D'Lo Brown and Al Snow come out but argue over which Jeff is cooler, I guess. They argued over something.
The brawl continued, D'Lo grabbed Jeff and held him back while Jarrett had a free shot at yambag city.
The Rob-ies and Eric
This headline, "The Rob-ies and Eric" sounds like a cheap movie, or an awful band.
EY is doing a photo shoot when Robbie E and Rob Terry approach him. Robbie says EY has been avoiding him and Robbie wants another TV title match.
EY agrees, but says that Terry better not get involved or else EY will call up his Hollywood friend, Ronnie from the Jersey Shore.
Robbie says he doesn't care and leaves.
JWoww, Angelina and now Ronnie. At least these drunken idiots—I mean, "pop culture icons,"—help Robbie E get on TV a bit more, right? JWoww didn't even wrestle, Angelina did but she lost. 
Having a Jersey Shore moron on IMPACT could be worse. It could've been on the biggest show of the year, now isn't that right Snooki?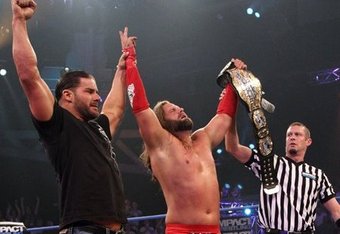 Gunner vs. Abyss
Gunner takes a mic and says he volunteered to kick Abyss' ass tonight.
Abyss comes to the ring and it's really one sided. Gunner got in no offense and was a squash. Abyss was beating on Gunner, but Gunner did the smart move and ran away.
Winner: By count-out, Abyss
Gunner finds Immortal backstage and says that Abyss is different. He's a monster again. Gunner thinks they should take him back since Hogan left, but everyone else thinks Gunner is being a b*tch.
Let the Pigeons Loose, Champ!
Velvet comes to the ring and talks about how she was bullied her whole life. She thanks her fans for sticking with her and gets into a more emotionally speech.
Karen Jarrett interrupts with Traci by her side. Karen is really pissed about Velvet, Traci and BFG. Karen has security take Traci away and tells Velvet that her life is about to be made into a living hell. Karen wants to see Velvet get hurt.
Karen says she knows the perfect person for the job.
Madison Rayne's music hits and she starts towards the ring. With Velvet distracted by Madison, Gail Kim attacks from behind!
Gail lays out Velvet and celebrates with Karen and Madison.
The original Knockout, and inaugural Knockouts Champion, Gail Kim is back!
Take notes, WWE. IMPACT is going to show you the right way to use Gail....again.
Daddy Issues
Immortal call out Hogan.
Bischoff tells Hogan he turned his back on him and Immortal at Bound For Glory. Bischoff claims to have made Hogan into the person he is today.
Bischoff is more pissed about having Hulk Hogan get his own son, Garrett Bischoff, to rally against him. Hogan says Garrett is a better man than Eric will ever be.
Bischoff hits Hogan with an odd slap that kind of looked like a karate chop to the neck. Hogan looks angry but Immortal step in.
Sting comes out of God knows where with two baseball bats and Immortal backs off.
Eric is walking up the ramp taunting Hogan and Sting, but backs himself into Garrett.
Eric starts yelling at Garrett and poking his chest. Eric pulls a Hulkamania and tears Garrett's shirt and says he doesn't deserve the "Bischoff" tattoo that he has on his chest.
Garrett knocks his dad out in one big punch.
World Heavyweight Championship
James Storm vs. Champion, Kurt Angle
After JB does the main event announcement and promotes 5 Hour Energy (I hope Samoa Joe and Magnus listen to #TwitterQuest still!) the match is on.
Angle attacks Storm and manages to get him in the corner.
Angle beats the hell out of him with loads of punches.
Kurt taunts the crowd and, BAM! Last Call super kick right in the face when he turns around.
Storm pins Kurt and wins.
Winner: New heavyweight champion of the world, James Storm!
After the match, Roode runs out and celebrates with Storm. The rest of Fortune comes out as Storm goes through the crowd to party.
Fortune was smart enough to grab some beers for James and they party with a ton of beer.
Storm grabs a mic and says Bobby Roode deserves it more than himself. Storm says the title is for Roode and hands it over.
Roode takes the belt and the mic but says Storm worked his ass off just as hard and just as much. Roode says Storm earned it and he straps the big belt around Storm's waist.
What a show, what a show.
Tonight was more Total Nonstop Talking rather than action, but it always is after Bound For Glory. Do I hear people complaining about the promo time? Stop crying, deal with it.
If there was no promo time, there'd be no storylines at all.
Though the amount of mic talk was overwhelming, I found this show pretty enjoyable.
Pros:
Sting in a General Manager type role
The Knockouts Tag Team match
Jarrett and Hardy feud continues
Robbie E gets another TV title match!
Karen's mic work
Gail motherfricken' Kim is back!
Garrett Bischoff is a boss
James Storm wins the world title
Cons:
Opening segment was far too long. I was expected to be called out to the ring for some reason.
Dixie Carter and Sting love-fest
Hardy and Jarrett had a BFG rewind style brawl. Same thing happened
Gunner in a squash match
Knockouts match could've been longer
Why was Traci Brooks needed in the ring if she'd be forced out by security?
Eric Bischoff's slap
World title match came from nowhere and was WAY TOO short
Only three matches
Every match was too short
TNT—Total Nonstop Talking
IMPACT was okay in a sense, but there could've been more wrestling and less promo time. I see no need for Ronnie from MTV on the show unless it's to get Robbie E on TV as well.
IMPACT was mainly TNT but what do you expect? It's the show after Bound For Glory, you should've known better.