Salty, Tek, Lavarnway and the Future of Boston Red Sox Catching
October 21, 2011
Elsa/Getty Images
The Boston Red Sox began 2011 with big questions behind the dish.
The starting catching job was entrusted to the 25-year-old Jarrod Saltalamacchia, who had played in only 12 games in 2010 and never more than 100 in his four seasons in the Majors.
Backing him up was Jason Varitek, the 39-year-old team captain, who was accepting a formal reserve role for the first time in his 14-year career.
Victor Martinez was with the Tigers after signing a four-year deal for $50 million with Detroit in Nov. 2010.
Martinez had hit well with the Sox since coming over from Cleveland in 2009, batting .313 in 183 games.
But the Red Sox had reservations about Martinez's ability to catch everyday, and, indeed, the bulk of V-Mart's at-bats in 2011 came as Detroit's designated hitter.
So the Sox bet on the tandem of Saltalamacchia and Varitek.
Salty didn't exactly silence questions about his durability in 2011. He made 96 starts at catcher and missed multiple chunks of time due to injury.
As a comparison, Varitek typically made between 120 and 130 starts at catcher during his prime.
Early in the season, Salty looked pretty lost behind the plate. He was prone to getting crossed up with his pitcher and resorted to frequent trips to the mound, especially with relievers.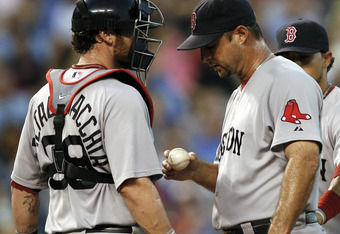 Ed Zurga/Getty Images
These mound trips became less frequent as the season progressed. This isn't based upon empirical evidence, but rather, a confident gut feeling.
With the bat, it would have been nice to see Salty hit for a bit higher of an average than .235, but it's hard to complain about his pop: 16 HR and 56 RBI.
As for Varitek, he had a decent enough season for a backup catcher; however, his ineffectiveness down the stretch is hard to overlook.
He played a bit more than expected the first couple of months when Salty had a cold bat. All told, Tek played in 68 games in 2011, 64 of them starts behind the plate.
He served as Josh Beckett's personal catcher, calling all but Beckett's first and final starts of 2011.
Like Salty, Tek provided a little pop, hitting 11 in his limited action. 
Not surprisingly, given the team's hideous September, neither Varitek nor Saltalamacchia acquitted himself particularly well down the stretch 
Salty hit .162 in September with .174 OBP.
Varitek was even worse, hitting a woeful .077 with a .200 OBP.
Varitek was actually a rather poor hitter for the second half overall, hitting .176 with a .242 OBP after the All-Star break.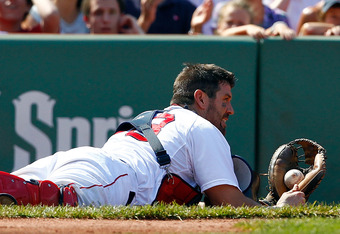 Jim Rogash/Getty Images
On the basepaths, Salty threw out 31 percent of his base-stealers, a hair above the AL average 28 CS%.
Varitek has struggled to throw out baserunners in recent seasons, and 2011 was no different. His 14 CS% was well below his career 23 CS%, as well as the aforementioned league average.
Late in the season, the Red Sox got a look at their top minor league catcher, Ryan Lavarnway.
Lavarnway, 24, split his time between Double-A Portland and Triple-AAA Pawtucket in 2011, hitting a combined .290/.376/.563/.939.
He hit 14 homers with the Sea Dogs and mashed another 18 with the PawSox. 
Not bad for a philosophy major out of Yale, huh?
That home run power earned Lavarnway his initial call-up in August. He got a week of games at DH with David Ortiz nursing a sore heel.
Lavarnway swung a hot bat, hitting .304 with two doubles and three RBIs in seven games.
He was recalled when rosters expanded in September, and he got some time behind the plate, picking up three starts, including both of the season's final two games.
Lavarnway's pair of homers in Boston's 8-7 win in 2011's penultimate game were essentially the lone bright spots amid a gloomy conclusion to the season.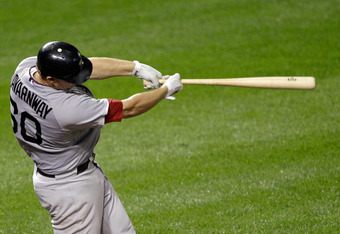 Rob Carr/Getty Images
Lavarnway's bat is clearly Major-League-ready; what's less certain is if the Red Sox are ready to entrust a serious chunk of big league game-calling to him. 
Looking Ahead to 2012
After an effective and reasonably healthy season, Saltalamacchia's roster spot is his to lose. 
WIth his offensive skill set, Ryan Lavarnway will, at the very least, get a good look during spring training.
The major question looking ahead to next season is whether the Red Sox will bring back Varitek, who turns 40 next April.
Tek wants to be back, but is he wanted back?f
It's worth wondering whether Varitek will be a victim of sorts in the fallout from the team's September collapse. 
For one, is Varitek at least partially culpable for Boston's clubhouse drama?
Aside from any sort of failure as the captain, it is simply increasingly difficult to justify a spot on the roster to the aging and regressing Varitek.
I don't think Varitek will hang 'em up, but I also don't see the Sox bringing him back for 2012. 
I see Salty being slotted in the No. 1 spot again, and he'll make more starts next season, probably something in the neighborhood of 110. 
Lavarnway will be tabbed as the backup catcher, and he'll get grab the occasional start as the DH, particularly against left-handed pitching.