Deer Hunting Season: 10 Must Reads for 2011
October 20, 2011

Whether you're a hunter about to embark on your first hunting season or a seasoned pro who's been champing at the bit to get back out there, information is essential to the overall success of your hunting season.
Here's a list of 10 must reads for your hunting season.
Cabela's Outfitter Journal Magazine
This magazine isn't exclusively about deer hunting, but it certainly doesn't lack substance on the topic. Cabela's lets you know where the pristine hunting locations are, what gear to bring and provides insightful techniques for when you get there.
Deer Hunting Secrets Exposed: How to Take the Best Buck of Your Life
Many new hunters would be excited just to take a buck at all, but for those with a bit of experience, this tell-all read provides critical and enlightening insight from a true deer-hunting expert. This is purely oriented around helping readers land what every hunter is looking for—the big buck.
This book is a great read for the beginning hunter. It gives the background knowledge every hunter needs before they begin a hunt. With detailed illustrations and a heavy stress on the basics, this is the perfect book for those looking to get involved for the first time.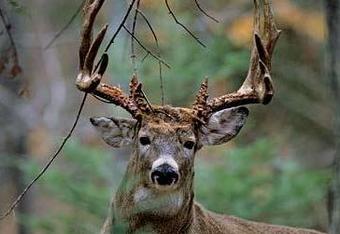 There is an entire section of this site dedicate solely to whitetails. Articles on gear, hunting techniques and locations are prevalent, but it's the interaction with others on the message board that really sets the community of this site apart. They've also got a collection great pictures from hunters posting galleries of their most recent hunts.
This site has everything the experienced hunter could ever want. With articles on scents, glands, food plots and plantings, a breakdown of every state's hunting and a deer density map, this site will keep an experienced deer hunter entertained for hours on end.
Blade Magazine has everything you would ever need to know about knives. The best part about their magazine is that they are always up to date, as they produce 12 issues a year. With general info on knives, tips like blade grinding for upkeep and an array of informative member videos, they are one-stop shopping for everything you would ever want to know about knives.
Petersen's Bowhunting is for the experienced archer. They've got in depth articles on topics like how to store hunting gear, the ins and outs of aiming and everything you would ever want to know about bowhunting. For those serious about bowhunting, Petersen's is a must read.
Christensen's Hunting Illustrated
Hunting Illustrated has some of the best spreads of hunting pictures around. For an entertaining magazine that will "wow" you with pictures that jump off the page and always-intriguing articles, you would be hard pressed to find a better magazine than Hunting Illustrated.
This isn't a deer hunting specific publication, but it's certainly worth a read for even the most experienced deer hunter. They've got everything from hunting dogs to an in-depth look at food sources that will help you pinpoint bucks.

This magazine is from the people at Buckmasters. For those who find guns and ammo far more appealing than the crossbow, GunHunter has you covered. They cover one topic without being one-dimensional and provide readers with the most updated readings on shooting.