Vancouver Canucks: Why the Canucks Deserve More Credit and Less Hate
October 19, 2011
Rich Lam/Getty Images
It wasn't long ago that the Vancouver Canucks hung their heads low after losing to the Boston Bruins in Game 7 of the Stanley Cup Finals.  As a resident of Vancouver, I can tell you that the city was really hurting after that moment. 
Before you begin accusing me of being biased based on my residence in Vancouver, be aware that I am a Los Angeles Kings fan and analyst with an opinion on this matter. 
There aren't many cities in the National Hockey League that can match the passion that Canuck fans bring to Rogers Arena on any given night.  At times, it's overwhelming to see the sheer passion and pride that fans give to the Canucks. 
I'm a Kings fan, and sure, the Staples Center does sell out sometimes, but the atmosphere is never like it is in Vancouver.  I think that can be said for more buildings around the league.  Montreal and Vancouver have two of the most interested fan bases in the league.
Now, I've heard the same argument some of you are sure to make in the comments below.  "Canuck fans are arrogant for a team that hasn't won anything yet...." 
I believe there is a strong difference between arrogance and pride.  Most people seem to forget that the Canucks suffered through years of terrible hockey at the end of the 90s.  Now, the Canucks are one of the top teams in the league year after year.  Have they reached the ultimate goal yet?  No, they haven't.  Are they working hard to get there?  Of course they are.
Fans want to see their team succeed; that's not a secret.  Few teams in the league can match the number of wins that the Canucks have put up in recent years.  It's as simple as that.  Fans are really excited to see this team win.  It's no different than fans being optimistic in Edmonton for years of success that are sure to come.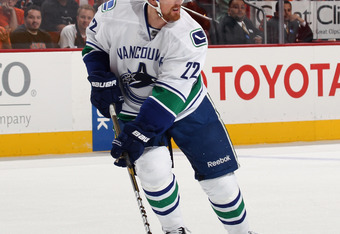 Bruce Bennett/Getty Images
From the fans, we move to the players on the ice. 
Sure, the Canucks boast names like Alex Burrows and Ryan Kesler.  Can those two guys beat you on the scoreboard?  Absolutely.  You could have a guy like Sean Avery on your team who can irk guys better than most, but won't put up many points, or, you could have guys like Kesler and Burrows who have the ability to beat you in every facet of the game.
Fans of opposing teams complain about these guys and how they play a dirty and unsportsmanlike game.  I challenge those people to tell me that Kesler and Burrows don't give every ounce of effort in their beings day in and day out.  Tell me that you wouldn't want those guys on your team.  Kesler could possibly be the hardest working player in the league.  Whether you respect the guy or not, you can't debate that.  He has a great shot, killer instincts and a willingness to battle in every zone of the ice. 
Do Kesler and Burrows play an angel's game?  Absolutely not.  They play the game with an edge that gives them a competitive advantage.  Where they have learned to hone their craft is being able to play within the boundaries of the rulebook.  Very rarely do Kesler and Burrows do things that get them in trouble.  Very rarely do you see a highlight reel full of plays from these guys that you expect the league to rule on. 
There seems to be a blurring of the line between playing with an edge and playing dirty.  Kesler and Burrows play with an edge.  It's no different than some of the greatest players to ever play the game. 
From Kesler and Burrows, fans typically move onto the Sedins.  Talking to fans from opposing teams I've heard so much about these guys.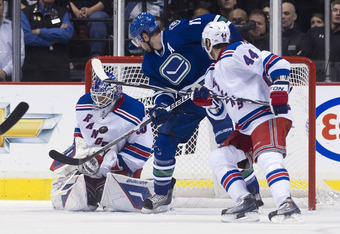 Rich Lam/Getty Images
"The Sedin sisters aren't tough enough."
"They don't hit enough."
"They don't have any heart."
Then there is my personal favorite:
"The Sedins simply don't care."
Let me highlight the importance of the following statement:
The Sedin twins care more than any one of us will ever know.
Henrik and Daniel Sedin are two of the classiest players in the National Hockey League.  When you look at the physical pounding they put up with night in and night out, it's amazing that they have managed to play their entire careers virtually uninjured.  Few guys can bring the skill, determination and clean play that the Sedins do each and every night.
If you don't think that these guys care about anything, take a look back at Canucks history.  These guys were, for lack of a better word, terrible when they entered the league.  They were weak on the puck, weak on the boards and they couldn't keep up with the lofty expectations set by themselves, team management and the fans. 
The Sedins took a beating from the press, from the fans and from themselves.  If you ask me, this is what changed their game.  They grew up in Vancouver knowing that they had to be tough, strong and determined to prove everyone who ever doubted them wrong.  These two guys are now some of the strongest players in the league.  It's incredibly difficult to knock them off the puck.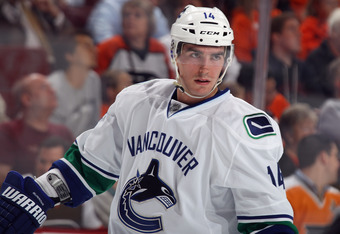 Bruce Bennett/Getty Images
People talk about toughness and how the Boston Bruins were able to beat up on the Canucks by playing "tough".  To me, toughness isn't beating up on smaller players and taking liberties because you know you can get away from it.  To me, toughness isn't Brad Marchand punching Daniel Sedin in the head without any retaliation.
Toughness is standing back and taking the beating.  Did the Canucks come out on top in the finals?  Certainly not.  Who do I have more respect for based on the finals?  The Vancouver Canucks. 
If toughness is Zdeno Chara beating up on Jay Harrison, then count me as an analyst who doesn't believe the Canucks need to be "tough" to win the Stanley cup. 
If you ask me, the Sedins are the definition of strength and toughness.  They put up with so much, the give back to the community and they are accountable.  Daniel and Henrik will be the first guys to tell you when they don't play well enough.  They'll come back and show that they can play at the highest level.  Never bet against them; you will be proven wrong. 
When you talk to me about the Vancouver Canucks and their fans and you tell me that they are arrogant and overrated, I ask you this.  Would you trade your team and fanbase for the Canucks'?  I think most of you would say yes.  The Canucks are a great team with a great fanbase.  It's not exciting to sit in an empty arena and watch your team.  What the Canucks bring to the ice, each and every single night, is exciting. 
I'm tired of hearing about the Canucks and how "evil" they are.  Watch the games and enjoy hockey.  It's a great game with too much going on to focus on why or why not the Canucks don't deserve the cup. 
Thanks for reading my rant.
Follow me on Twitter: @michaelstuart93