TCU Horned Frogs Are Best Fit for Big 12 Conference
October 19, 2011
Stephen Dunn/Getty Images
TCU has finally been invited to join the Big 12 Conference.  I say "finally" because it should have been TCU, and not Baylor, that got the initial invitation back in 1996. 
Since the formation of the Big 12, I have seen numerous message board discussions on why the Big 12 should drop Baylor and replace it with TCU.  Despite the cries of many Big 12 fans, Baylor was never removed from the conference and TCU was never given the chance to join. 
Instead, TCU joined the Western Athletic Conference, Conference USA and then the Mountain West Conference.  At the time of the Big 12's invitation to TCU, the Horned Frogs' current plans involved joining the Big East Conference.  Joining the Big East would have put TCU in its first automatic-qualifying conference for the BCS since its formation in 1998.
However, with Nebraska and Colorado leaving the Big 12 in 2010 and Texas A&M leaving in 2011, the Big 12 found itself looking for new members.  While names such as BYU, Notre Dame, Arkansas, Air Force, Louisville and West Virginia were being tossed around as possible candidates for membership, TCU is the one that makes the most sense. 
Why?  Here are a few of the reasons.
First, TCU has proven it can compete with just about anyone in the country.  Since 2000, TCU has had five seasons of 10 wins or more.
In 2005, the Frogs defeated the No. 7 Oklahoma Sooners in Norman, Okla. by a score of 17-10.  TCU is also the reigning champions of the Rose Bowl, a title they earned by defeating a one-loss Wisconsin football team in Pasadena, Calif.  
TCU also has a rich football history with numerous award winners, a national title and at least two BCS bowl appearances.  In my opinion, this alone would have justified TCU's selection as one of the four Southwest Conference teams joining the Big 12 in 1996, as neither Texas Tech nor Baylor have half the program history that TCU does.
Second, the Big 12 Conference is a much better geographical fit for TCU than the Big East could ever hope to be.  TCU will be the 10th member of the Big 12, with Texas Tech, Texas, Baylor, Oklahoma and Oklahoma State, making up five of the other nine schools currently in the conference.
If you look at where Fort Worth is located within the state of Texas, you will see TCU is located in a prime spot in relation to these five other opponents.  Such location should help TCU in its recruiting efforts as parents will find it rather easy to travel to most of TCU's conference games.
The four remaining schools of the Big 12 are Missouri, Iowa State, Kansas State and Kansas.  Unless TCU is just really unlucky in terms of scheduling, most football seasons will only see the Frogs having to travel to two of these four distant locations.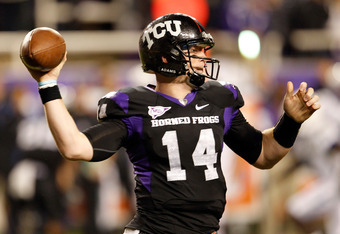 Tom Pennington/Getty Images
Third, TCU is not Baylor.  Like I said before, at the formation of the Big 12 Baylor was mistakenly allowed to tag-along while TCU was not.  This was a huge mistake for the Big 12 as Baylor never really contributed anything to the conference, especially in football. 
Baylor has been a total disappointment to the Big 12 Conference as a football program.  Not only have the Bears failed to win so much as a shared South Division title during their 17-year membership, they have only made one bowl game appearance since their last one in 1994.  This one bowl game appearance was the Texas Bowl, which saw Baylor get rolled by Illinois (7-6) 14-38.
In fact, in terms of football, Baylor is the only Big 12 member to have never won a conference championship or won/shared a division title.  Every other team in the Big 12 has accomplished one of these.
In other words, unlike Baylor, TCU has earned the right to join a conference that awards its champion with an automatic BCS bid.
Finally, unlike many of the teams that are currently in the Big 12 Conference, TCU is one that should not be too concerned with future instability.  TCU was left for dead when the Southwest Conference fell apart only to find everything coming full circle when it was invited to join the conference all these years later.  During the separation period, TCU discovered it was able to survive on its own and had a Rose Bowl victory to prove it.
While other schools are constantly worried about what their next move is going to be or whether half the conference is about to pack their bags and head for the Pac-12, TCU can simply focus on football. 
If we wake up tomorrow and the Big 12 no longer exists, the Frogs will be the one team able to remain calm.  After all, TCU is the team that found a way to not only survive, but thrive in non-AQ conferences and it knows it can do it again if it has to.
As you can see, adding TCU is one of the best decisions the Big 12 could have made.