SEC Power Rankings Week 11: Are Both LSU and Alabama Overrated by the BCS?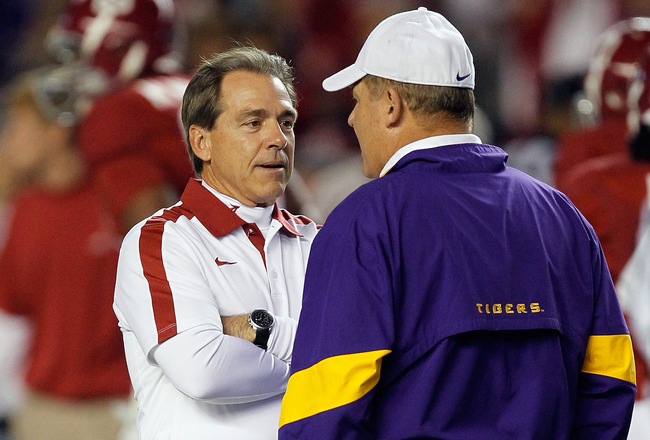 Streeter Lecka/Getty Images
Did LSU's BCS standing take a wallop in the wake of West Virginia's loss to unranked Louisville? The Mountaineers lost 38-35 last weekend to the visiting Cardinals in Morgantown, WV.
The Mountaineers were ranked No. 24, but they are only 2-2 in the Big East. Did WVU's demise diminish LSU's luster in the BCS computer's minds? Were Crimson Tide fans cheering on Sunday night?
The cheerleader photo edition of this week's power rankings is up next. As you will see, it's sort of like the Sports Illustrated swimsuit annual edition, but brought to you cleaner by the Lake.
12. Ole Miss Rebels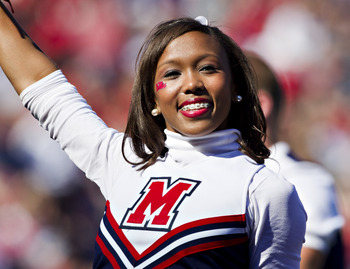 Wesley Hitt/Getty Images
The lovely Ole Miss cheerleaders are still all clean with smiles. Even a team without an SEC victory this year can't dampen their spirits.
I just hope the football team and coaching staff don't result to spirits to drown their sorrows. Keep your heads up. Basketball season...err, baseball season...
Well, never mind.
11. Tennessee Volunteers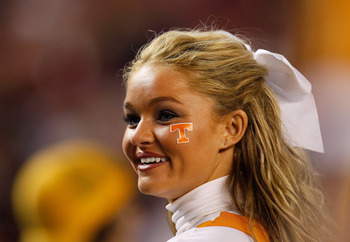 Kevin C. Cox/Getty Images
In Derek Dooley's defense, mind you, I'll let his mother take the lead. I'd rather point out that the Volunteers are without a win this SEC season.
And, Arkansas, Vanderbilt and Kentucky loom. Tennessee can only hope to salvage an SEC win this year. I'll be watching, smiling and bringing you the good news.
10. Kentucky Wildcats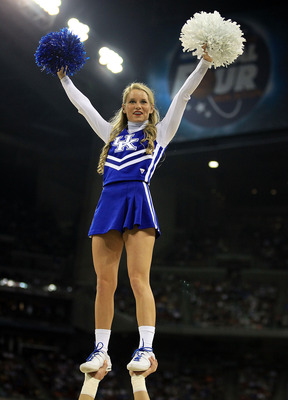 Streeter Lecka/Getty Images
The good news on the streets is that Kentucky will again be a powerhouse in college basketball. The Tar Heels, Ohio State, Kentucky and UConn are among the front-runners to cut down the nets in New Orleans on April 2.
Even better news is that football season is almost over. Three cheers.
9. Vanderbilt Commodores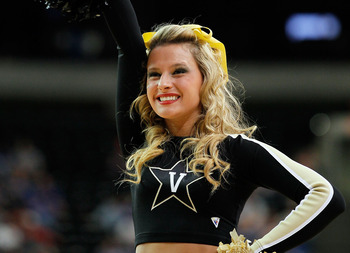 Kevin C. Cox/Getty Images
Vanderbilt could be cheering and smiling when they battle Kentucky this Saturday. The Commodores have little chance of beating the Wildcats in basketball, you see, so the solid Vandy defense could steer the football team to a win.
School pride aside, basketball season could wipe the smiles off Vandy's faces. The Commodores had better grasp the chance to command a school victory over the Cats in Nashville this weekend.
8. Mississippi State Bulldogs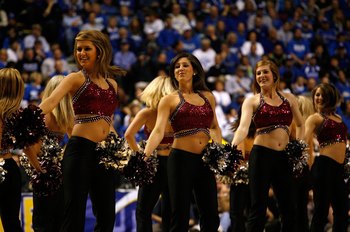 Chris Chambers/Getty Images
The weekenders at Mississippi State (5-4, 1-4) came into this season hoping to commandeer some big wins but certainly fell on their SEC faces. They had big expectations coming in to this season. Alas, they sit next to last, just above Ole Miss, in the West.
Yes, ladies and gentlemen, the Rebels and the Volunteers are this year's only winless teams thus far in SEC league play. Even basketball juggernaut Kentucky ran the fast break in defeating Ole Miss earlier this season.
It's back to the SEC biting board for the Bulldogs.
7. Florida Gators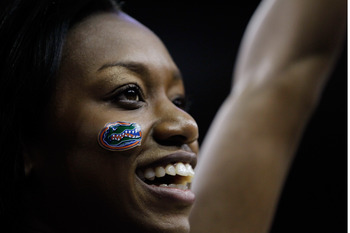 Kevin C. Cox/Getty Images
At 5-4 (3-4), Florida is biting but floundering in third place in the SEC East. After four losses in a row, the Gators beat Vanderbilt last Saturday at The Swamp.
South Carolina, Furman and Florida State remain in the way of Will Muschamp's young men making it to a bowl game in his first season as head coach.
I know they're proud Gators, but U of F needs the eye of the tiger in order to go bowling this season.
6. Auburn Tigers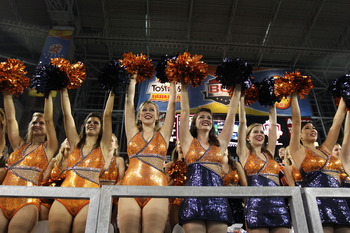 Christian Petersen/Getty Images
Bowling Auburn (6-3, 4-2) was off last week after beating Ole Miss on October 29. The Tigers return this Saturday to face Georgia away from sweet home Alabama.
Auburn still has Stamford and the Crimson Tide left to play and could very well make a move into the top spot in the SEC West.
Though Auburn lost to LSU on October 22, AU is still in the hunt. Admittedly, LSU, Alabama and Arkansas will have to falter the rest of the way in order for Auburn to make it to the SEC Championship Game, but it could happen.
Rest assured, I'll be watching to let you know what's happening.
5. South Carolina Gamecocks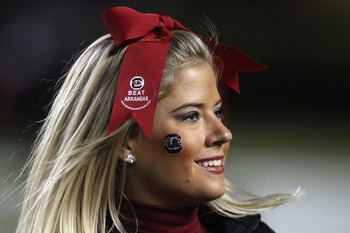 Streeter Lecka/Getty Images
The 'Cocks found themselves watching the happenings instead of fighting back in a donnybrook against the Razorbacks and got bloodied because of it. This was to be expected.
South Carolina was without Marcus Lattimore and it hampered them against the juggernaut Razors. I'll be watching to see what becomes of Carolina in the wake of the walloping in Fayeteville.
4. Georgia Bulldogs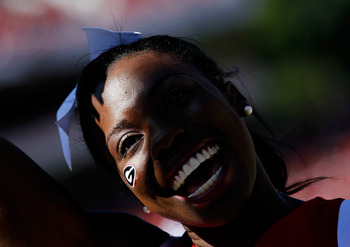 Kevin C. Cox/Getty Images
The SEC's top Bulldogs successfully walloped and bit into South Carolina's lead in the East Division. The 'Dogs (7-2, 5-1) have already beaten Florida—one of the teams chasing them—and own the bird dog's seat in the East.
With Auburn, Kentucky and Georgia Tech remaining, the Bulldogs will need to keep smiling, having fun and frustrating their opponents into losses. If they can, then the SEC Championship Game is in their immediate future.
3. Arkansas Razorbacks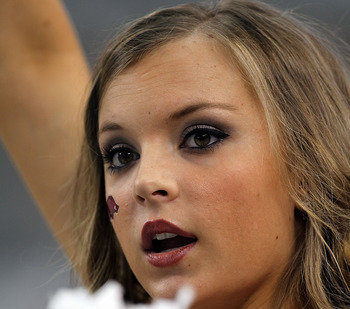 Ronald Martinez/Getty Images
The walloping of the Gamecocks marked the first time for Bobby Petrino to be off to an 8-1 start at Arkansas. The red hot Razors started better than they have been and fulfilled my statement of calling them the red hot Razors after last week's happenings.
Some fans questioned my labeling them hot, but I pointed out that winning on the road in the SEC was tough. The Razorbacks had been winning on the road coming into this game, and they took care of home field advantage last week against South Carolina.
I feel confident in calling them the red hotter Razorbacks.
2. Alabama Crimston Tide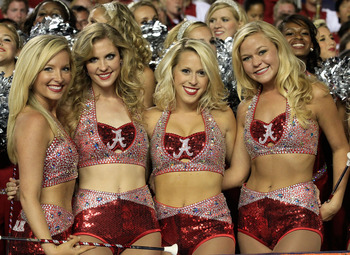 Sam Greenwood/Getty Images
Four missed field goals did the Crimson Tide in against LSU. Thus, the Tigers rolled in Tuscaloosa, 9-6—if that qualifies as a roll.
The factor that stood out to me is that neither LSU nor Alabama has faced a juggernaut passing offense like Oklahoma State can throw at them. What would happen then?
I suspect it could get ugly for both the Tide and the Tigers in a matchup with the Cowboys. Although, both Les Miles and Nick Saban are adept coaches who could choke the clock by running the ball and keeping Brandon Weeden and company off the field.
In any case, Alabama tumbled to No. 3 in the BCS, Oklahoma State is No. 2 and LSU remains No. 1. No true Tide fans cheered the BCS tonight.
1. LSU Tigers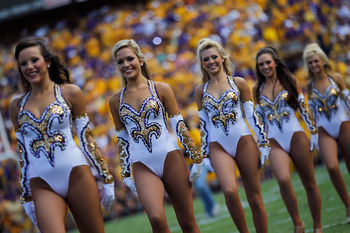 Chris Graythen/Getty Images
If you missed the game for strange reasons, then know that LSU-Alabama Vol. 1 this season was a defensive struggle.
The Tigers remained undefeated by pulling off the overtime win in Tuscaloosa. A rematch seems even more probable given the closeness of the game.
I believe both teams are overrated. LSU's offense is severely underwhelming and Alabama's kicking game is atrocious.
What could be better, though, for some pollsters, than pitting the top two teams from the nation's best college football conference in the National Championship Game?
Nothing, I'm telling you, could be finer.
Likewise, don't miss nothing the finer Lake has to offer. Catch me next week on the updated edition of Lake's LSU-Alabama Rematch Report.
Contact Lake Cruise: Lakecruise@att.net
Keep Reading

Arkansas Razorbacks Football: Like this team?