Nebraska vs. Minnesota: TV Schedule, Live Stream, Radio, Game Time and More
October 18, 2011
Eric Francis/Getty Images
The Nebraska Cornhuskers hit the road to take on the Minnesota Golden Gophers for the first time in two decades. 
Now a member of the Big Ten, the Cornhuskers will be playing the Golden Gophers every year, as they're both in the Legends Division. 
The Golden Gophers haven't gotten off to a great start this season, but they're hoping that their bye last week will help them pull an upset on Saturday for their second win of the season. 
Nebraska is also fresh off a bye and should have no trouble pounding the struggling Golden Gophers. 
With that said, let's take a look at some specifics of this Big Ten showdown. 
When: Saturday, Oct. 22 at 3:30 p.m. ET 
Where: TCF Bank Stadium, Minneapolis MN
Watch: ABC, ESPN2, ESPN3.com 
Listen: KLIN 1400 AM in Lincoln, WCCO 830 AM in Minneapolis 
Betting Line 
The Cornhuskers are favored at -25, and they shouldn't have any trouble covering. Yes, Nebraska has only won once ATS this season, but the Golden Gophers have been demolished by most every team this season, especially against their conference foes. 
Nebraska Injury Report 
Braylon Heard, who is third on the team in rushing, has missed two straight games with a leg injury, and he may miss another one this weekend. The coaches say Heard had an infection in his leg and the swelling must come down before he can play. The Cornhuskers would love to have him out there, but he isn't desperately needed for this game. 
Minnesota Injury Report 
Left tackle Ed Olson is questionable with a quad injury, as well as offensive lineman Jimmy Gjere and Zach Motta, who are both dealing with head injuries. 
Defensive ends Leston Simpson (head) and Harold Legania (foot) both sat out last week, and they remain questionable for Saturday. Running back David Cobb missed last week with a hamstring injury.  
Quarterback MarQueis Gray (toe) is expected to play. 
BCS/Top 25 Implications 
The Golden Gophers are very unlikely to see the Top 25 this season. As for Nebraska, the Cornhuskers obviously will take a huge hit in the polls if they lose this game.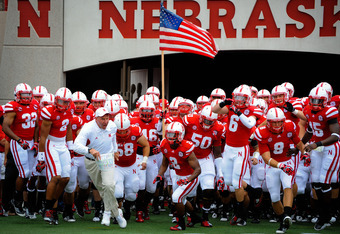 Eric Francis/Getty Images
It's doubtful that they lose though, which means, if they can get some extra help from other teams, they could leap into the Top 10 after a big win on Saturday. 
What They're Saying 
Gophers' QB MarQueis Gray told the Pioneer Press that he is ready to go after missing the start of conference play. 
"I feel great," Gray said. "My toe is not bothering me anymore. I feel confident about it. Now that we got this bye week, I'm looking forward to it being fully healed going into this Nebraska game." 
He may feel great, but going up against the stout Nebraska defense will be no easy task. The Cornhuskers had two tough games against Wisconsin and Ohio Sate, and the bye week has definitely helped them regroup. Gray will play, but he'll have a very tough time against this well-rested defense.
Nebraska's head coach Bo Pelini told reporters that he sees a lot of potential in the Golden Gophers. Per Star Tribune:
"They've had some struggles, but at times we've also seen their potential," Pelini said at his weekly news conference. "You take over a program like [Kill] did, that was struggling a little bit, you're not going to come out and be dominant in Year 1. It's a process, they understand that." 
Pelini is playing nice here, but deep down he has to know his team is light years above the Gophers. Minnesota is trying to rebuild, but they've been a powerhouse in the past, like other Big Ten schools, so it is difficult to watch. 
Eric Francis/Getty Images
Nebraska Player to Watch 
Quarterback Taylor Martinez is the player to watch for Nebraska because he can beat you with his arm or his legs. He has three games with over 100 yards rushing, and the chances of him having another this Saturday are very high. 
Minnesota Player to Watch
It has to be QB MarQueis Gray. He is coming back from injury and his team needs him to deliver. He missed the entire Michigan game, which didn't end well, as the Gophers failed to score any points.
Gray also had limited play time against Purdue, the Gophers' most recent game. Minnesota needs him to make plays with his arm and legs. Gray is also the Gophers leading rusher. 
Key Matchup 
Which mobile quarterback will out duel the other? Martinez and Gray are both fantastic athletes, and it will be interesting to see who puts up the better stats. 
If Gray can outshine Martinez, then the Golden Gophers have a fighting chance. 
Key Storyline 
These two teams haven't played since 1990, but the Gophers haven't beaten the Cornhuskers since 1960. Nebraska's first season in the Big Ten has been OK, as they're 1-1 in the conference, but they're looking to start a big run against their new conference foes. 
Prediction 
The Golden Gophers are no match for the Cornhuskers. Saturday should be a blowout victory for Nebraska. I don't see Minnesota being shutout because Gray is fully healthy, but they'll still struggle to put points on the board. 
The key for Nebraska is to come out strong because they haven't really had a dominant first half since their first couple of games. 
Nebraska 48, Minnesota 21