Albert Pujols Isn't Leaving St. Louis Cardinals so Fans Can Stop Worrying
October 18, 2011
Brian Bahr/Getty Images
The reports have been all over the news since the end of last season. Whether they claim that Albert Pujols wants out of St. Louis or that there are any number of teams committed to signing him as the postseason winds down.
As the actual free agent signing period grows nearer, the Pujols chatter seems to be growing and growing. 
Well it's going to be fun and there are going to be plenty of rumors and chatter back-and-forth, but in the end, Pujols will be staying in St. Louis. 
How will this happen? Simple.
Pujols will sign a contract that will pay him about $200 million over the next eight seasons to remain in St. Louis.
Couldn't someone offer more money and lure him to another destination? Yes, someone could offer more money, but not a lot more money.
What teams could go after Pujols? Well the reports state that the Texas Rangers, Chicago Cubs, Los Angeles Dodgers and Los Angeles Angels could all make a run for him.
If I'm a Cardinal fan, that list doesn't scare me at all. Wasn't it the Rangers who balked at exceeding $140 million for Cliff Lee last season?
Now I'm supposed to believe they would exceed that number by $70-80 million and for an offensive player when it's likely the Rangers will need pitching this offseason? Nope, not happening.
Then there are the Chicago Cubs. Unless they can dump the Alfonso Soriano and Carlos Zambrano contracts then you can forget it.
In addition, does anyone out there think that Pujols would go to Chicago and assure himself of being public enemy No. 1 in St. Louis over what would likely be a difference of maybe $10 million?
Let's assume for an instant the Dodgers' financial issues are rectified in time to mount a pursuit of Pujols (unlikely).
Even if they could offer him something outrageous such as eight years and $250 million, why would they do that with Matt Kemp, who is younger and potentially in the same class as Pujols, approaching free agency.
In order to drop that type of money on Pujols, the Dodgers would need to consider two possible future outcomes: That they let Matt Kemp go and that they can spend around $200 million on him as well.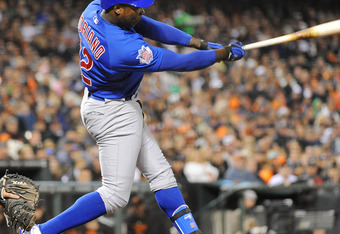 Thearon W. Henderson/Getty Images
Both of those scenarios seem unlikely to say the least. The Dodgers will be spending a ton of money on a player in the near future, but his name isn't Albert Pujols, it's Matt Kemp.
That leaves the Los Angeles Angels and if I'm truly concerned with one team out there sneaking in and spending big on Pujols, it's the Halos.
There are a few reasons for that.
One is that they need offense and while rookie Mark Trumbo was very impressive, he's not good enough to let a guy like Pujols slip through the fingers. Two is that they just resigned their best pitcher Jered Weaver to a very reasonable long-term contract extension.
Vernon Wells is signed to an absurd contract through the end of the 2014 season. Other than that, there aren't a ton of big contracts on the books for them beyond the end of next season.
Torii Hunter will be a free agent after 2012 and they will probably opt to let him walk with both Mike Trout and Peter Bourjos emerging as solid or even All-Star caliber outfielders.
Sunny California can be tough for people to resist and the Angels are a solid organization run by a respected manager who has won a World Series.
The Angels won't really be able to outbid the Cardinals by that much even if they do choose to pursue him.
Alex Roddriguez's rapidly declining skills will cause even the wealthiest teams to balk at exceeding the $200-million plateau by too much.
Could Pujols be a very good ball player all the way until his 40th birthday? Of course, but he will likely experience some form of decline as well. One might say he already is.
Since 2008, his batting average, total bases and on-base percentage have all declined every year. He's still producing at a Hall-of-Fame pace, but if that trend were to continue, he would be a shadow of his current production by the end of an eight-year deal.
That's not going to matter to a certain point though. One thing that baseball teams have shown is that many will publicly discuss the importance of value, maximizing it and retaining it.
They're also prone to overspending on big names and even taking risks with regards to the length of contracts.
Alex Rios, Carl Crawford, Rodriguez, Wells and Jason Werth are all players who are very unlikely to ever produce numbers that will live up to their contracts.
Pujols is pretty good. He's better than every player on that list although when Rodriguez signed his current extension, he was in the same class as Pujols.
Franchises don't get too many players like Pujols in their lifetimes. The Cardinals can't allow him to walk and then wait for the next Pujols to emerge. It won't happen, at least not anytime soon.
Pujols isn't going anywhere folks. He's going to retire a Cardinal.