Purdue Basketball: Big Ten Media Day: A Few Boilermaker Highlights
October 28, 2011
Andy Lyons/Getty Images
Purdue basketball opens the season Tuesday in an exhibition game against Northern State and Matt Painter and the Boilermakers could not be more ready.
As the team prepares for the start of the season, many fans have questions as to what the status of Robbie Hummel will be this season. 
Hummel, who is a redshirt senior after two ACL injuries, will have a steep road ahead if he is to prove critics wrong about his health and the effect he can have this season. 
Matt Painter expects Hummel to be the strongest he has been since becoming a Boilermaker, "We expect him to have the best season of his career," said Painter at media day yesterday. 
Hummel will not only provide a lot of firepower on the court, but will provide further leadership when he is out there playing, helping his team out of tough situations. 
Painter would like to see the normally humble Hummel transition from his mostly unselfish play and take a few more shots this season.
He's always going to make the extra pass and make that next play. He's got to make sure that now that next play is better for Purdue instead of maybe being a little bit what some people would call selfish in terms of maybe taking that uncontested shot; I would look at it as an unselfish play because maybe it's a higher percentage shot than making an extra pass for that next guy.
The fans would like to see the same thing from Hummel, and the team will need his scoring presence more than anything after losing both JaJuan Johnson and E'Twaun Moore, two of the most prolific scorers in the schools history, to the Boston Celtics in the NBA draft.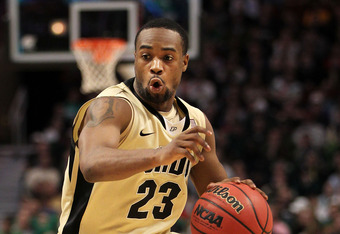 Jamie Squire/Getty Images
On the other fronts, Painter is looking for great play from seniors Lewis Jackson and Ryne Smith.
According to a tweet from GoldandBlack.com, Boilermaker fans should expect great improvement from Sandi Marcius this season as his peers seem to believe he has improved the most out of anyone over the summer.
Overall things are looking up for the Boilermakers this year. With the team returning four starters, if you include Hummel, it should be a very experienced squad, but a squad that will need to find its identity.
James Evens serves as a National Featured Columnist for college football and basketball as well as the FC for the Purdue Boilermakers.   Follow him on Twitter or like him on Facebook.