Los Angeles Kings: What the Kings Need to Do to Land Zach Parise
October 17, 2011
Christopher Pasatieri/Getty Images
If you had to point out a weak area on the LA Kings roster, it would be at left wing. The position is not as deep as it could be.
The addition of a top-line left winger would be just what the Kings need to put them over the top, and the answer is Zach Parise.
The New Jersey Devils have had trouble getting their star winger to commit to the organization.
They did manage to avoid going to arbitration with Parise, but they only have him locked up for this season.
New Jersey GM Lou Lamoriello will not let his superstar walk for nothing on July 1 next year. The thinking is, if he can't get Parise signed by the trade deadline, he will trade him to the highest bidder.
If that's the case, the Kings need to do whatever it takes to be that highest bidder. The prospect of Parise playing on a line with Anze Kopitar and Dustin Brown should be too hard for LA Kings GM Dean Lombardi to pass up.
The ideal trade for Parise should centre on goaltender Jonathan Bernier. Draft picks and a prospect or two would be thrown in to make the deal more attractive for New Jersey.
From LA's perspective, losing Bernier would not weaken the team all that much as they would still have goaltender Jonathan Quick, who has proven himself as a solid starting goalie in the NHL. The Kings would still have all the pieces necessary for a deep cup run, having only sacrificed the future.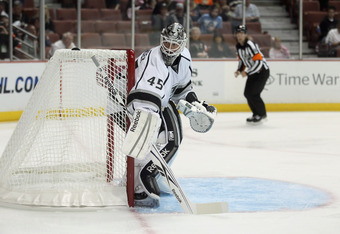 Jeff Gross/Getty Images
From New Jersey's perspective, they would be getting a goaltender with a ton of upside to replace Martin Brodeur. Brodeur has shown signs of wearing down and may retire as soon as this season.
Bernier does not want to live in Quick's shadow forever, and will find himself on a new team eventually as a starter. New Jersey would be the perfect fit.
If that is not to Lamoriello's liking, a package surrounding defenseman Jack Johnson could be made. Trading away Jack Johnson would be the less desirable option as it leaves a hole on the Kings defense. The Devils back end lacks a few solid defensemen and Johnson would fill that role.
The Kings have promising youngster Vyacheslav Voynov in the wings, but he's not quite ready to fill Johnson's role.
If the Kings do manage to acquire Parise, it would solidify them as Stanley Cup contenders.