Sea Island Golf Club Defines Southeast Golf
October 17, 2011
Golf writer Andy Reistetter continues his exclusive "Play-Write" series with a round of golf on the Seaside Course at Sea Island in Georgia. Ben Crane triumphed in the PGA Tour's McGladrey Classic on the Seaside Course. Along with the Plantation and Retreat courses, Sea Island Golf Club is a premier golfing destination. But there is more to the story. Play along with Reistetter as he discovers a truly unique, world-class golfing experience at Sea Island.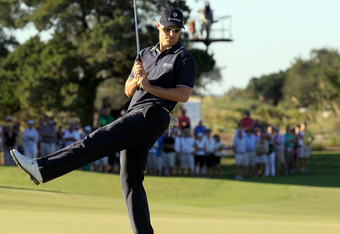 Sam Greenwood/Getty Images
There may be five oceans and seven seas, but there is only one Sea Island.
What defines a golf course?
Eighteen holes?
What defines an ocean or a sea?
It gets complicated, isn't it all salt water?
What defines golf in the southeast United States?
I grew up north of the Mason-Dixon Line, playing on golf courses with bent grass greens and Kentucky bluegrass rough.
After four years of living in the Southeast, Bermuda grass continues to challenge me.
How does one play a shot from the rough around the greens?
Why is it harder to read the break on Bermuda greens?
But isn't Kentucky south of the Mason-Dixon Line?
Why does bluegrass, but not Bermuda grass, grow well up north?
Here's the answer to the rub…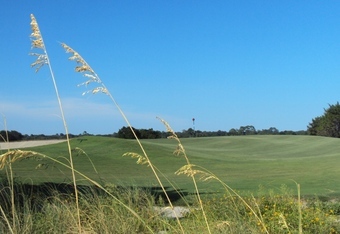 Play the Seaside Course at Sea Island Golf Club on St. Simons Island in Georgia.
Sea Island defines southeast golf… golf nestled in the salt marshes in the coastal plains of the Low Country.
There is a reason Sea Island has hosted the SEC golf championship since 2001.
Sea Island's pedigree goes back to 1927, with Walter Travis designing the original nine holes of the Plantation Course.
Harry Colt and C.H. Alison designed a second nine in 1929.
In 1999, Tom Fazio redesigned Colt and Alison's work, as well as Joe Lee's Marshside nine (1973), to form the Seaside Course as it is known today.
Seaside is a design masterpiece.
The first nine goes out and back in a counterclockwise fashion, while the second nine follows a clockwise direction.
Each of the four par-3s faces its own unique direction.
In essence, the layout complicates the gauging of the ocean breezes.
Red wicker baskets are the norm on the Seaside Course.
The golfer is left in quiet isolation to feel the direction and strength of the wind without the aid of a flag on the stick locating the hole on the green.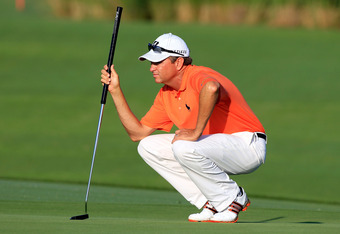 Sam Greenwood/Getty Images
The PGA Tour thinks this is unfair for its players, so during the McGladrey Classic there are flagsticks on the greens.
Golfers with exceptional talent and a desire to have that talent challenged have always come to Sea Island.
Bobby Jones first played there in the summer of 1930, just before completing the Grand Slam at Merion Cricket Club in Pennsylvania.
Merion has wicker baskets but no crickets.
World Golf Hall of Fame member Louise Suggs has been a member of Sea Island since 1955.
Whether it is a sponsor's product or a golf club affiliation, Suggs never associates herself with anything other than the best and something she personally believes and trusts in.
Sea Island was the place where the best golfers would come for instruction by Davis Love Jr.
His son Davis Love III heads up a growing list of professional golfers who make Sea Island their home.
Hosted by Davis and his foundation, the McGladrey Classic is a family affair. His brother Mark is the executive director of the tournament.       
Davis grew up at Sea Island. This is where his heart is.
To bring a PGA Tour event to his hometown must be as satisfying as winning the 1997 PGA Championship with Mark on the bag.
Every golf shot Love takes has something to do with his father.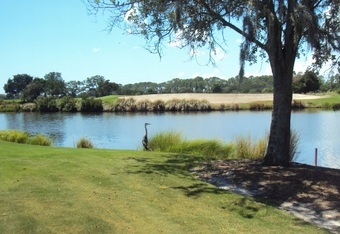 When he sank the winning putt for his first major championship, a rainbow was present.
It was as if his father, who had died nine years earlier in an airplane accident, was there smiling his approval for a course well played, a job well done.
The golfing face of McGladrey is bigger than only Davis Love III. It includes Chris DiMarco, Natalie Gulbis, and another Sea Island resident, Zach Johnson.
While I have been trying for four years to understand how to play golf on Bermuda grass, it took me one round at Sea Island to understand Southern golf.
We all know that the lie dictates the shot.
Play shots from greenside Bermuda rough like bunker shots. Open the blade up, aim an inch or two behind the ball and blast it softly onto the green.
On the green, look for the grain at the edge of the hole cut and play one-third less break than you think you need.
We all know that the truth dictates one's life experience.
Play Sea Island and enjoy a truly remarkable golfing experience!                
To read more articles in golf writer Andy Reistetter's exclusive "Play-Write" series, go to the following links:
1.   Daniel Island Club (Charleston, SC): Home of the Nationwide Tour Championship and the Charm of Charleston, South Carolina
2.   St. Johns Golf & Country Club (St. Augustine, FL): On the road to the PGA Tour
3.   TPC Four Seasons (Las Colinas, TX): Home of the HP Byron Nelson Classic
4.   Cog Hill Dubsdread (Lemont, IL): Deserving of a future U.S. Open.
5.   Greenbrier's Old White Course (White Sulphur Springs, WV): A Charles Blair Macdonald masterpiece enveloped with the essence of Slammin' Sammy Snead at America's Resort
Andy Reistetter is a freelance golf writer as well as a Spotter, Research and Broadcast Assistant for The Golf Channel, NBC and CBS Sports. He spends time on all four major American golf tours—the PGA, Champions, Nationwide and LPGA Tours.
Reistetter resides within two miles of the PGA Tour headquarters and home of The PLAYERS Championship at TPC Sawgrass in Ponte Vedra Beach.
A lifetime golfer, Andy enjoys volunteering at the World Golf Hall of Fame and THE PLAYERS while pursuing his passion for the game of golf and everything associated with it. He can be reached by email at AndyReistetter@gmail.com.