Cadillac Williams Injury: Update on Rams Running Back's Injury
October 16, 2011
Nick Laham/Getty Images
It's never a good feeling having to watch one of your team's players get carted off the field. An injury to a backup player doesn't change that fact at all.
A player is a player, a teammate is a teammate, and an injury is an injury.
I think if we all had our way, injuries would never happen in the NFL, but unfortunately they seem to be a way of life.
Rams backup running back Cadillac Williams suffered an injury during the Packers' routing of his team, and to add injury to insult, he had to be carted into the locker room.
The injury is undisclosed at the moment, but any time a player physically cannot get himself fully off the field, it's safe to speculate that he has sustained some sort of leg injury.
Fantasy Impact:
I don't think there are many fantasy owners that are counting on Williams as a major player in their lineups. That being said, he was a decent option during a bye week or in a pinch. It also means that starter Steven Jackson may get more carries, though, so this seems to be a Catch-22.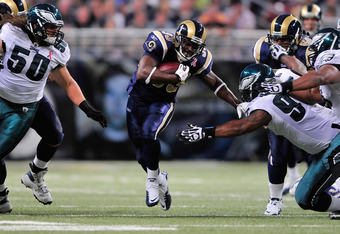 Jeff Curry/Getty Images
Who's The Backup:
Williams is the backup in this instance, but his backups are Jerious Norwood and Quinn Porter.
Devastation Scale: 2
This has to be a 10 out of 10 for Cadillac Williams, but it's not a huge problem for the Rams. They are already in the midst of a horrible season, so potentially losing a backup running back shouldn't be shocking. This is just a chance for one of the backups to the backups to step up.
Timeline For Return:
So far nothing, on his return to action, but being carted off the field is not a good sign.
What They're Saying:
Here is the report that RotoWorld put out just a while ago concerning Williams' injury:
Cadillac Williams was forced from Sunday's game against the Packers with an undisclosed injury. He hobbled off the field without assistance late in the fourth quarter before being carted to the locker room. His day is surely through, while his status for Week 7 is looking doubtful. With Steven Jackson back to full health, Williams had received just four carries before going down.
Stay tuned to Bleacher Report for all the latest news and updates on Williams' injury, as well as anything else you need to know regarding the NFL.