Virginia Football: Report Grades for GT Game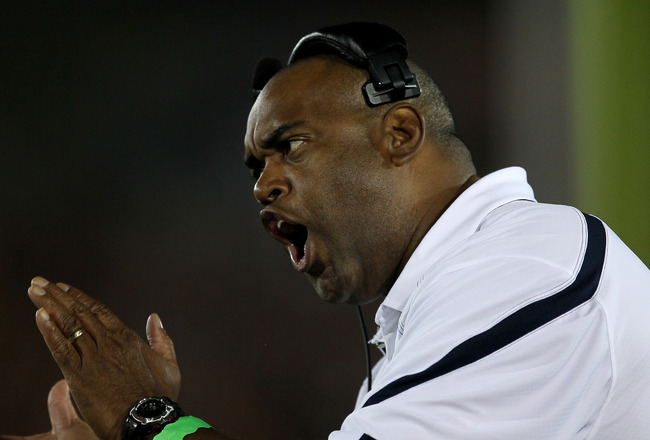 Stephen Dunn/Getty Images
Well, that was unexpected.
A reeling Virginia program stepped up this past weekend and knocked off the previously undefeated Georgia Tech Yellow Jackets at home.
The victory was Virginia's fourth of the season, the same number they won all of last season.
While the Cavaliers have had some poor performances, their talent shined through in Homecomings weekend.
Can this success translate into more success?
Well, before we tackle that tough question, let us look back at this Yellow Jacket game and give out some grades.
As you might imagine, the teacher is feeling gracious today.
Quarterbacks: C
This game was definitely not won because of a superior passing game.
Starting quarterback Michael Rocco looked solid early on, connecting on six of his first seven passes, including a long bomb to Tim Smith to give Virginia an early 14-0 lead.
However, the old Rocco shined through early in the second quarter. On the fourth series, the same series that David Watford has come in to play every game this season, Rocco came and threw a disastrous pick six which looked to take the wind out of Virginia's sails.
That put the old Virginia quarterback shell game into full effect. Watford had a good run for a first down but was only 1-of-5 for 17 yards in the air.
Rocco never seemed to recover from that bizarre decision to throw into triple coverage. He finished 8-of-14 for 118 yards. For his career, Rocco has three touchdowns and nine interceptions as a collegiate quarterback.
A good screen pass late kept the game in the win column for Virginia, but when the game was on the line, fans were almost terrified to think that the Cavaliers might have to throw.
That's never a good sign for the quarterbacks.
Running Backs: A+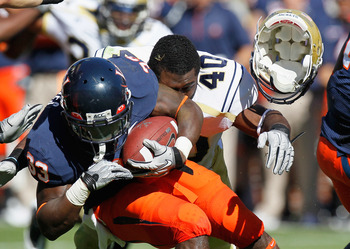 Kevin C. Cox/Getty Images
Well, what can I really say that the numbers cannot explain.
Virginia rushed for an amazing 272 yards on the ground, nearly six yards per carry. They matched the total yardage on the ground of their triple-option opponent.
The return of Kevin Parks really seemed to bolster the three-headed monster Virginia has to carry the ball. The freshman phenom had 86 yards and another touchdown.
Not to be outdone, speedster Perry Jones ran for 152 yards and simply cut the Yellow Jacket defense up like Swiss cheese.
Even Clifton Richardson got some carries and showed some impressive second efforts.
His touchdown came via scratching and clawing, refusing to go down on first contact.
Virginia was simply more physical than their opponent, something fans have not heard in a long time.
While none of these guys may be the best running back in the ACC, their combined talents, when healthy, make Virginia perhaps the best running team in the conference.
Wide Receivers: B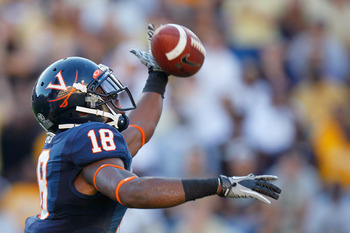 Kevin C. Cox/Getty Images
The wide receivers did not have many opportunities to show off their playmaking skills.
They did, however, have many chances to show just how well they could block.
Kris Burd only had one reception for 30 yards, but he did a good job containing the edge and allowing Virginia's running game to make some big gains.
Tim Smith had the play of the game with his long touchdown reception, but he also had a key holding penalty and a wide open miss that killed a drive.
Virginia's receivers have talent, but they are suffering from the ever-shuffling quarterback rotation as well. It seems that each receiver seems more comfortable with one or the other, and that has led to a lack of continuity.
Still, as long as Virginia continues to run the ball effectively, the wide receivers can make big plays with their physicality and solid route running to keep the defense honest.
Offensive Line: A+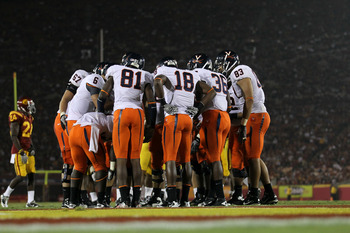 Stephen Dunn/Getty Images
The Virginia offensive line is big, strong and experienced.
They simply have not been consistent so far this season.
I mentioned in a previous article that head coach Mike London needed to get in the ear of these players and challenge them. After all, if the line cannot dominate Idaho, how can they expect to compete with Georgia Tech?
Turns out that the offensive line must have listened because they absolutely punished the Yellow Jacket line.
Georgia Tech had a terrible time breaking through the line of scrimmage, particularly without blitzing.
Virginia's line did not make holes; they created highways for the running backs and they responded.
The Cavaliers may not have been perfect; they did allow a sack, but they were better than anyone could have expected.
Defensive Line: A-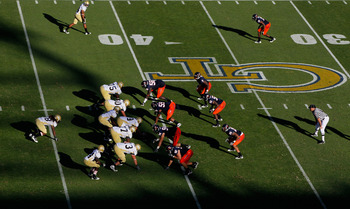 Kevin C. Cox/Getty Images
If it were not for one costly false start, the defensive line would probably get an A+.
All year long, we have talked about how the line has been unable to get pressure on the quarterback. Their tackling has been suspect and the penalties have been costly.
Well, against the Yellow Jackets, with a week to prepare, the line was aggressive, competent and complete. They held Georgia Tech in check more than any team has this season.
Their reward was the biggest win of the season.
The line gave up some yardage, but they never gave up the big play. Well, at least not when the penalties on Georgia Tech brought them back.
More play like this, and the Cavaliers could really turn some heads before season's end.
Linebackers: A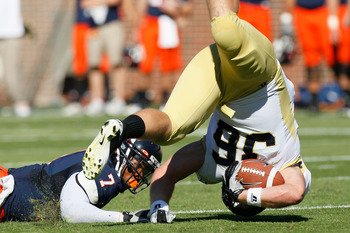 Kevin C. Cox/Getty Images
The Virginia defensive line had help from the linebacker corps as well.
Virginia's linebackers brought some great pressure on Georgia Tech quarterback Tevin Washington, leaving him to be only 2-of-8 with two interceptions.
LaRoy Reynolds continued to show why he is the leader of the linebackers with his athleticism and speed.
The most important thing was that the defense kept the plays in front of them. They prevented the big play and forced Georgia Tech to run precious time off the clock.
Bend and not break does not always look pretty, but it can lead to victories.
Secondary: A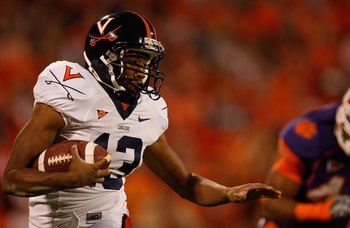 Streeter Lecka/Getty Images
Chase Minnifield is an NFL player in a collegiate uniform.
Georgia Tech dared Minnifield to cover their big target Stephen Hill. Well, turns out that Minnifield had more receptions from Yellow Jacket quarterback Tevin Washington than Hill.
Demetrious Nicholson, the other corner, has been targeted all season because of his height and inexperience, but he got his revenge with an interception of his own to end the first half.
Georgia Tech completed two passes all game, and the secondary looked amazing. Safety Rodney McLeod not only delivered the pain with his tackling, but he did it with proper technique and fundamentals.
Virginia's secondary lived up to the hype and completely outclassed Georgia Tech's big and speedy receivers.
Special Teams: B
Stephen Dunn/Getty Images
Virginia did have one of their field goal attempts blocked, but they returned the favor against the Yellow Jackets earlier.
The Cavaliers had two big kickoffs and a punt that pinned the Yellow Jackets back in their own red zone, forcing them to put together long and complicated drives.
Those kicks may seem superfluous, but they went a long way in deciding the outcome of this game. Virginia's kickoffs forced Washington to throw the ball late in the first half, leading to an interception and a key Cavalier field goal in a game decided by three points.
Virginia had a field goal and a tricky punt return off the bounce.
The Cavaliers may not have been explosive, but they were terribly effective, outdoing their Yellow Jacket counterpart.
Coaching: C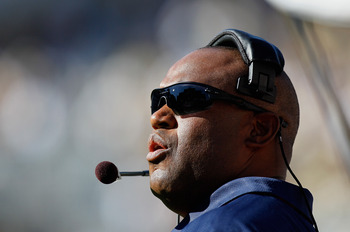 Kevin C. Cox/Getty Images
The quarterback shuffle was frustrating yet again.
Anytime people do not know who the quarterback is going to be from drive to drive, it can be frustrating.
Of course, with a situation that fluid, throwing the ball can make fans even more mad.
Sure, running the ball can more effective with throwing the ball occasionally, but not on 3rd and 1 near the Georgia Tech 40-yard line.
It is even worse on 4th and 1 from the same spot with David Watford, who had completed one pass all game.
Virginia's coaching staff was smart to not go ultra conservative in the second half, but they still did not score a single point in the second half.
With the dominance up front, the Cavaliers could have won by even more if Virginia had stayed true to their strengths and their quarterbacks.
Valedictorian: Perry Jones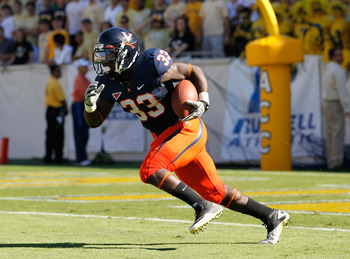 Kevin C. Cox/Getty Images
Perry Jones had 189 total yards both on the ground and through the air.
Jones may not be built to be an every down running back, but when complemented by a healthy Kevin Parks, we can see just how viable a weapon he can be on offense.
No one on the team can match the versatility of Jones nor his speed.
For awhile now, he has not gotten the attention he deserves for various reasons, but his potential really seems to be growing.
Jones showed a tremendous amount of progress. Last year against the Yellow Jackets, Jones had 54 yards.
Now he is catching the ball in stride, making people miss and punishing defenders with his repertoire of moves.
Hopefully, Jones is on his way to becoming a nuisance for every ACC team left on the schedule.
Keep Reading